Disney issued a statement of apology after hosting a high school drill team from Texas that performed a routine featuring Indigenous people as stereotypes.
People were outraged after seeing a video showing the "Indianettes" from Port Neches-Groves High School–whose mascot is an Indigenous person in a headdress–parading down Main Street U.S.A. inside Walt Disney World's Magic Kingdom park in Orlando, Florida.
While told they couldn't wear their headdresses that are part of the Indianettes costume, they were allowed to chant:
"Scalp 'em, Indians."
The racist performance sparked widespread backlash online.
It came shortly after Disney was criticized for their conspicuous silence over Florida's Republican-sponsored Parental Rights in Education
bill
–known as the "Don't Say Gay" bill–that was passed by the state legislature earlier this month.
You can see a video of part of the drill team's controversial performance here.
Social media users were appalled.

@indigenouspeoplesmovement/Instagram

@indigenouspeoplesmovement/Instagram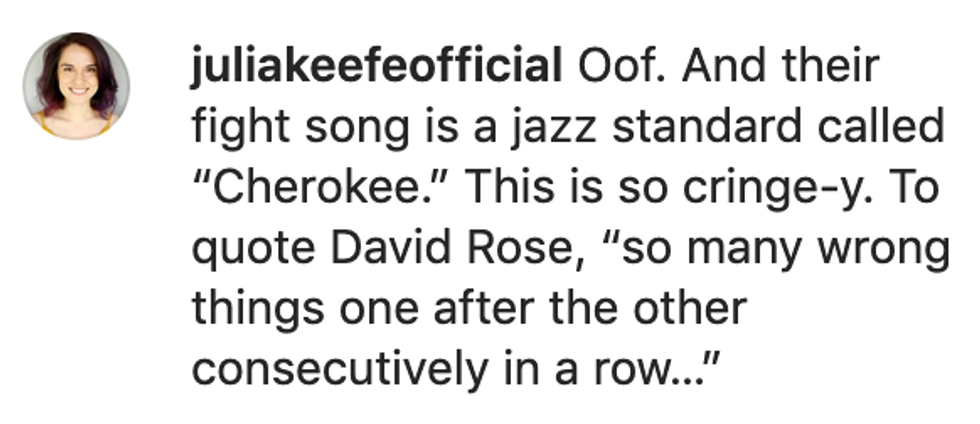 @indigenouspeoplesmovement/Instagram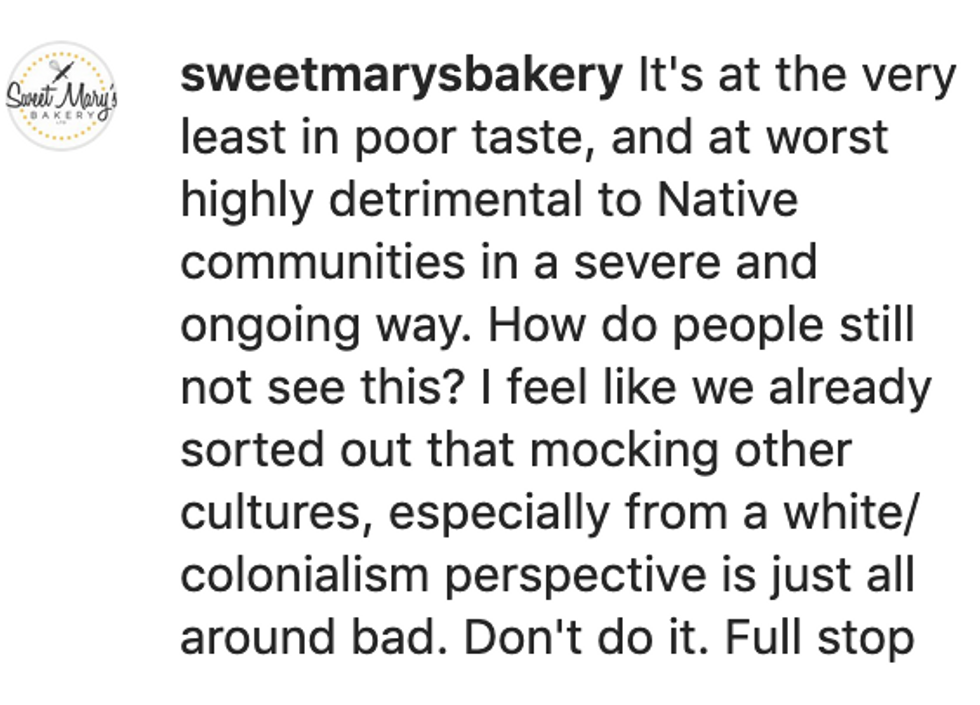 @indigenouspeoplesmovement/Instagram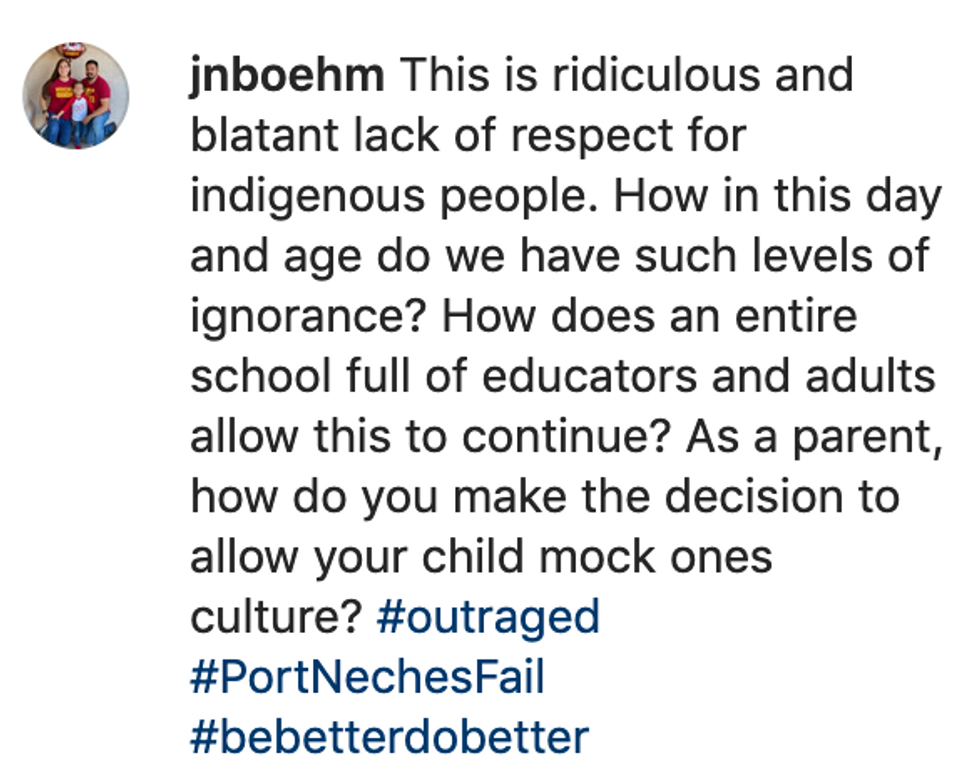 @indigenouspeoplesmovement/Instagram
Tara Houska—a tribal attorney and the founder of grassroots organization "Not Your Mascots" dedicated to combating racist depictions of Indigenous people by sports teams–admonished Disney for hosting the drill team.

Houska told USA TODAY:
"I've seen iterations of leftover racism in the form of mascots in professional teams and collegiate level teams."

"This one is unique just in the sense that it was really overt—like saying 'scalp 'em'—and that it was at Disney parks."
She shared the video clip of the "Indianettes," tweeting:

"Cuz a bunch of kids in fringe chanting 'scalp 'em Indians, scalp 'em' is honor, right?"
"And any Natives who attend @pngisd should prolly just accept their classmates dehumanizing them cuz 'tradition', right?"
"Shame on @DisneyParks hosting this. Nostalgic racism is RACISM."
Houska posted follow-up tweets highlighting additional examples of the Port Neches-Groves Independent school district misappropriating Indigenous culture.
Others added to the list of grievances towards the school.

Shannon O'Loughlin, CEO and attorney for the Association on American Indian Affairs and a citizen of the Choctaw Nation of Oklahoma, told USA Today the performance was "deeply horrendous."
O'Loughlin said:
"Our children shouldn't still be spouting this kind of language."
"(It is) offensive to see Disney, of all places, who have been the perpetrators of racial stereotypes in history, allowing something like this in their park, this kind of song, regardless of the young, innocent voices singing it."

On Tuesday, Disney told the Associated Press the high school's drill team performance "did not reflect our core values, and we regret it took place."
Disney spokesperson Jacquee Wahler said the performance "was not consistent with the audition tape the school provided and we have immediately put measures in place so this is not repeated."
But the damage has already been done.

@indigenouspeoplesmovement/Instagram

@indigenouspeoplesmovement/Instagram

@indigenouspeoplesmovement/Instagram

@indigenouspeoplesmovement/Instagram
Houska added:
"(Disney) should not be giving a platform to overt racism."
"If you're a parent and you've got a small child there and your kid is seeing firsthand people being dehumanized right in front of them for fun—I mean, that's not a good message to be sending our children."
As a result of speaking out, numerous Indigenous activists and organizations received racist messages online, with many claiming to be from Port Neches-Groves.
Parents of the "Indianettes" had already complained when Disney asked the drill team to perform without their headdresses.

Wearing a headdress has ceremonial importance to the Plains tribes that used them and it is saved for those who have earned the honor.
It is also not a universal part of Indigenous North American regalia and doesn't reflect the Indigenous people of many of the schools and teams that use it as part of their mascot.
The Indigenous people from Port Neches-Groves would not have worn Plains style headdresses.

@indigenouspeoplesmovement/Instagram
Andrew Dismukes, who is a Saturday Night Live castmember and alumnus of Port Neches-Groves High School, took to Twitter and called for his alma mater to "change the mascot and all associated practices."
In response to the backlash, the school district issued a statement promising to do better, even after claiming the routine had been performed at the park for years without controversy.
They wrote:
"We are committed to diversity, equity, and inclusion in our school district."
"Our district is nearing 100 years old, and our Board of Trustees is committed to always making the best decisions for our students, staff, and the communities of Port Neches and Groves."
According to the school's website, their mascot was named in 1925 and the Indianettes drill team was formed in 1951.
A totem pole was also erected in front of the school in 1955 even though totem poles belong to tribes of the Pacific Northwest and not Texas..

Over the years, Disney has been called out for its depictions of Indigenous people in films like Peter Pan and for fictionalizing and perpetuating lies about a real Indigenous girl, Pocahontas.
The Disney parks have addressed various complaints from guests and removed racially insensitive depictions of Indigenous people from the Jungle Cruise attraction and updated scenes from Pirates of the Caribbean that were deemed misogynistic–much to the chagrin of conservatives complaining of Disney's wokeness ruining the park experience.
An upcoming overlay to the popular Splash Mountainattraction is expected to replace characters from the historically racist film Song of the South with characters from Princess and the Frog.