The October 2022 issue of The Criticis out and an essay by Sean Egan ruffled some feathers, especially those of Guillermo del Toro.
In an essay titled "Martin Scorsese: Rinse and Repeat Self-indulgence," Egan criticized multiple Scorsese films, calling The Wolf of Wall Street "achingly slow" and Raging Bull "across-the-board bad filmmaking."
He also wrote:
"No studio dares utter the word 'no' to him."
"The result is a debasing of his talent: new Scorsese films are routinely an hour too long."
"Since [Goodfellas]...Scorsese has lazily settled on Mafia-Picture Director as a main calling."
Egan later stated:
"Whisper it lightly, but Scorsese doesn't really believe in cinema.."
"He has consistently refused to work within the art form's natural parameters..."
Scorsese's films have garnered 71 Academy Award nominations and won 20.
The director, producer, screenwriter and occasional actor has won an Academy Award, three Primetime Emmy Awards, a Grammy Award, four British Academy Film Awards, three Golden Globe Awards and two Directors Guild of America Awards.
He received the AFI Life Achievement Award in 1997, the Kennedy Center Honor in 2007 and the BAFTA Fellowship in 2012. Five of his films were inducted into the National Film Registry by the Library of Congress as "culturally, historically or aesthetically significant".
Fellow director del Toro—who typically does not take to social media to engage in negative discourse—could not stay silent on this matter.
He tweeted:
"I very, very seldom post anything contradictory here—but—the amount of misconceptions, sloppy inaccuracies and hostile adjectives not backed by an actual rationale is offensive, cruel and ill-intentioned."
"This article baited them traffic, but at what cost?"
The Mexican filmmaker, author and actor added:
"To be clear, if God offered to shorten my life to lengthen Scorsese's—I'd take the deal."
"This man understands Cinema. Defends Cinema. Embodies Cinema."
"He has always fought for the art of it and against the industry of it. He has never been tamed and has a firm place in history."
del Toro—creator of critically acclaimed films Pan's Labyrinth and The Shape of Water—continued:
"I don't sh*t talk, I don't 'slam' and I support—but if anyone thinks that WWS is '...achingly slow' or that Raging Bullis '...bad filmmaking' and that 'No studio dares to utter the word 'no' to him.'"
"Film language discussions, history lessons and research may be needed."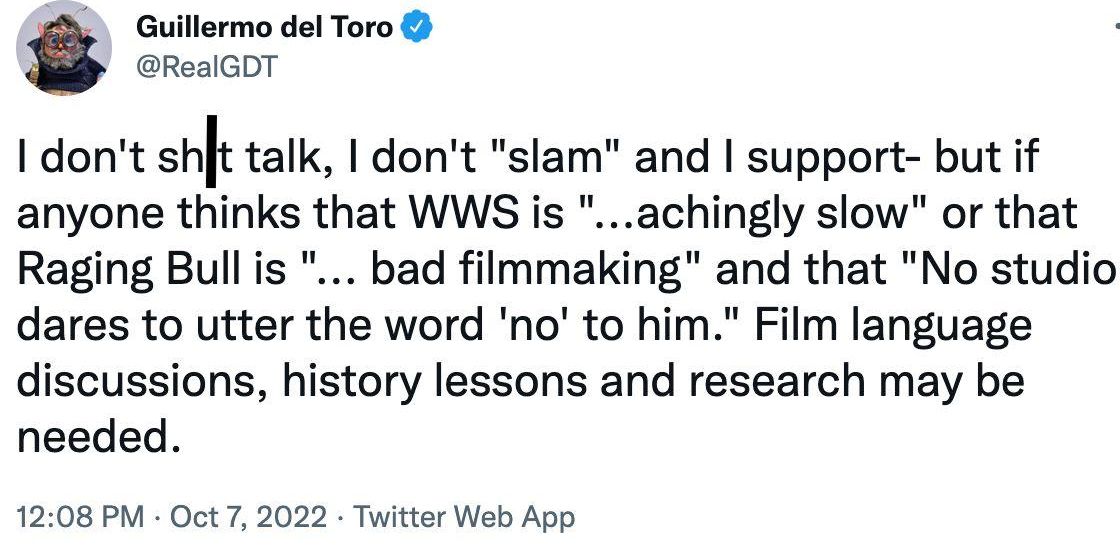 @RealGDT/Twitter
Fans of both del Toro and Scorsese chimed in with their support.
del Torro later followed up by tweeting:
"Most of the article is akin to faulting Picasso for 'Not getting perspective right' or [Gauguin] for being 'garish'."
"If you assail these cornerstones, you should lay it out—you disassemble the work and build your position—not just hand an opinion with 'slamming' adjectives."
He finished by sharing his concern:
"When I read pieces like this one."
"Aimed at one of the most benign forces and one of the wisest, I do feel the tremors of an impending culture collapse—and I do wonder: 'To what end?'...and find myself at a loss."