A British couple on lockdown in Spain have become masters of disguise by donning a different fancy dress costume for every day of quarantine – aping everyone from chimney sweeps to disco divas.
---
Originally from Harwell, Oxfordshire, England, Pete and Jo Cleary moved to the Costa Blanca 18 months ago after retiring from their jobs with the fire and rescue service, and were enjoying a relaxing new chapter of their lives – until the pandemic hit.
With Spain issuing some of the tightest restrictions in Europe, the couple may only leave their home to buy food or seek medical care, so decided to keep their loved ones back in Blighty smiling by dressing up in a different costume for every lockdown day – and posting pictures and videos of their efforts online.
Speaking of their amazing costume parade, which has seen them dressed as everything from bungling burglars and gormless gardeners to French fashionistas and deep-sea divers, Jo, 48, said:
"Where we live in Spain has quite an elderly community."
"We know a lot of people who are isolating alone, both here and back in the UK, who have been telling us that they look forward to our pictures every day and to seeing what we've come up with."
But Pete, 54, joked that being an 'artiste' has its drawbacks.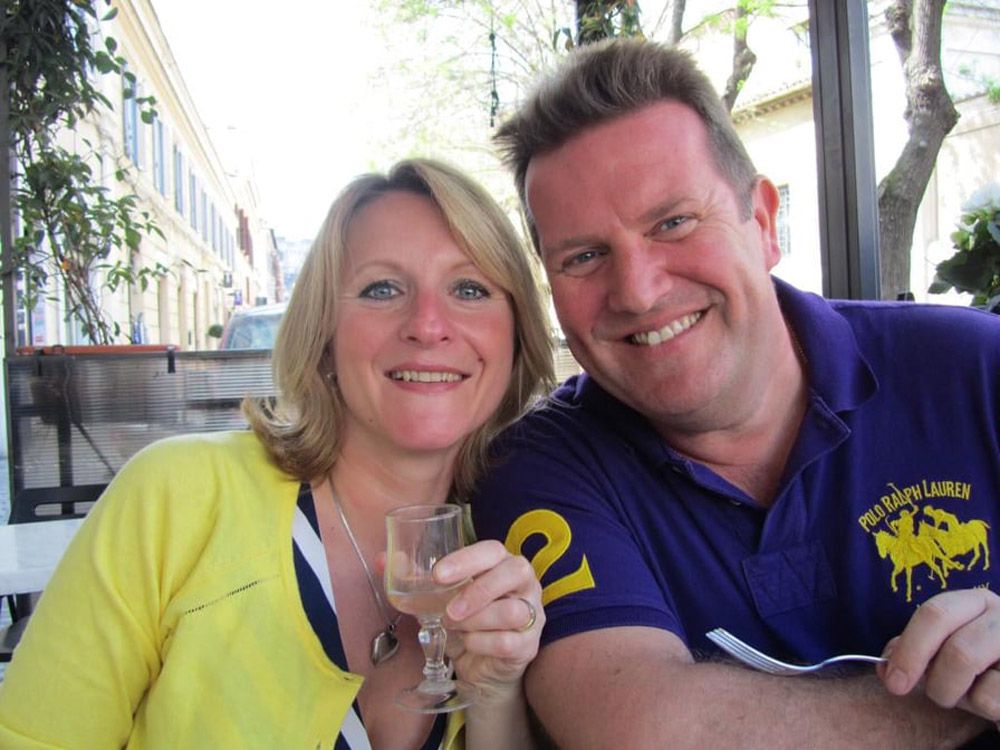 Jo and Pete out of fancy dress (PA Real Life/Collect)
"It's been really nice to make people laugh, and help in our own little way," he said. "The only downside, from our point of view, is that we've both got spots from all the makeup and rashes from the fake beards."
Pete and Jo, who now live midway between Valencia and Alicante, along Spain's southeast coast, explained how they have been building up their impressive costume collection for years.
Jo said:
"It all began back when we lived in the UK. Our group of friends all went to one another's houses for dinner parties, and we reached the point where we thought, 'Why not make each night themed?' So we built up loads of fancy dress costumes."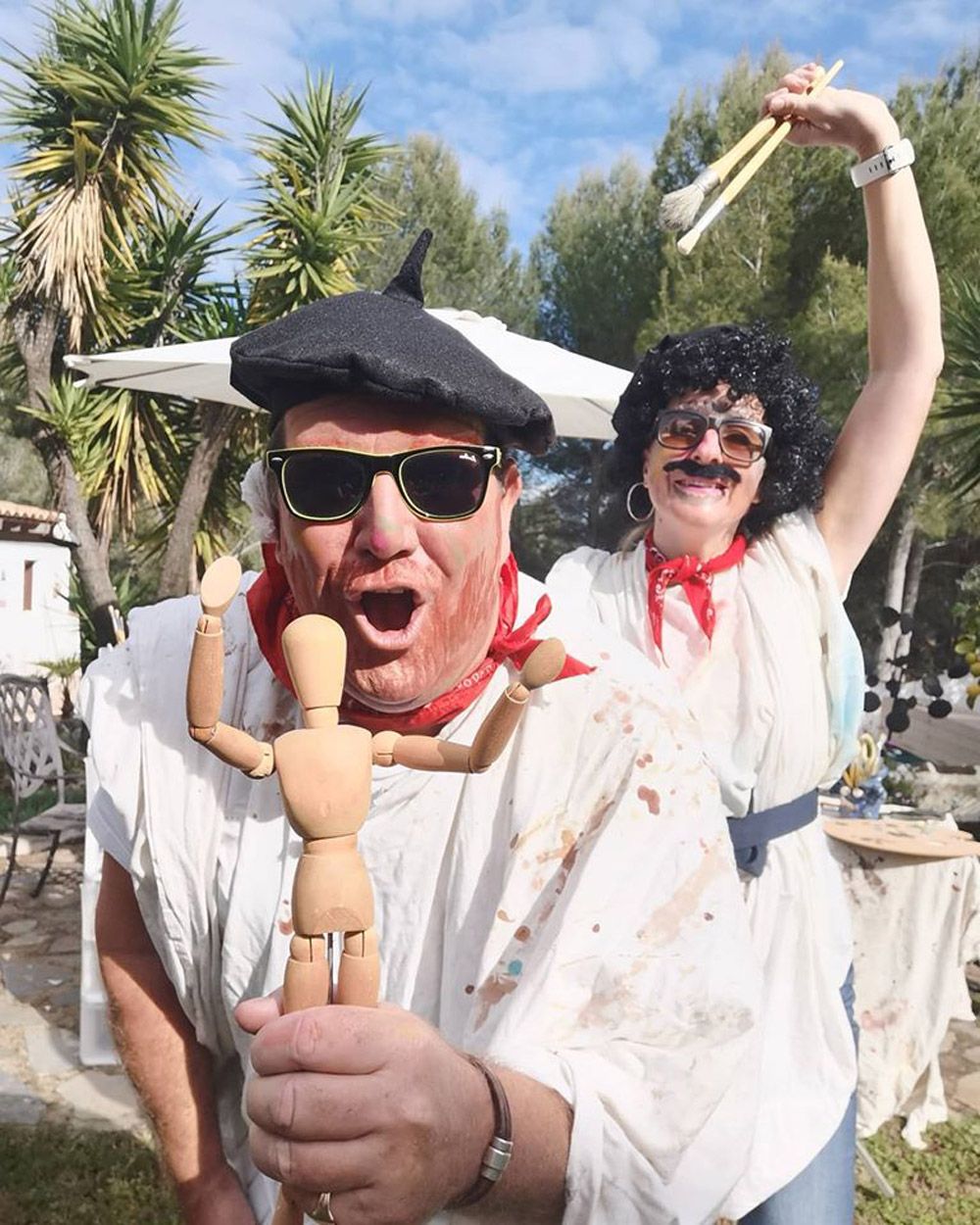 Jo and Pete dressed as artists (PA Real Life/Collect)
And their love of dressing up did not leave them when, in late 2018, following retirement after 40 years between them of working for the fire service, the couple moved abroad in search of a new adventure.
True to form, their friends – and fellow fancy dress enthusiasts – threw them a surprise Spanish-themed bash before they left the UK.
"We just fancied a change, and have always loved Spain and the beautiful weather, so we thought, 'Why not?'" said Jo.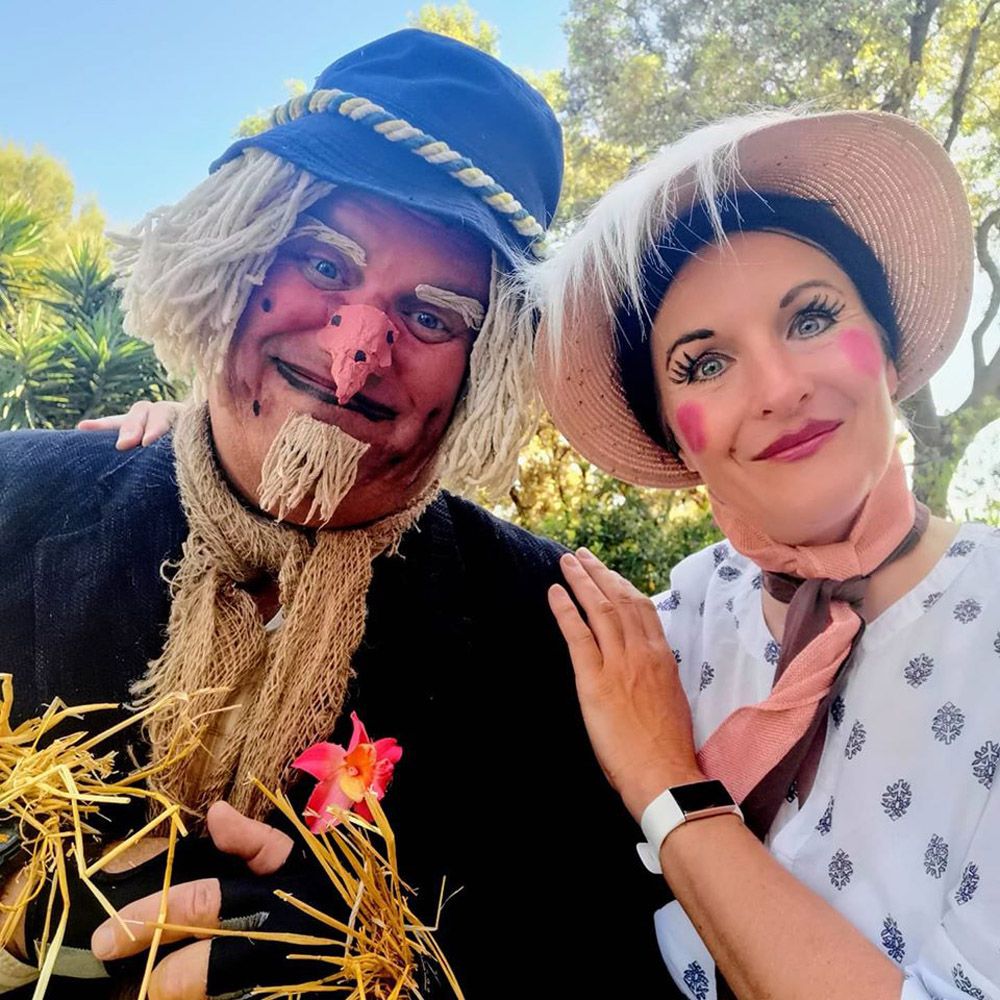 Jo and Pete's 'Worzel Gummidge'-themed costumes (PA Real Life/Collect)
"If it didn't work out, we could always come home – though thankfully we've had absolutely no regrets," she continued.
"We never intended to bring all our fancy dress stuff with us, but somehow, a box full of costumes made its way into our new Spanish home."
And on March 14, when Spain became the second European country to enforce a nationwide lockdown to slow the spread of the virus, finding themselves confined to their homes, and fearing they could go "stir crazy" with nothing to do all day, Jo hit upon a novel idea.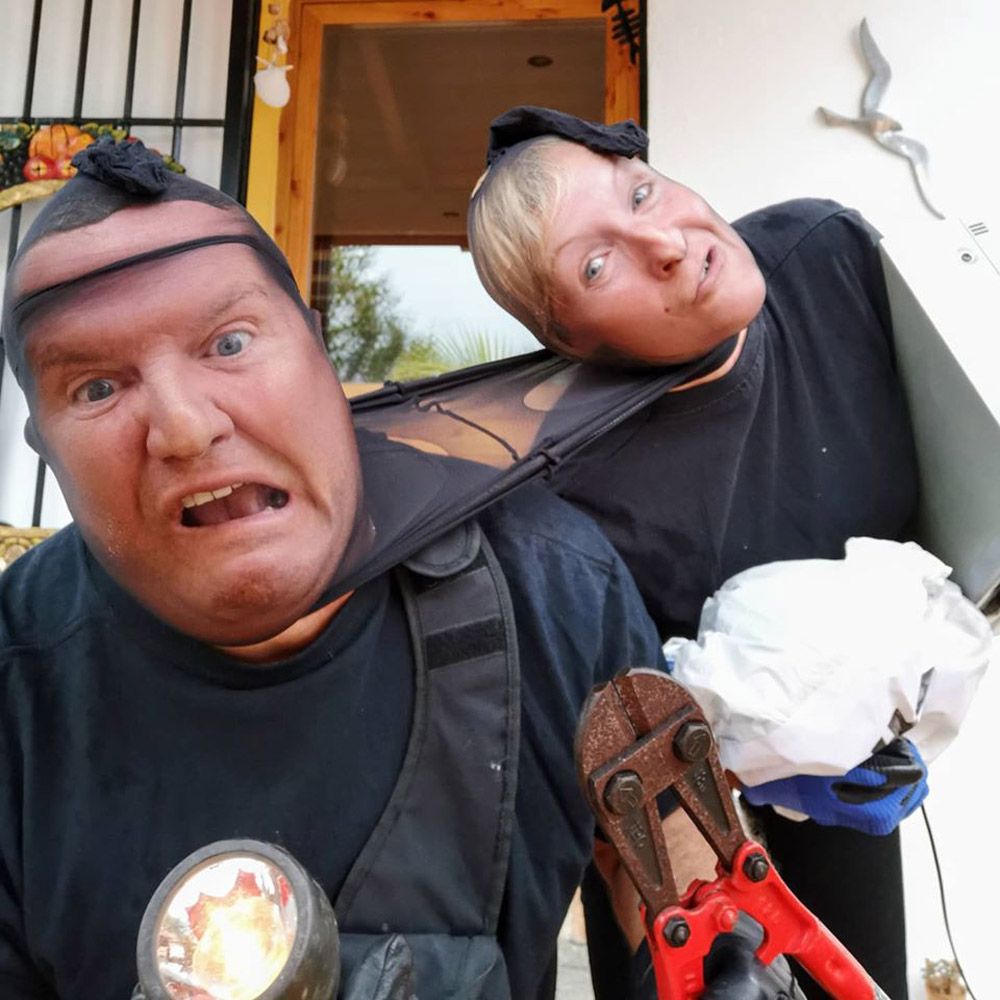 Jo and Pete's 'bungling burglar'-themed costumes (PA Real Life/Collect)
"It would have been so easy to spiral downwards and start to dwell on the fact that our friends and families – including our grown up children – were so far away, in another country, where we couldn't get to them," she said.
"But, instead of giving into panic, we wanted something to take our mind off it all. At first, we came up with a big list of DIY jobs that needed doing, then I spotted some of our fancy dress stuff, and said to Pete, 'Why don't we wear a different costume for each day of lockdown?'"
"He thought it was a great idea and much more fun than DIY. That long list of jobs is still just as long!"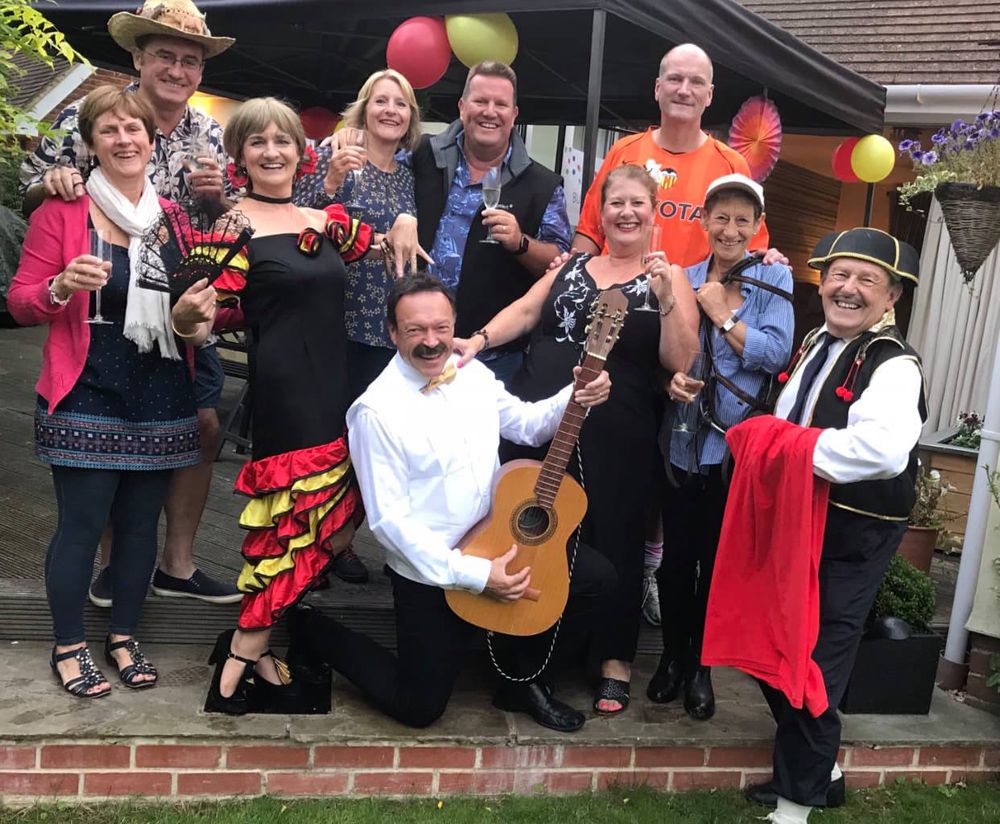 Pete and Jo's surprise Spanish-themed going away party in Oxfordshire in September 2018, featuring pals (L-R) Debbie Greenfield, Jim Convery, Fiona Pryor, Phil Hine, Della Hine, David Pryor, Joyce Doughty and Terry Doughty (PA Real Life/Collect)
So, on March 16, a couple of days after the restrictions were announced, Jo and Pete donned their first costumes, dressing up as punk rockers in black leather and Mohawk wigs.
The next day was St. Patrick's Day, so they donned novelty hats, shirts and glasses they had picked up at previous years' celebrations.
And, before long, they had gathered an army of fans who were waiting with bated breath to see what kooky costume each new day would bring.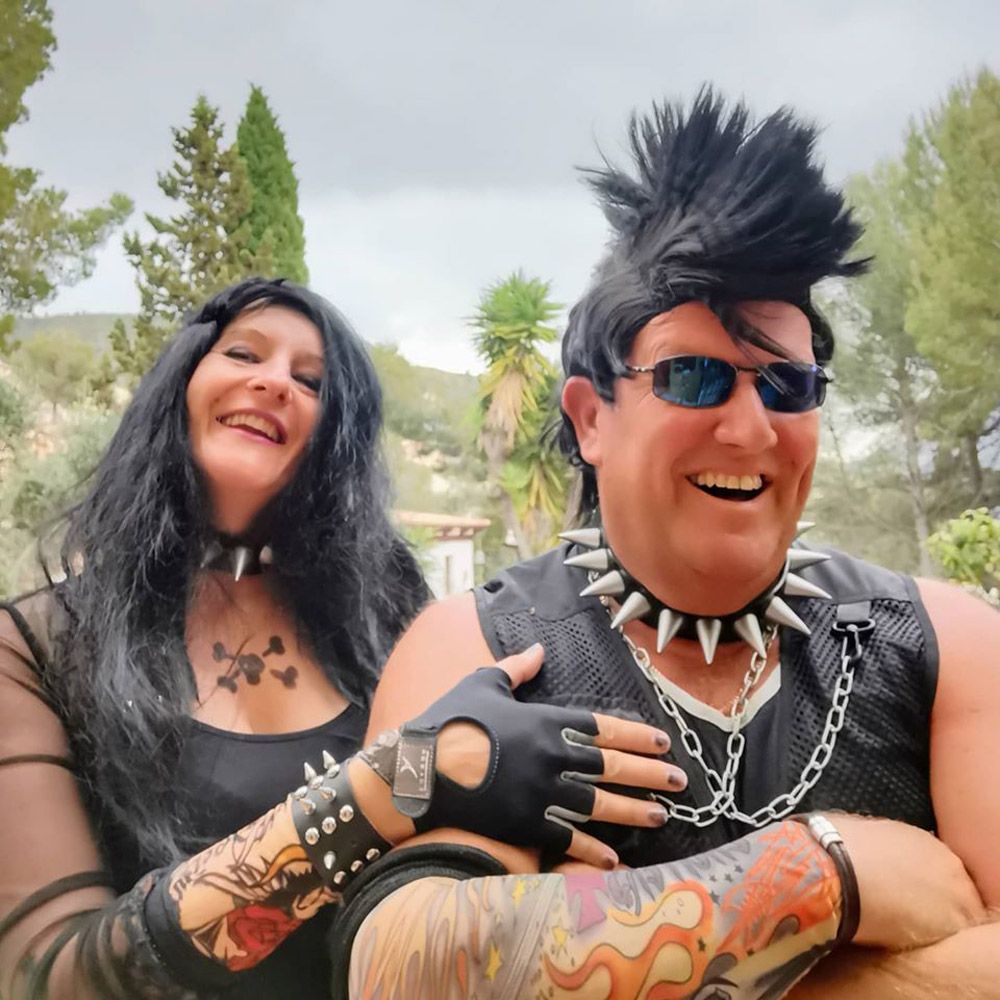 Jo and Pete's 'punk rocker'-themed costumes (PA Real Life/Collect)
"We also decided to elevate the idea a little and incorporate some music," explained Pete. "We had been learning to play the ukulele before the outbreak, so we thought it would be fun to incorporate that with the fancy dress."
"So, we started videoing our daily practices, wearing costumes as we did it."
Since then, the Clearys have followed through with their promise – posting new themed snaps every day.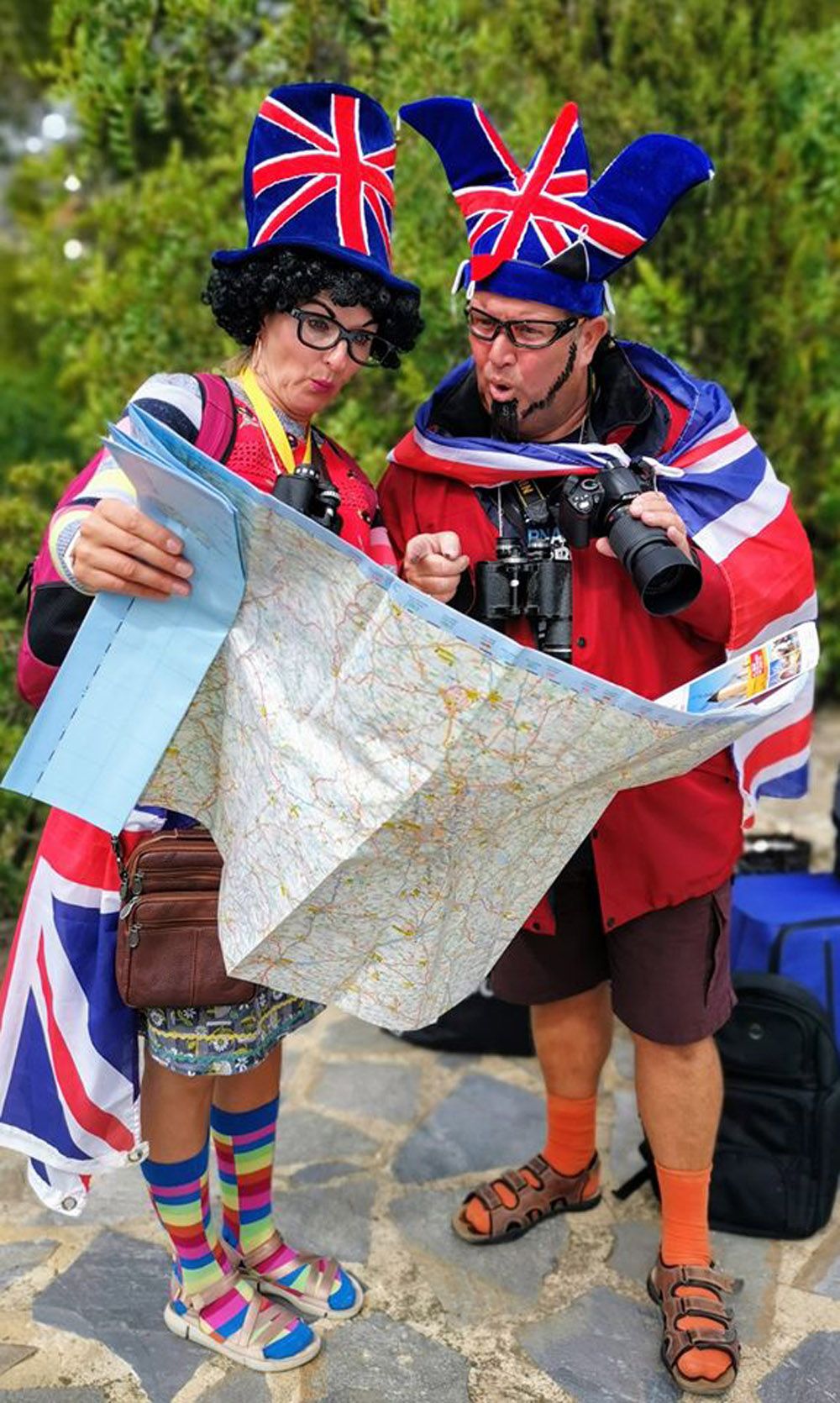 Jo and Pete's 'tourists in London'-themed costumes (PA Real Life/Collect)
Their outfits to date have included jungle explorers, cyclists, pizza delivery drivers, complete with a scooter and giant inflatable slice, surfers, pirates, a zombie bride and groom, and tourists visiting London – using huge Union Jack hats they bought on a trip to the capital when they first met 15 years ago.
Being unable to go out and source new props has also meant being extremely resourceful.
"Pete is very artistic, so he makes lots of props. He made a fake pizza box out of some cardboard we had lying around for when we were delivery drivers," said Jo. "He's made a beard out of a paintbrush and fake teeth out of card, too."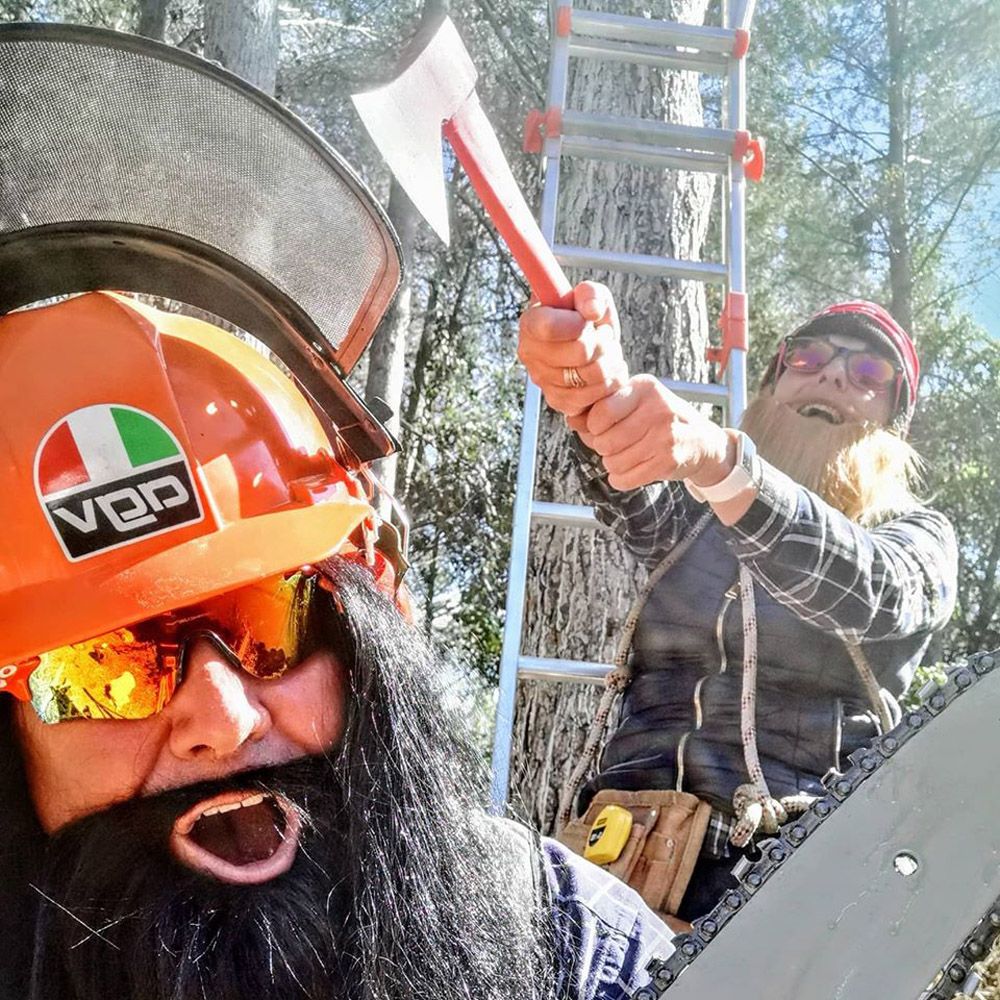 Jo and Pete's 'lumberjack'-themed costumes (PA Real Life/Collect)
She added:
"The best so far has to be when he dressed as Worzel Gummidge and made himself a fake nose and hair out of an old mop. Everybody loved that one."
"It's a bit of a chicken and egg situation as to whether we come up with the theme first and find the props to match, or vice versa. Sometimes we'll look at what we have and base a theme around that, or we'll really want to incorporate one particular thing, so we'll find a theme to fit."
"On occasion, we've even come up with the music first, deciding what we'll play on the ukulele – though I have to say, our playing hasn't improved much through this."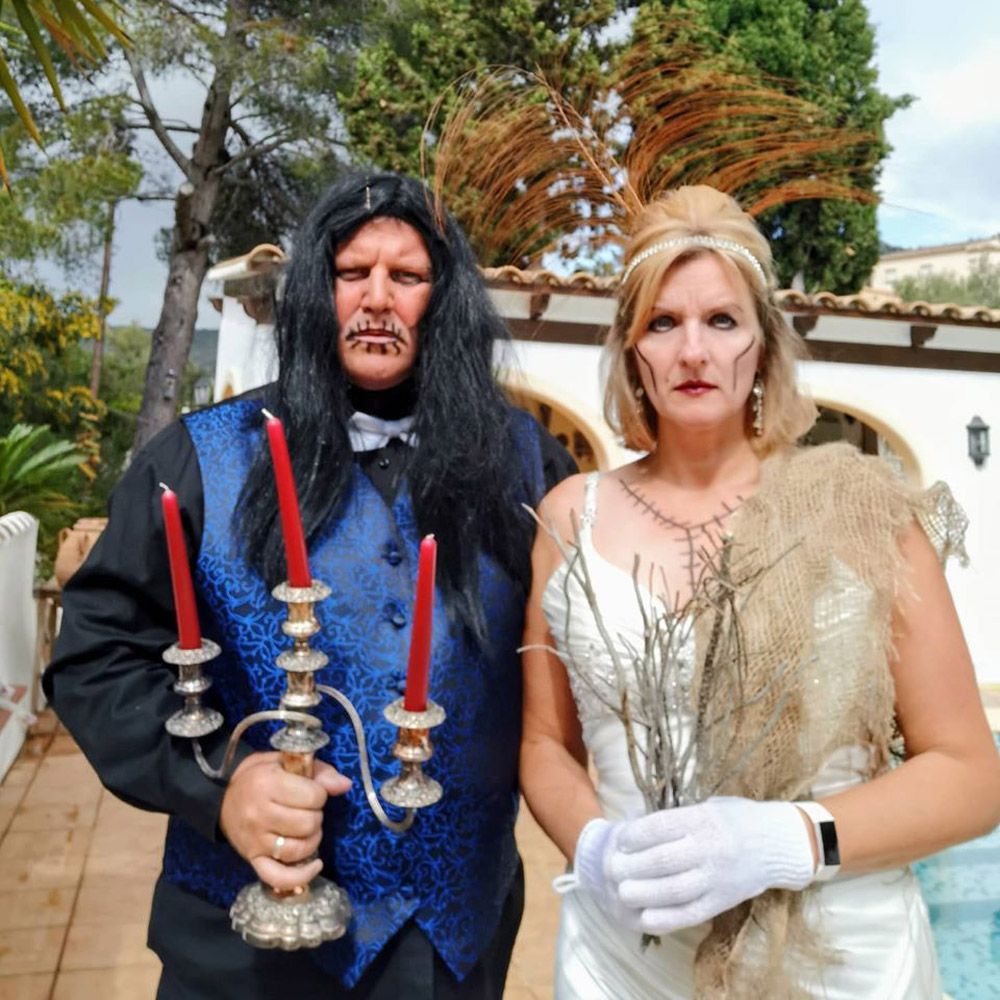 Jo and Pete's 'zombie wedding'-themed costumes (PA Real Life/Collect)
Not only does their quirky challenge put a smile on their faces, but it also helps them stick to a routine at such an uncertain time.
Pete continued:
"It helps us to focus our days. We'll get up, put on our costume for the day and do our photos and video. Sometimes that can take a good while. As we're still learning the ukulele we never get it right in one take."
"Then, we'll edit everything and upload it by lunchtime, before spending the afternoon planning the next day, and getting all our props ready."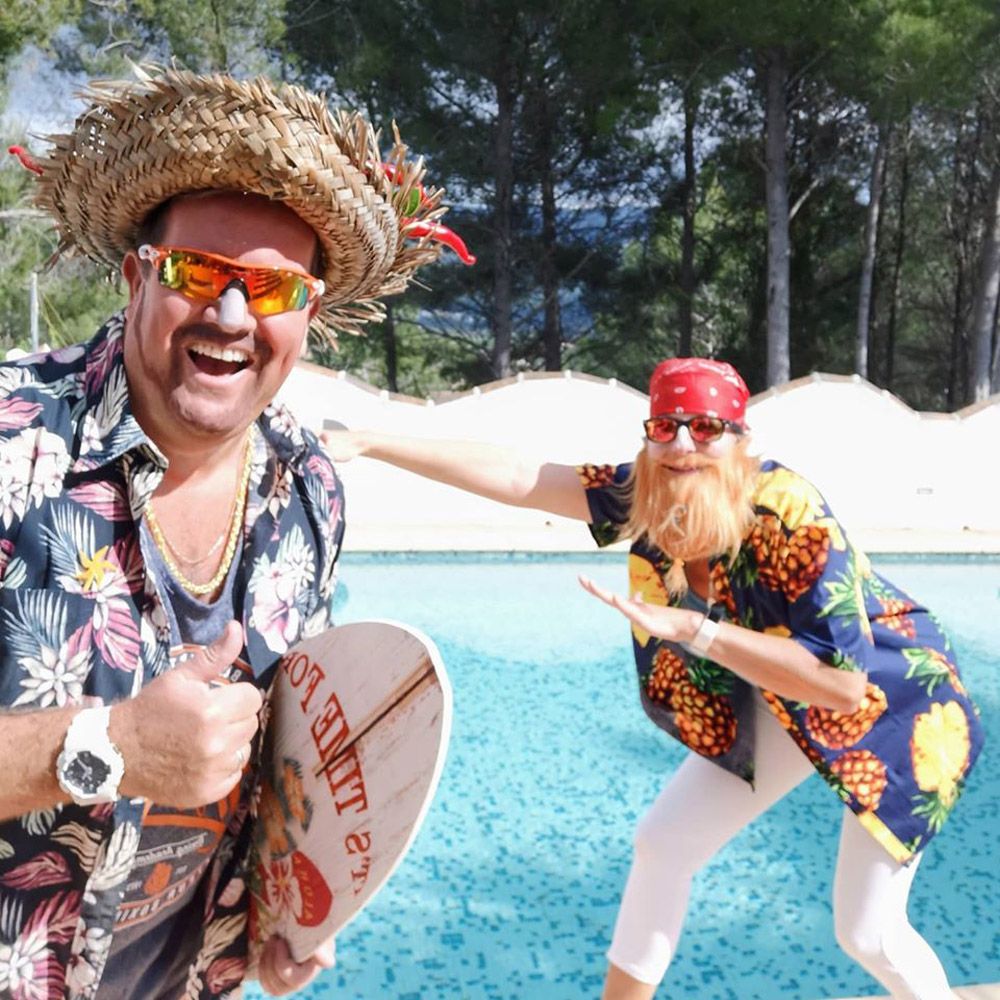 Jo and Pete's 'surfs up'-themed costumes (PA Real Life/Collect)
He added:
"Sometimes it can be a bit of a mad scramble, especially if I have to make something, to get it all sorted in time."
Vowing to keep going until the end of lockdown, which has just been extended for a further two weeks to May 9, for Jo and Pete, the main benefit of their hilarious costumes is being able to spread joy to those struggling, living under draconian rules.
Pete concluded:
"Everyone thinks we're bonkers, but the feedback we've got is that people are really looking forward to our pictures each day."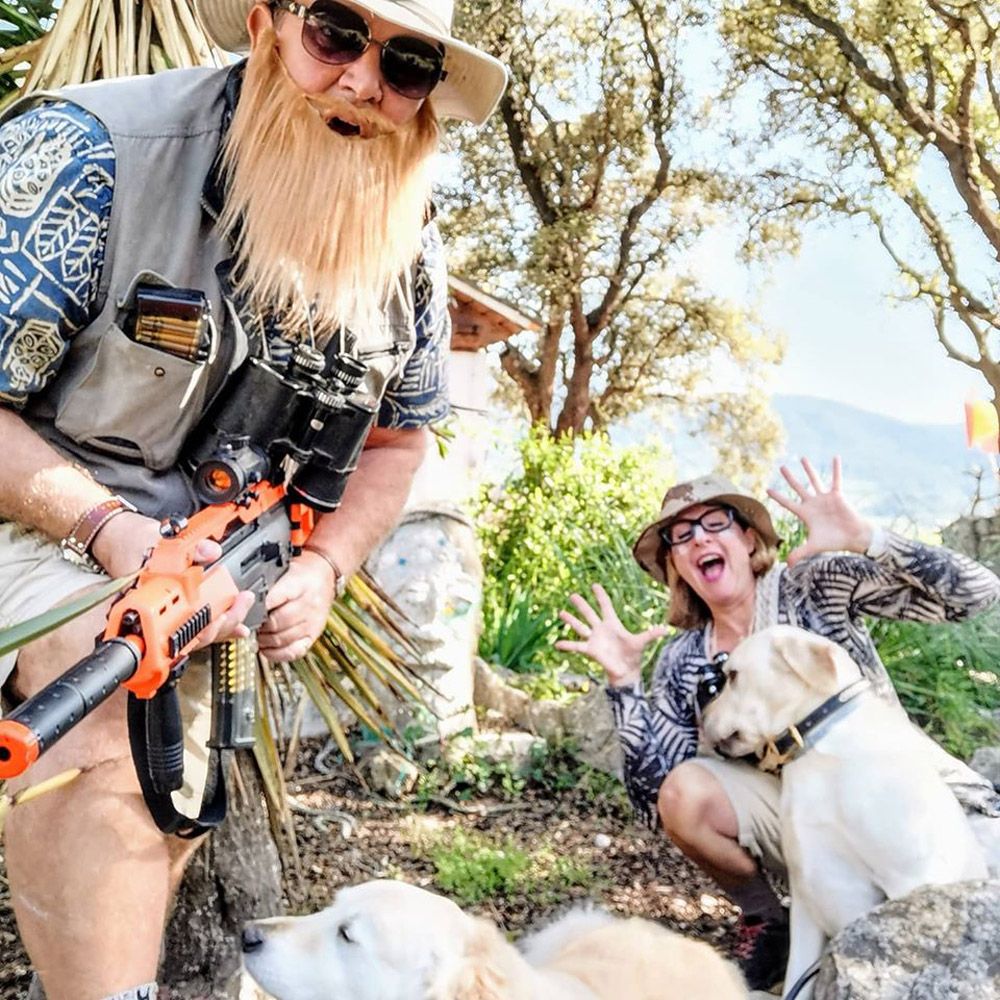 Jo and Pete's 'jungle explorer'-themed costumes (PA Real Life/Collect)
"We were due to finish on April 26 – when lockdown was supposed to finish – but obviously we'll keep going for as long we can," he said.
"It's lovely to be able to give people a laugh, and we've had so much fun doing this. It's our way of entertaining those who need it from a distance."