Democratic Representative Cori Bush made history in November of 2020, when she became the first elected Black Congresswoman for the state of Missouri.
However, the pioneering Congresswoman, who is also a registered nurse and former pastor, revealed her time Congress has been anything but peaceful.
The Democratic Congresswoman took to Twitter on Thursday, to reveal a number of disturbing, misogynist, racist tweets, several of which include death threats towards her and her family.
Bush revealed at the beginning of the thread she was being trolled by racists and White supremacists well before being elected.

"White supremacists wanted me dead before I came to congress. And White supremacist. threats on my life have only intensified as a Black woman speaking the truth in the halls of power."
"Just know they won't stop us. They Can't".
Many of Bush's twitter trolls were specifically attacking her for her progressive views on police reform.

"Instead of police reform, how about [n-word] reform? As they say in the country, "The only good [n-word] is a dead [n-word]."

Bush shared several other tweets either threatening or wishing her and her family death, citing her views about racial justice as justification, even going so far as to call Bush herself a racist for supporting basic human rights and equality.
@CoriBush/Twitter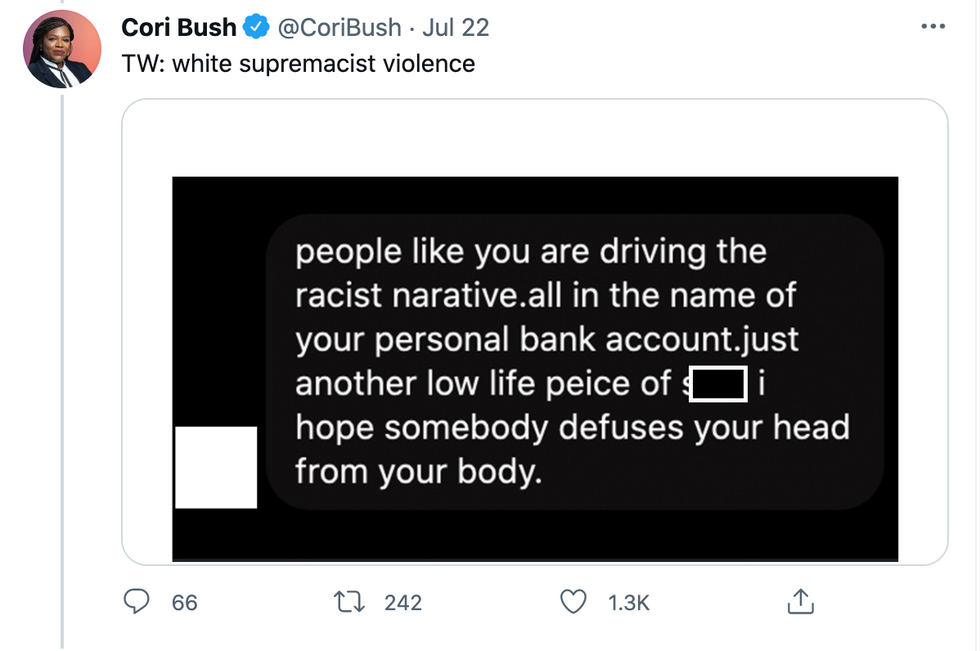 @CoriBush/Twitter
@CoriBush/Twitter
Although it can't erase the horrible attacks Bush and her family endure on social media, her supporters also came out in droves.

Be it to show their support and sympathy for the Congresswoman, or express their fear and horror at the blatant racism and misogynoir in the Tweets, residents of Missouri and elsewhere let it be known they are proud to have Bush in Congress.
@parsonsj/Twitter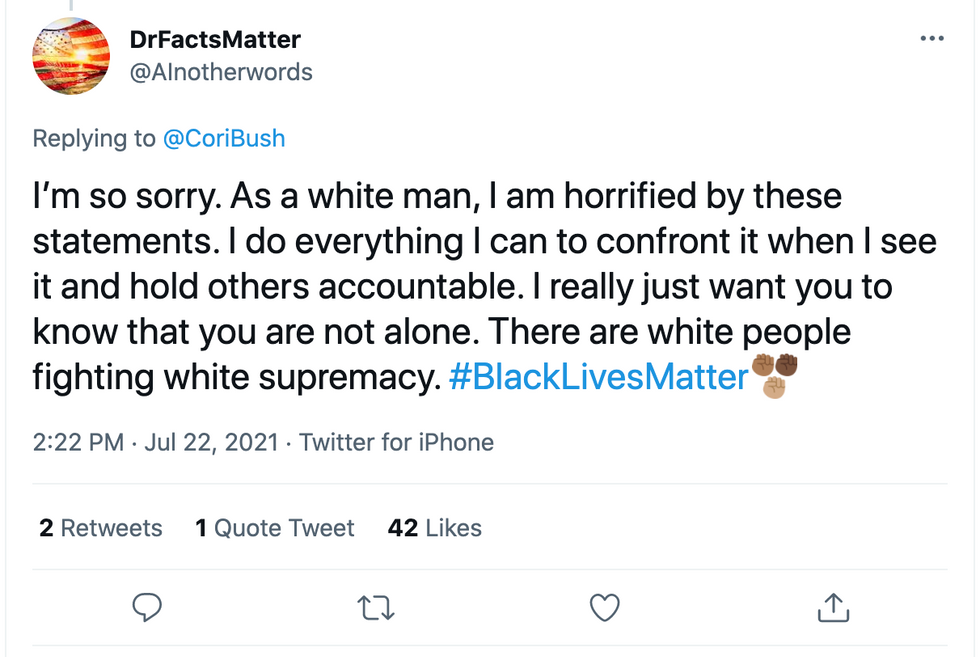 @Alnotherwords/Twitter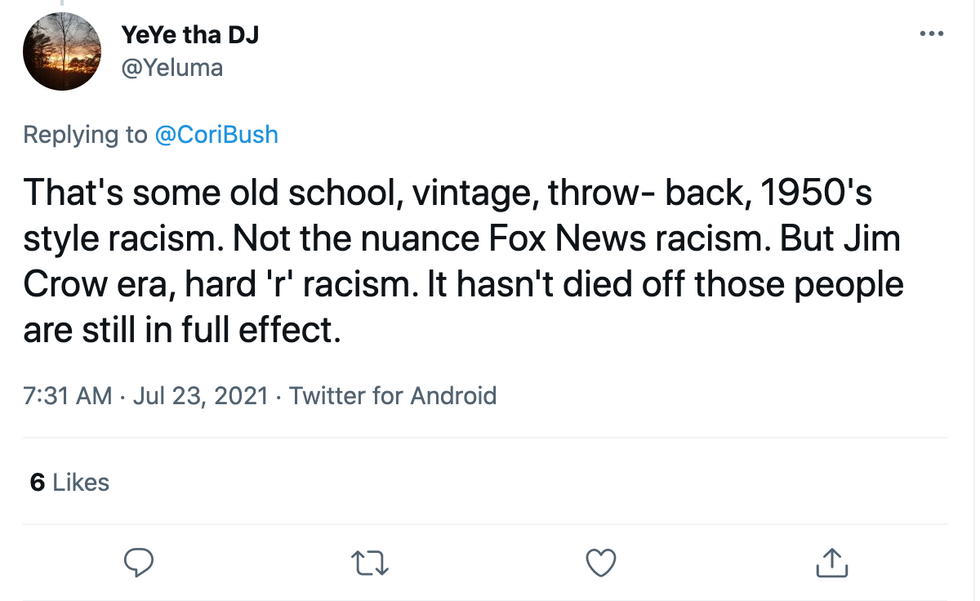 @Yeluma/Twitter
@pRhofectionism/Twitter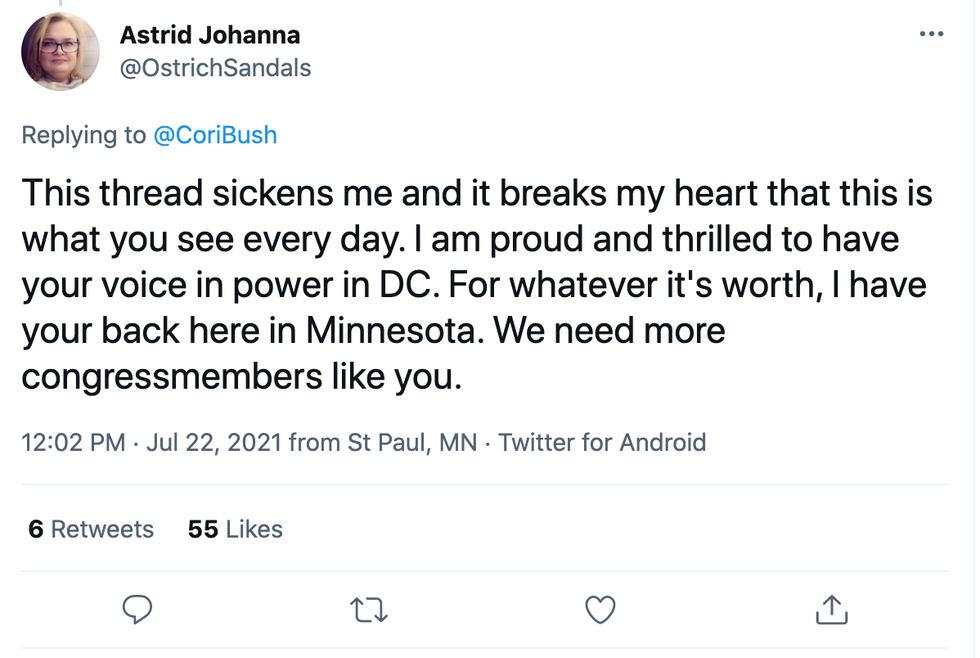 @OstrichSandals/Twitter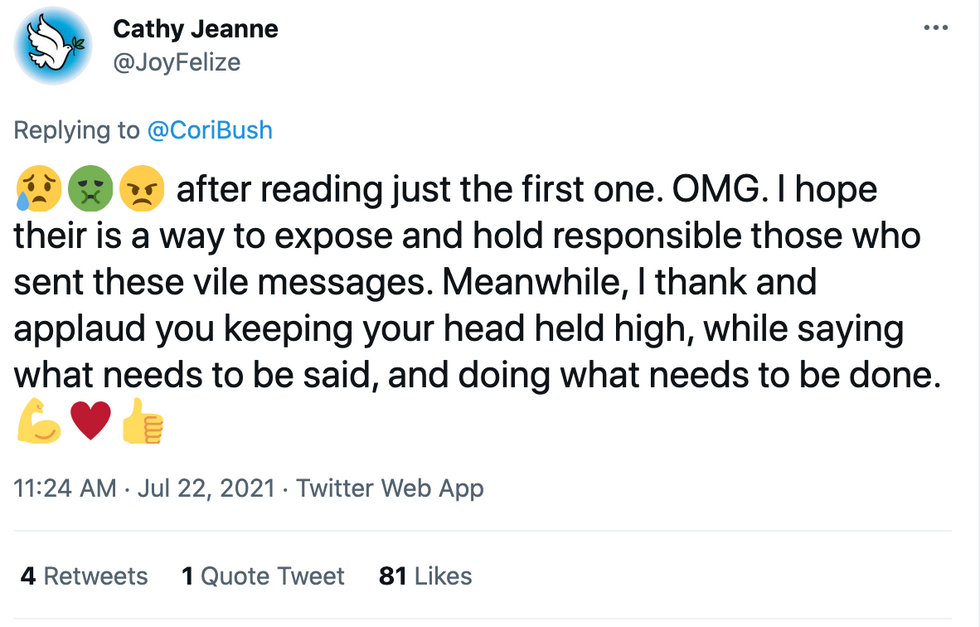 @JoyFelize/Twitter
@kai_newkirk/Twitter
Representative Bush's political aspirations began after 18-year-old Michael Brown was fatally shot by police officer Darren Wilson in Ferguson, Missouri in 2014.
Bush initially had an unsuccessful run for Missouri state senate in 2016 before her 2020 victory.
Police reform has been one of Representative Bush's top priorities. She made headlines in April this year, when she refused to accept a compromise on a police reform bill.
The bill would have allowed police officers in misconduct claims to be protected by qualified immunity, but as Bush told CNN at the time.
"We compromise, on so much. You know, we compromise, we die. We compromise, we die."