The latest call by conservatives to boycott takes the cake—or the sausage, as the case may be.
Right-wingers are threatening to boycott the Cracker Barrel chain of restaurants in retaliation for their decision to add a plant-based sausage option to their menu, and perhaps nothing has been more on-brand.
According to the angered conservatives, Cracker Barrel's choice to include a vegan option indicates they've "gone woke." No mention in their calls for boycotts about "cancel culture"—which they also often rant about.
The backlash began pretty much immediately after Cracker Barrel announced the addition of the popular Impossible-brand item on social media.
In a Facebook post, Cracker Barrel included an upbeat caption announcing the move, which read:
"Discover new meat frontiers. Experience the out of this world flavor of Impossible Sausage Made From Plants next time you Build Your Own Breakfast."
But conservatives were not feeling the excited over "new meat frontiers" to say the least.
Their comments on both Facebook and Instagram immediately filled up with people angry insisting they'll never eat at Cracker Barrel again.
And as always with conservatives, the offensive thing about vegan sausage is apparently that it's "woke."
One comment read:
"We don't eat in an old country store for woke burgers."
Another took things a couple steps further:
"You just lost the customer base; congratulations on being woke and going broke."
Pretty dramatic for a demographic who constantly calls liberals "snowflakes."
Of course vegan meat substitutes are far from new, even in mega-chain restaurants. Even Burger King has had Impossible Whoppers and nuggets for three years now, and McDonald's is said to be testing a plant-based burger.
But for conservatives this seems to be some sort of American apocalypse.
On Twitter, people could not believe the ridiculousness.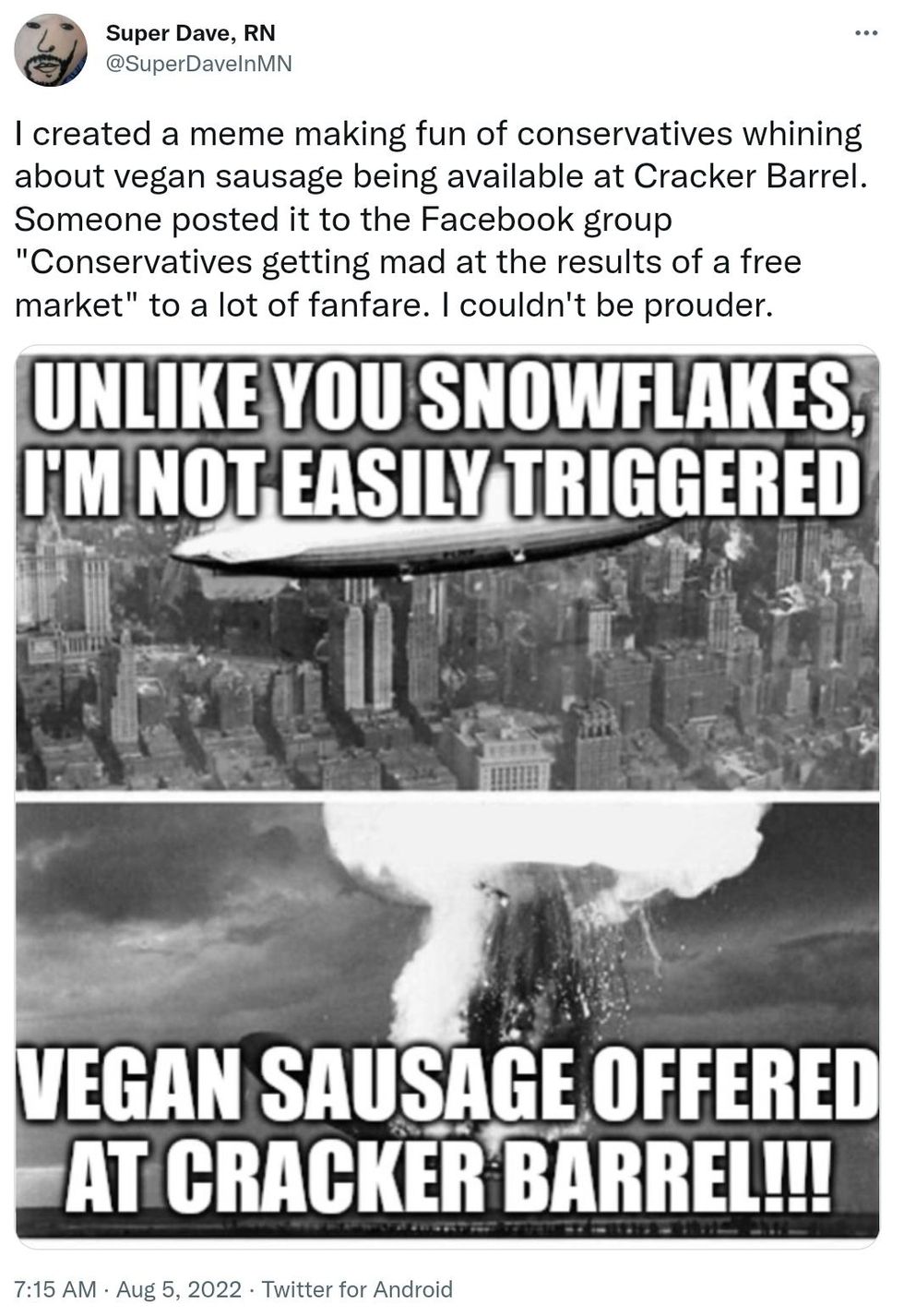 @SuperDaveInMN/Twitter
For their part, Cracker Barrel seems unfazed by the controversy.
They told Insider:
"At Cracker Barrel, we're always exploring opportunities to expand how our guests experience breakfast and provide choices to satisfy every taste bud."
Sounds like another example of free market capitalism that conservatives worship above all else simply doing its job.