A man accused of participating in the insurrection at the Capitol was turned into the authorities by a person he matched with on a dating app. He's now being charged in relation to the coup attempt by supporters of former President Donald Trump.
Information about what led to the arrest of Robert Chapman is coming out as prosecutors go through the evidence against him. Court documents show what led to the FBI's lead on Chapman.
According to court filings, Chapman had matched with someone on the dating app Bumble. However, their would-be date didn't appreciate Chapman's story of what he did on January 6.
Instead, they questioned the rioter and immediately turned him in.
Part of the evidence in the case came from a screenshot of the conversation between Chapman and his match.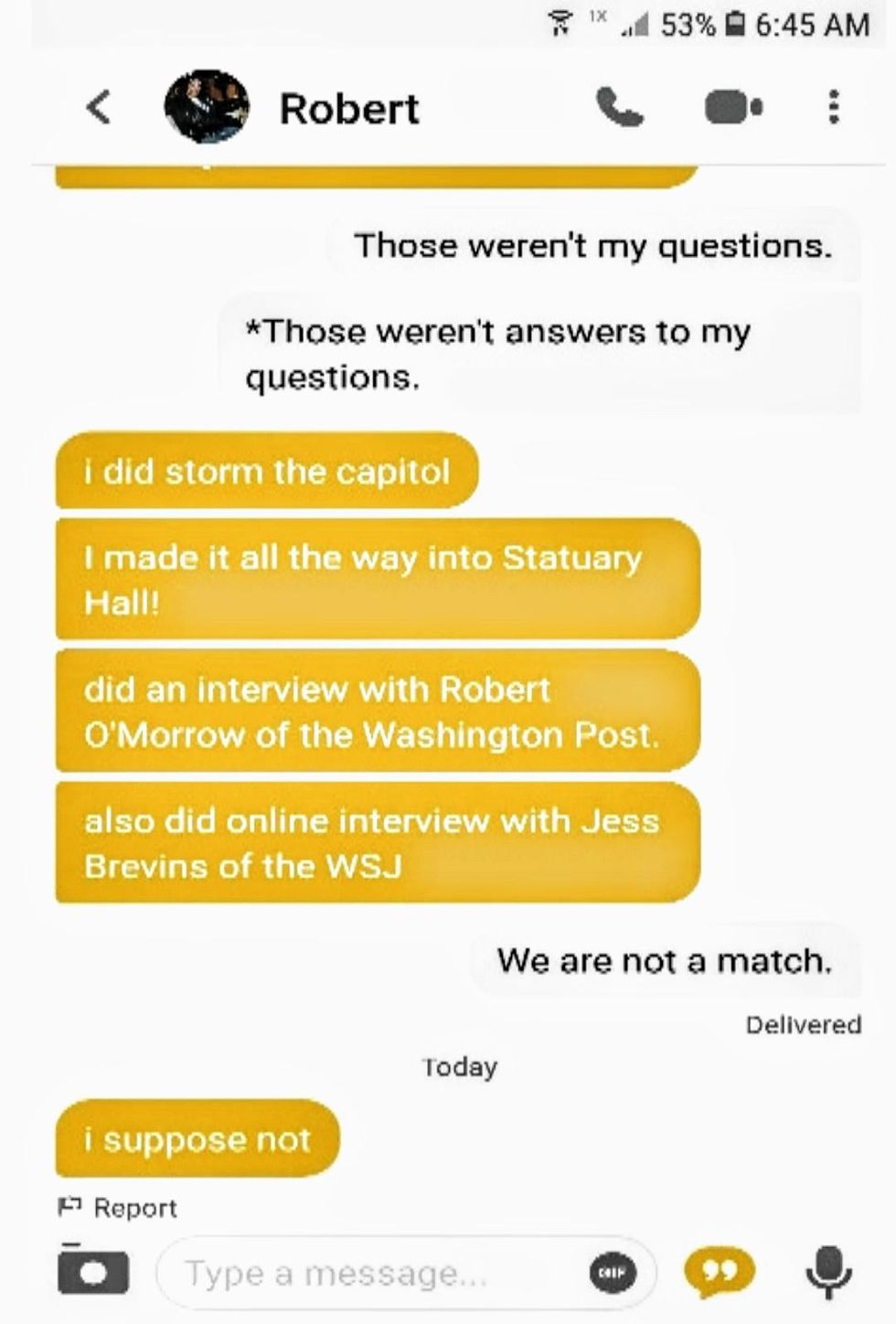 FBI affidavit
The above image is a conversation between the potential date and Chapman that took place only a week after the Capitol riot.

The date's message read:
"Those weren't answers to my questions."
Chapman helpfully responded:
"I did storm the capitol. I made it all the way into Statuary Hall!"
"Did an interview with Robert O'Morrow of the Washington Post. Also did online interview with Jess Brevins of the WSJ."
Then the date responded with the now iconic line:
"We are not a match."
Chapman replied:
"I suppose not."
The entire conversation seems pretty cut and dry in terms of Chapman explaining what he did during the Capitol riot. The potential date reported Chapman to the FBI after this.
Chapman is also said to have bragged about his role in the riot on Facebook, and even changed his profile picture to a selfie of himself trespassing on government property.
It's like he wanted to get caught.
NBC New York said Chapman was seen on police bodycam in the Statuary Hall, corroborating the screenshot. He was arrested and charged with trespassing and disorderly conduct on restricted government property.

The arrest reminded people of the report women were using dating apps to catch and report possible insurrectionists. Bumble temporarily removed its politics filter to prevent misuse shortly after that.
Chapman is one of hundreds of suspects arrested and currently being tried in connection with the January 6t Capitol riot. The group tried to force their way into Congress to prevent the certification of the election and keep Donald Trump as President.
The whole thing has become an absurd series of blunders.
Chapman isn't the only insurrectionist who lost out on a chance at love because he stormed the Capitol. Last month, it was reported a woman's husband turned her in after finding a picture of her at the riot with another man.

She was served with an arrest warrant and with divorce papers.