Billboard—one of the most popular music and entertainment magazines in the United States—was dragged online after declaring rapper and designer Ye as their top gospel artist amid the controversy that erupted after rapper and designer Ye toldInfowars conspiracy theorist Alex Jones he liked German Nazi Party leader Adolf Hitler.

The magazine's unfortunate timing comes as Ye continues to make headlines for high-profile scandals related to his antisemitism, aggravated further by his praise for a genocidal fascist.
Billboard has since deleted the tweet, which noted Ye "concurrently reigns" as the magazine's "top male artist of the year."

You can see the tweet below.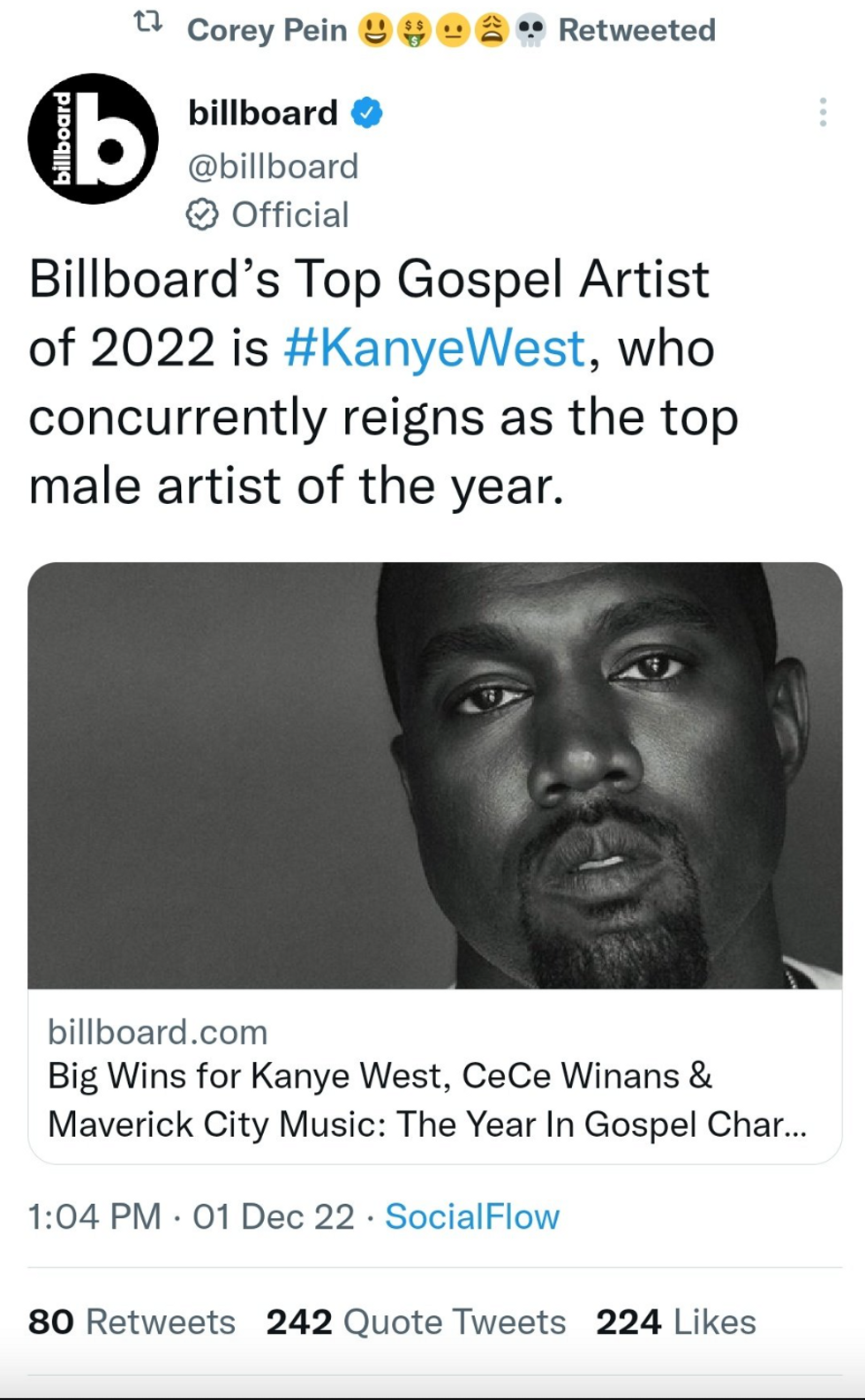 @billboard/Twitter
Billboard's recognition of Ye—who recently announced a 2024 presidential bid on the Republican ticket—only added fuel to a fire that has raged out of control in the last few days.

Earlier today, billionaire Elon Musk confirmed he suspended Ye's Twitter account after Ye tweeted a swastika entwined with a Star of David.
That controversy came just after Ye stormed out of an interview with far-right YouTuber Tim Pool after receiving slight pushback against his antisemitism amid criticism for accompanying White nationalist Nick Fuentes to a a highly controversial meeting with former Republican President Donald Trump at his Mar-a-Lago estate.
The ill-timed tweet attracted both scorn and mockery from Twitter users.
Billboard's tweet was likely written and scheduled to go live to Twitter before Ye's appearance on Infowars.
The magazine has not commented on the since-deleted tweet, though it did publish a different article reporting Ye's comments about Hitler.and offering a detailed timeline of Ye's erratic and antisemitic behavior to date.
That article notes Ye has only "doubled down" on his antisemitic rhetoric, behavior other publications would likely have disqualified him rather than commemorated him for regardless of his music's success on the charts.