A news anchor for a Washington D.C. Fox affiliate has apologized after saying he is "annoyed" obese people are prioritized in vaccination access.
Despite the apology, Blake McCoy with Fox 5 was suspended when the tweet received significant backlash online.
The initial tweet has since been deleted, but lives on in screenshots.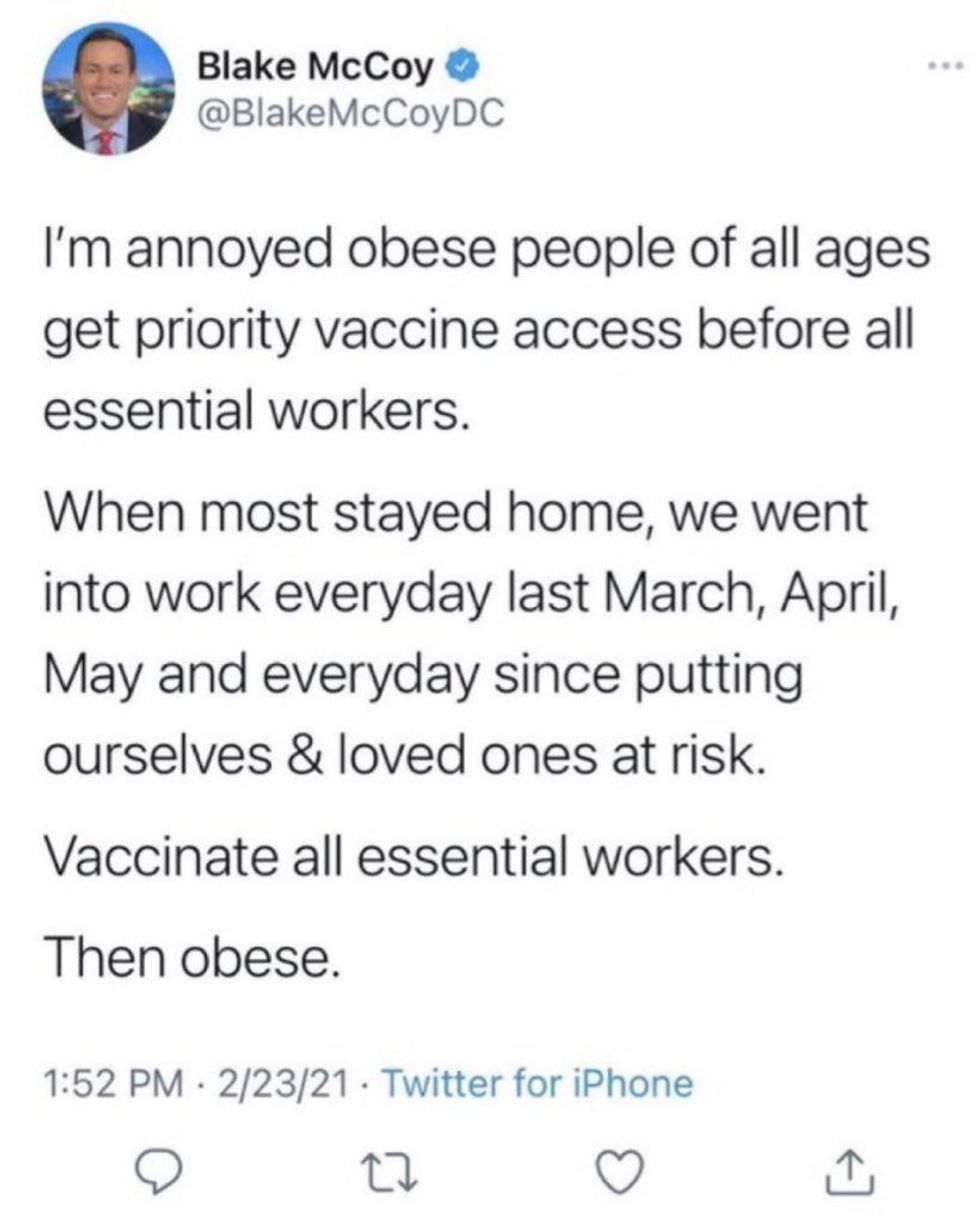 @BlakeMcCoyDC/Twitter
In the tweet above, McCoy decries that:

"In DC – obese people of all ages get priority vaccine access before all essential workers."
"When more stayed home we went into work everyday last March, April, May and everyday since putting ourselves & loved ones at risk."
"Vaccinate all essential workers. Then the obese."
In the current plan for D.C.'s rollout of the vaccine, all people with a higher risk of complications from the disease are included in Phase 1c Tier 1. This puts them after health care professionals and teachers among many other essential workers.
However, it does put them ahead of "essential employees working in media and mass communication".
Some believed this is the reason for McCoy's tweet.
McCoy was quickly called out online for his insensitive tweet and accused of fat shaming. They also mocked him for implying a TV news anchor was an essential worker above high-risk health categories.

Others however, pointed out McCoy had a history of doing unsafe things during the pandemic possibly increased the risk for himself and the people around him. This included a Hawaii vacation and earlier this month, broadcasting his new date from Tinder.
People online had pretty good reasons to believe he was a hypocrite.
After deleting the tweet, McCoy released an apology.
However, not everyone was convinced.
Some pointed out in response to a fan, McCoy also claimed he deleted the tweet just to avoid arguing with people online. In that same response, he justified himself by saying he knows people have gamed the system to get vaccinations early.
At the time of writing, a spokesperson for the station said McCoy "has been suspended pending further review".
It is unknown at this time whether he will face any penalties or if he will be back on the news.
This comes at a time when people are already questioning the vaccine rollout.
President Joe Biden has had to defend the rollout, despite 50 million people having been vaccinated already. However, as we still wait for a wider implementation of vaccines, it's important to continue taking precautions to prevent the spread.
It's recommended you continue to socially distance and wear a mask as we're still unsure of the efficacy of the vaccine against all new variants.