Singer Adam Lambert tore into homophobic trolls who targeted his partner in a photo of them together on a night out in West Hollywood in Los Angeles, California.
Since 2020, the Queen frontman and American Idol season 8 finalist has been dating Oliver Gliese, who works in the fashion industry.
They were spotted together with friends at the Hi Tops bar on August 4 in the trendy part of town known for its LGBTQ+ nightlife.
Photos online showed Lambert wearing a black outfit with a low v-neck and unbuttoned black shirt and Gliese in a black and white ensemble with a mesh shirt and cutoff denim shorts and silver jewelry.
You can see one of the posts here:
Lambert's fans were happy to see the couple enjoying an evening together on swanky Santa Monica Boulevard on the Sunset Strip.
Others, however, were not as kind.
Homophobic trolls went after Gliese for his outfit, his gender and sexual identity.
Rather than ignoring and allowing the haters to continue leaving bigoted comments, Lambert laid into them and challenged them to be better people.
On Saturday, he wrote on Instagram story:
"Oli and I had a fun night out!"
"Lifts my spirits to see support in the comments."
"Also appalled to see the obnoxious homophobia and ignorance plaguing people [right now]."
The singer continued:

"Oli identifies as a he."
"He has wicked style and refuses to conform to societal norms regarding his fashion choices."
"He is beautiful and brave and daring. He's a leader, not a follower. One of the many things I love about him!"
"We are very happy together and if the haters don't like it, we really don't give a f'k!"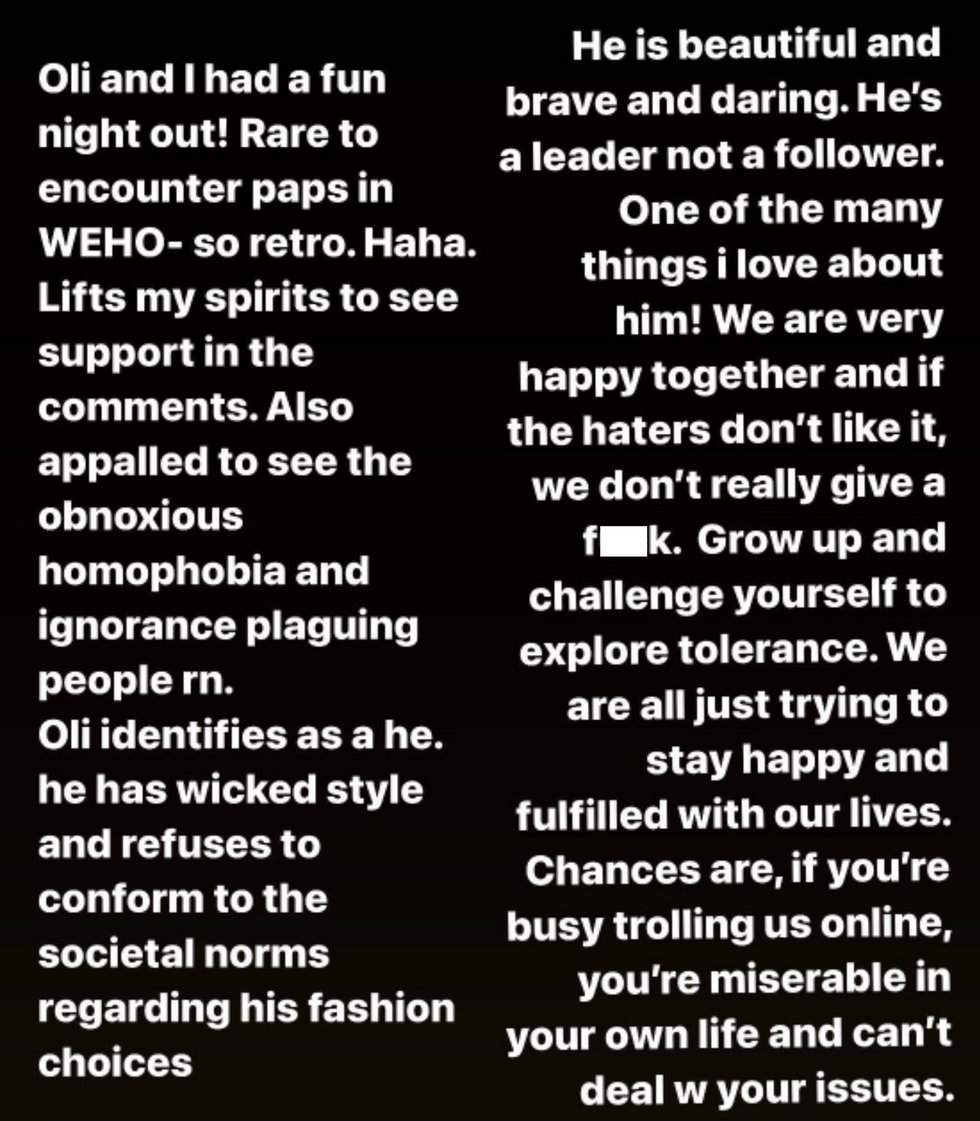 @4Gelly/X
Lambert then demanded haters do better.

"Grow up and challenge yourself to explore tolerance."
"We are all just trying to stay happy and fulfilled with our lives."
He ended with:
"Chances are, if you're busy trolling us online, you're miserable in your own life and can't deal w[ith] your issues."
Fans applauded Lambert's post.
The couple's night out came a week after Gliese celebrated his 28th birthday with a star-studded bunny-themed party attended by their friends including Kate Beckinsale and Lil Nas X.

Lambert is scheduled to perform with Queen for their Rhapsody Tour which will begin in October 2023.