The campaign trail can be exhausting and stressful. It can be hard to let yourself have fun.
That may be why 2020 Democratic presidential candidate John Delaney seemed to be having none of this giant slide.
---
See for yourself.
Delaney has powerful meme energy https://t.co/rxsM3mx5eN

— Will Sommer (@Will Sommer)1561603486.0
Delaney gave a strong performance in last night's first Democratic primary debate, but in this photo shared by Daily Beast reporter Will Sommer, he doesn't seem too entertained.
Sommer accurately predicted that Delaney had "powerful meme energy."
Sure enough, the memes came flooding in.
@willsommer https://t.co/H6uN8XRUoq

— Brendan Karet 🚮 (@Brendan Karet 🚮)1561608655.0
When I'm on a date with a girl but remember my deep seeded issues that can only be solved through therapy and not a… https://t.co/GG16miVYfS

— Elijah (@Elijah)1561614590.0
@willsommer He looks very wonderful for a magic carpet ride. https://t.co/5Mz4OYg6zT

— 🌜Squidward Dabs🌛 (@🌜Squidward Dabs🌛)1561618103.0
@willsommer https://t.co/5Zlpetf66m

— Melanie Schmitz (@Melanie Schmitz)1561603908.0
@willsommer https://t.co/xZaHmc0c7l

— Hailey Melville (@Hailey Melville)1561604566.0
Others made some keen observations.
@willsommer great upper body

— SARUMAN (@SARUMAN)1561603513.0
@willsommer Initiate fun mode.

— Hake Jyland 🔙🔛🔝 (@Hake Jyland 🔙🔛🔝)1561635896.0
@willsommer @ne0liberal He reminds me of Donkey Kong. I don't know why, but he does.

— Bobby Reedy🌐 (@Bobby Reedy🌐)1561607571.0
@willsommer What the picture don't show is that he was stuck on the slide! 😆

— Arturo J Phillips (@Arturo J Phillips)1561652994.0
@willsommer @williamlegate I refuse to have fun until I am president

— sKane (@sKane)1561635769.0
@willsommer Put this in the MOMA omg...

— Cnix (@Cnix)1561603840.0
Delaney has yet to respond, but we have a feeling he'd crack a smile at some of these reactions.
No matter where you are on the political spectrum, the only way to have a voice in politics is to vote. Encourage others to do the same with this shirt, available here.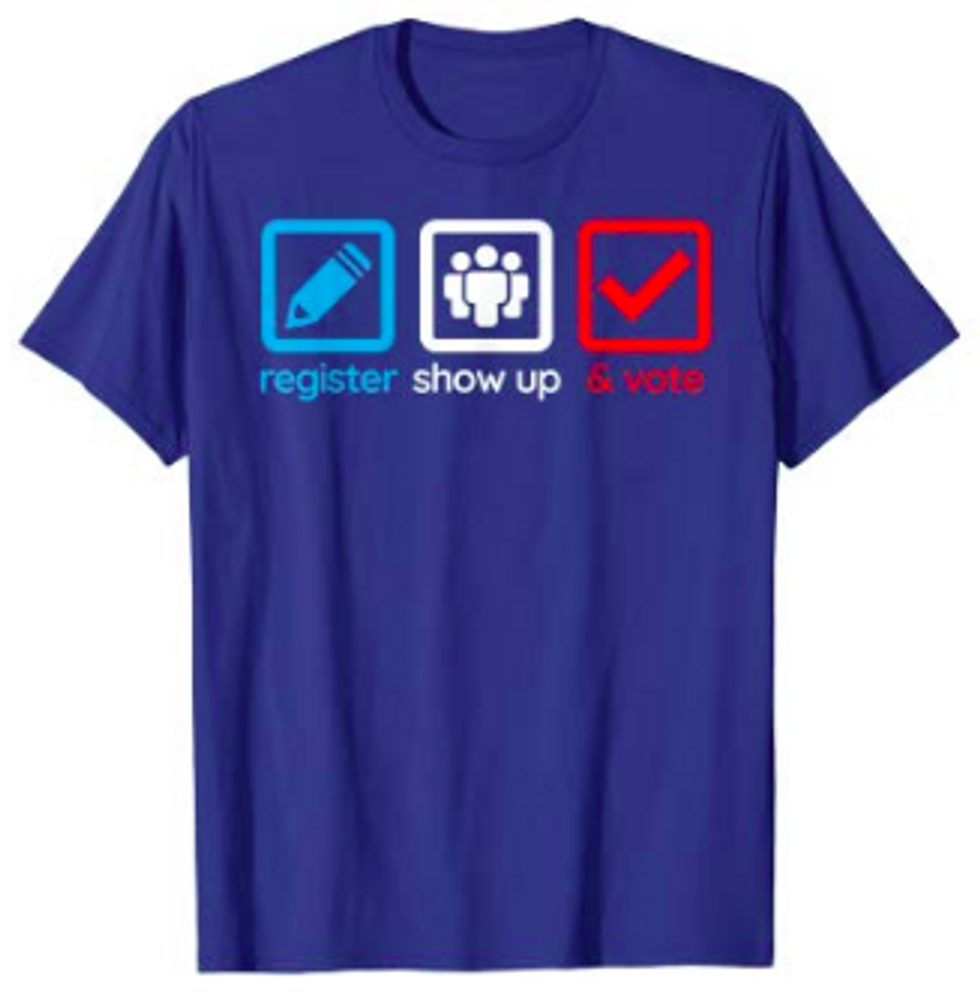 Amazon