For some people, it would seem Independence Day is the perfect time to showcase the worst aspects of humanity. In Willowbrook, California a Mexican grandfather visiting his family in the U.S. for the holiday was beaten with a concrete cinder block by a complete stranger, who reportedly told him to "go back to your country, go back to Mexico."
---
Rodolfo Rodriguez is 91-years-old and lives in Michoacan, Mexico. Twice annually, he makes the trip up to California to visit his family. While there, he takes a nightly walk around the neighborhood. According to his grandson, Erik Mendoza:
Everyone in the neighborhood knows him already.
@thehill Who would you rather have as a neighbor? An immigrant who just goes about his business, or a guy who hits people with bricks?

— Sharon Hoger (@Sharon Hoger) 1531164907.0
On July 4, Rodriguez was near a local park when a mother, accompanied by her daughter, passed him on the sidewalk. According to Rodriguez, the woman attacked him without warning, hitting him in the face with a concrete block. He commented to CNN:
I didn't even bump into her kid. I just passed her and she pushed me and she hit me until she was done.
Rodriguez says the woman at one point ran to nearby group of men and told them he was trying to abduct her daughter. Without hesitation, the men joined in, kicking the 91-year-old as he lay, bleeding, on the sidewalk. Addressing the woman's accusations, he said:
But that's not true. In the years I have been alive I have never offended anyone.
The incident was witnessed by Misbel Borjas, who happened to be driving by when she saw Rodriguez being beaten over the head with the concrete block. Borjas commented:
I heard [the attacker] saying, go back to your country, go back to Mexico. When I tried to videotape her with my cell phone, she threw that same concrete block, tried to hit my car.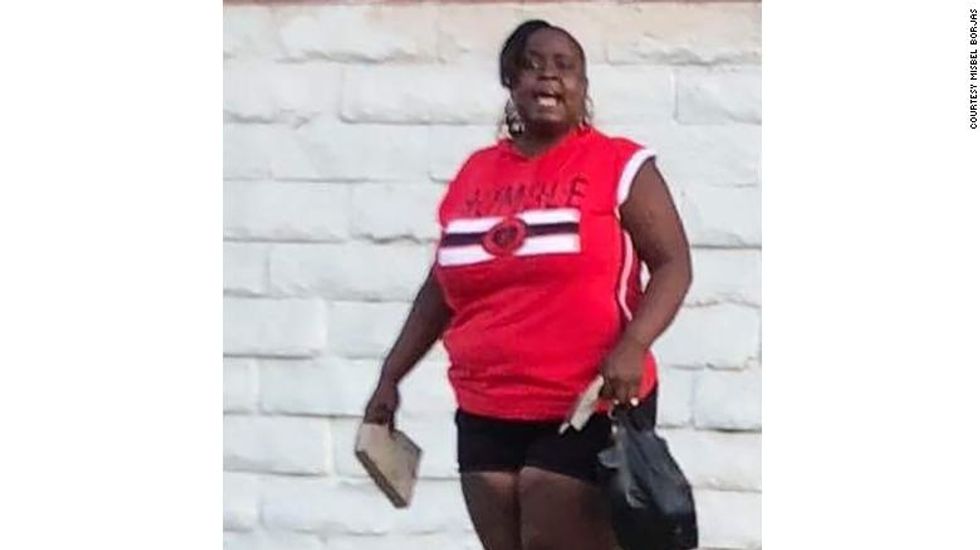 The woman, holding a cinder block, captured in a photo by Borjas.Misbel Borjas
Rodriguez spent 5-6 hours in the hospital (according to his grandson) being treated for "a broken jaw, broken cheekbones, two broken ribs and bruises on his face, back and abdomen." He told CNN:

I can't walk anymore. I'm in so much pain.
Authorities are searching for suspects involved in the brutal beating of a 92-year-old man. One witness claimed an… https://t.co/EW3NaJX5PZ

— Los Angeles Times (@Los Angeles Times) 1531238719.0
Deputy D'Angelo Robinson told CNN affiliate KTLA:
We are concerned, especially with the type of crime they committed. There was what appears to be a 4-year-old child there who witnessed the entire thing. We can't have these kind of people like that out in the streets.
Earlier this afternoon, authorities confirmed that they'd arrested Laquisha Jones at 10 p.m. Tuesday, near 60th Street and Crenshaw Avenue, according to the Los Angeles County Sheriff's Department. Jones has been charged with assault with a deadly weapon. The search is still on for the multiple men involved in the attack.
@latimes @nycsouthpaw Shocking and horrible. What a monstrous thing to do to him. I hope he makes it.

— Dori Smith (@Dori Smith) 1531239484.0
Meanwhile, Rodriguez's family is helping their patriarch to stay comfortable while hoping for a swift end to his ordeal. Mendoza commented:
We think we have an idea (on who the suspects are) but I just want police to find them. That's all our family wants, justice for our grandpa.