An accidental tweet is the modern day version of pocket-dialing, and the latest to fall victim to its misfortune is Labor politician Yvette Cooper.
The MP for Normanton and Pontefract's tweet, reading simply "K", is hapless tweeting in its purest form – and no one understands that fine art better than her husband Ed Balls.
---
The former shadow chancellor's famous first tweet read simply "Ed Balls", and was enough to have a day named after him – Ed Balls Day.
Naturally then, it was he who lead the charge when it came to mocking his wife's Twitter woes.
Yvette, you've got to stop this pocket-tweeting. Believe me, it can get you into all sorts of trouble... https://t.co/FUNoEFnIk2

— Ed Balls (@Ed Balls)1539282380.0
Yvette Cooper https://t.co/FUNoEFnIk2

— Ed Balls (@Ed Balls)1539282331.0
Here is how nine others interpreted Cooper's "K".
1. Whatever will be, will be.
2. Hello?
@YvetteCooperMP You called?

— Kay Drummond (@Kay Drummond)1539283104.0
3. Have fun.
Ed Balls: 'Gonna stay out and have a few pints with the lads. Shouldn't be back too much later than planned. https://t.co/lox4nZ1lf4

— James Vause (@James Vause)1539283501.0
4. Arise Sir Ed.
@YvetteCooperMP nighthood for Ed?

— I'm Spartacus 🛡🗡 #FBPE #WATON (@I'm Spartacus 🛡🗡 #FBPE #WATON)1539281324.0
5. Not Numberwang.
@YvetteCooperMP That's Letterwang.

— (((Patrick Morrow))) (@(((Patrick Morrow))))1539281114.0
6. A political opportunity.
ancel Brexit? https://t.co/lSiQd7KVMN

— Matt Deeply Unhelpful Kelly (@Matt Deeply Unhelpful Kelly)1539281518.0
7. Unenthusiastic but politically motivated.
When someone asks if you want to join the socialist revolution https://t.co/6K1wsRPUpM

— Ben Tiplady (@Ben Tiplady)1539281058.0
8. Get Down Tonight.
@YvetteCooperMP C and the sunshine band?

— Rachel Martin (@Rachel Martin)1539280766.0
9. Come again?
me when someone asks if i agree with something when i wasn't listening https://t.co/rxegWmxPV9

— CONES 💀 (@CONES 💀)1539293020.0
It might not be worthy of an Yvette Cooper Day this time, but as a certain U.S. president will attest, it just goes to show covfefe.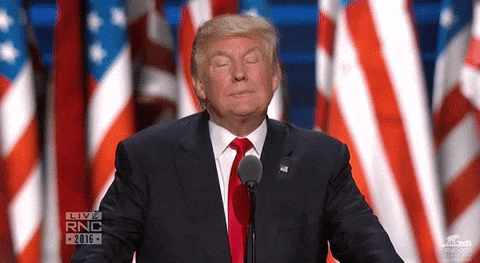 Giphy
A version of this article originally appeared on Press Association.