When the gas man comes to service your home, one would expect him to leave the premises after a customer is satisfied with a job well done.
That was not the case for one woman, who was given a personal number from her gas man and saw him loitering outside her home for well after he was finished with the appointment.
TikToker Emily, a.k.a. @frecklesemx, posted a clip chronicling the events following the receipt of the gas man's number scrawled on a piece of paper.
"So, the gas man gave me his number today and I decided to test it to see what he would say," she wrote in the onscreen caption.
@frecklesemx

You could not make this up #fyp #fy #foru #foryou #ThenNowForever #fypシ #foruyou #fyi #help
"It started off normal," she wrote, over a screenshot of the beginning of their text exchange.
The TikToker wrote:

"Hey Ed, thanks for giving me your number, and thanks for being sweet. Emily x."
To which he responded:
"Your welcome, no problem, you're welcome. If you don't mind me saying but you are gorgeous and I don't understand how you're not taken."
Emily then showed a view from her window of him still sitting inside his parked car in front of the house.
"Why is he not driving off?" she wondered.
Emily responded humbly to his reply, writing:
"Omg that's so sweet esp [especially] since I'm in my pjs hahah."
And he explained that her comfy look was "turning me on. lol"
She even caught him checking his phone to see if she responded to his comment.
"He really said f'k this job," she said of his attempt to mix business with pleasure.
"Hahaha oh lord," Emily replied, and Ed told her, "Sorry, just be honest lol."
When Emily responded "fair play," he wrote back:
"Well like I said I'm on call this weekend. So if you have any problems give a shout and I'll be the one coming??"
She didn't respond, but then she received this followup message from him:

"I can come back in as I'm just sat outside, waiting to finish before moving on to my next job. Rather that texting [each] other??"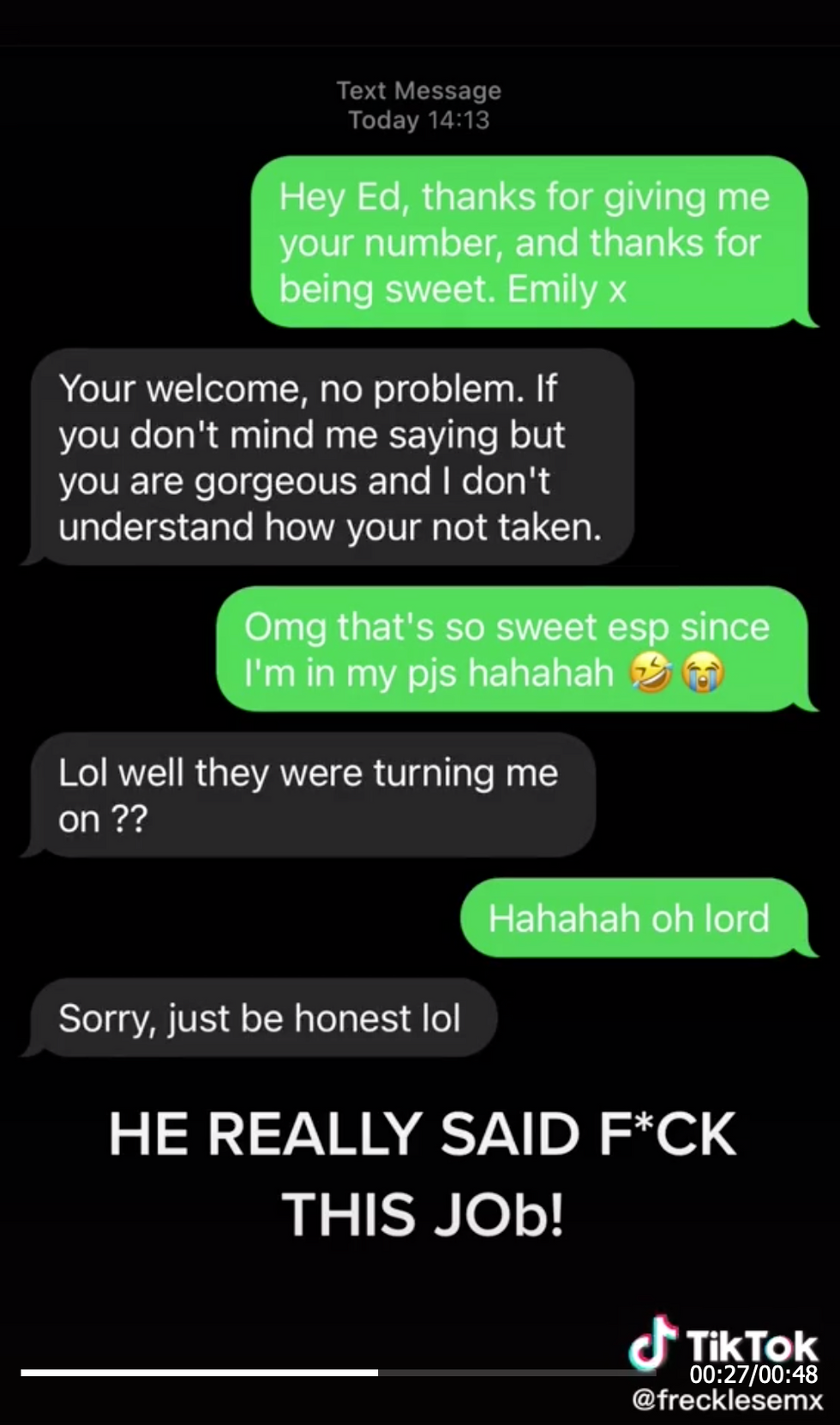 @frecklesemx/TikTok
"He has been waiting outside for an hour now," wrote Emily. "Help!"
The clip received over 1.1m views and 62,000 likes.

TikTokers weighed in with their concerns.

@frecklesemx/TikTok

@frecklesemx/TikTok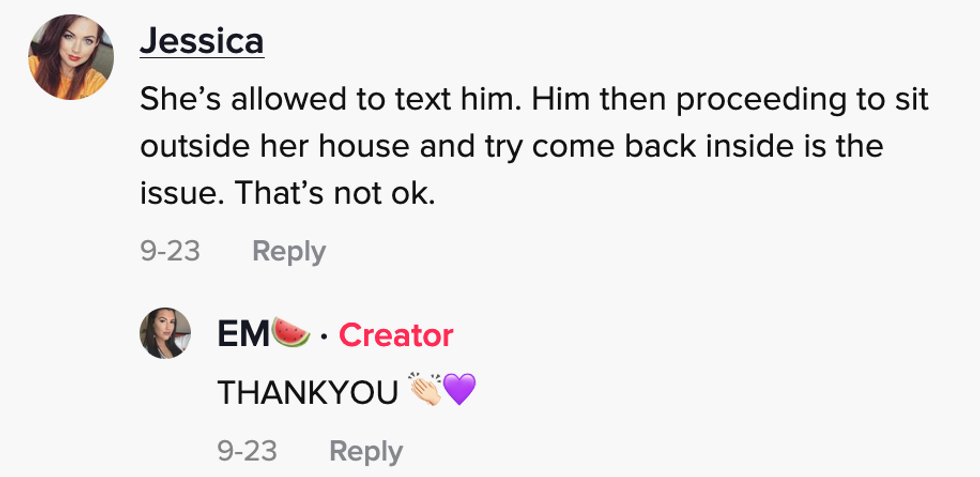 @frecklesemx/TikTok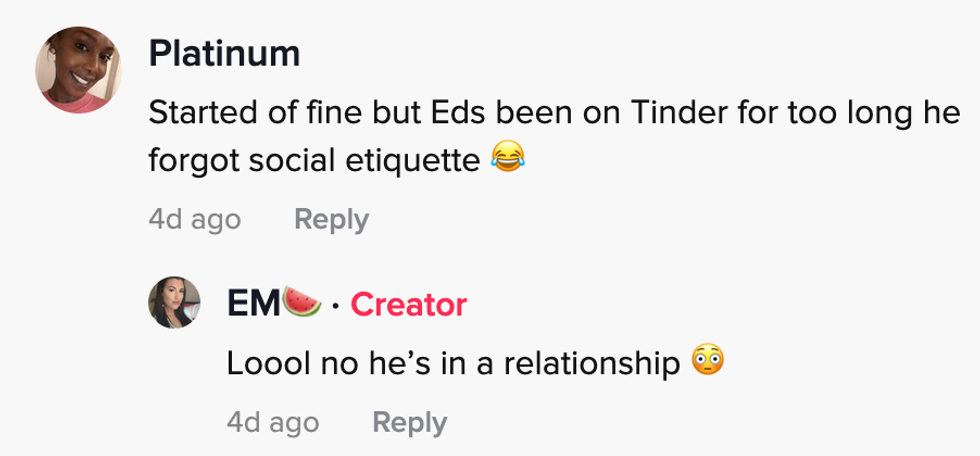 @frecklesemx/TikTok

@frecklesemx/TikTok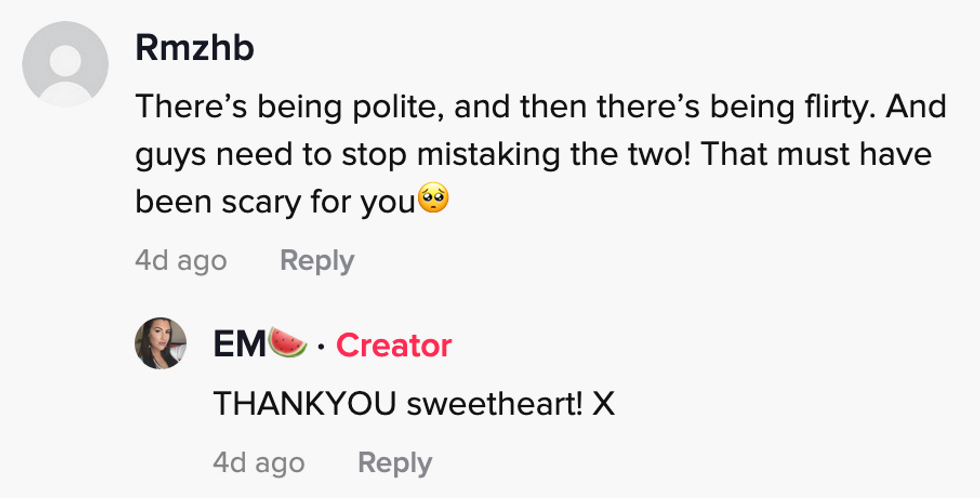 @frecklesemx/TikTok
In a follow-up video, Emily divulged what she learned from Ed, including the fact he had a four-year-old son and was divorced after being in a toxic relationship.
She described their chit-chat as "normal conversation," and at the end, she signed a slip before he gave her his number and asked her to contact him again if she had any issues with the gas or for anything else.

Emily explained she willfully texted him because she had never been in "that position before" and was curious to know what he would say.
When she stopped responding to his texts, she said she locked the door and Ed finally drove off after thirty additional minutes passed.

@frecklesemx/TikTok

@frecklesemx/TikTok
When Ed found out the video featuring him went viral, he contacted Emily again. But this time, he pleaded for her to take down the video.
"Can you please delete your TikTok that you posted of me sat outside yours," he wrote.
"I could lose my job and now looking at this it does come across creepy. I'm sorry if I offended you in anyway."
@frecklesemx

#fyp #fy #gasman #foryou #ThenNowForever #BeBold #foru #fypシ #update
Emily initially considered deleting the video because she would feel guilty if he were to lose his job over the incident.
However, in an update in the comments, she decided against deleting the clip after learning Ed actually had a girlfriend and a child with her.
The reasons for her keeping the video up included the possibility he would probably come for her next gas check and also in the event this might be happening to other women.