Last week, Lauren Gibson, age 19 of California, was charged with disorderly conduct and criminal mischief with a hate crime enhancement in Utah.
She was accused by a Garfield County, Utah sheriff's deputy of destroying a "Back the Blue" sign and "smirking" in an "intimidating manner" during a traffic stop at a gas station.
Reports say the misdemeanor was committed with "attempt to intimidate law enforcement."
NPR reported Gibson was only given verbal warnings for going 50mph in a 30-mph speed zone and was in possession of tobacco products while underage. It wasn't until the sign was destroyed she was charged with a misdemeanor and could now face up to one year in jail.
Gibson told The Daily Beast she witnessed her friend being treated poorly at a previous traffic stop, so when she was pulled over herself, she acted out in anger.
Gibson said:
"I just wanted to, I don't know, make her feel better or something or stand up for her."
The Garfield County Sheriff's Office released a written statement about the incident:
"The simple fact is, while this officer was doing his duty in a proactive and compassionate manner, he was singled out and attacked by this person because he was a law enforcement officer."
"We are greatly disturbed by the hatred shown to law enforcement officers for no apparent reason."
Many found the situation laughable and shared that in the comments of the Garfield County Sheriff's Facebook post.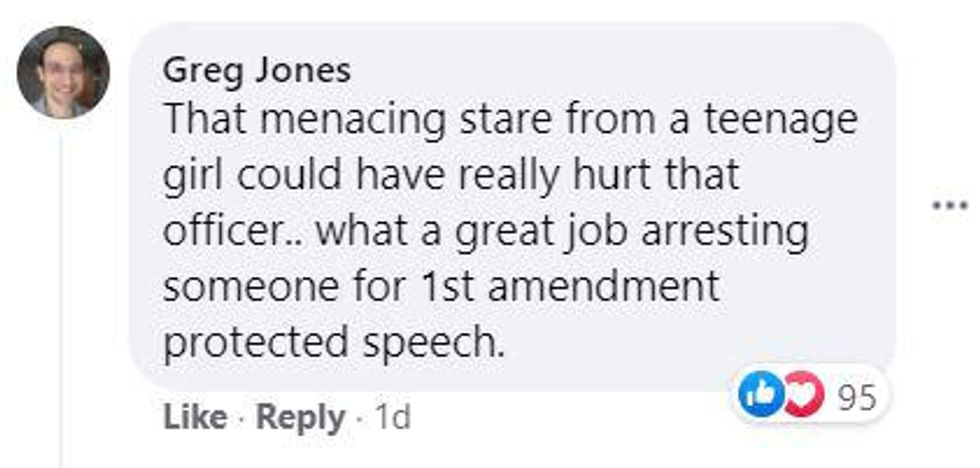 Greg Jones/Facebook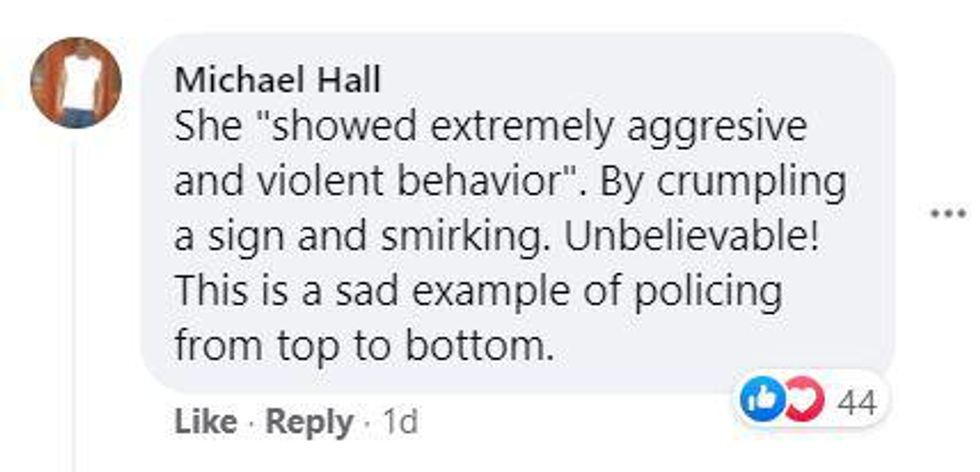 Michael Hall/Facebook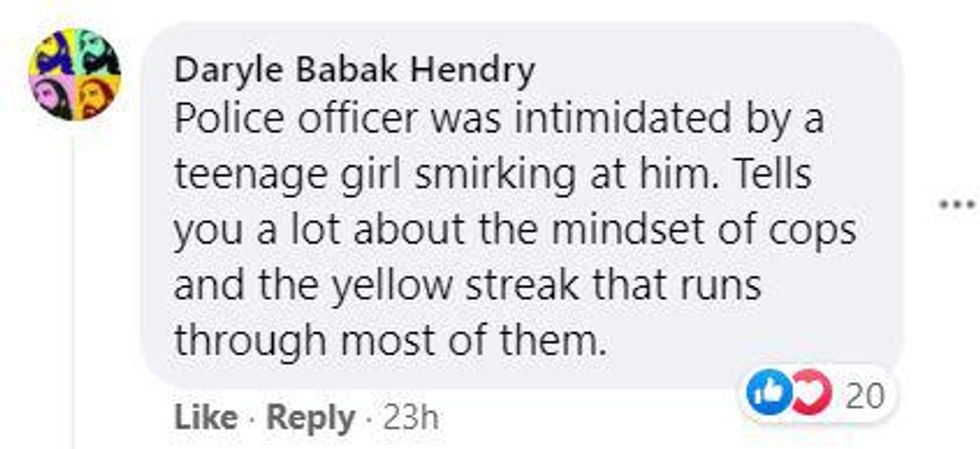 Daryle Babak Hendry/Facebook
Under Utah law, law enforcement personnel are listed as a protected groups, making any action against law enforcement eligible to be considered a hate crime in Utah.

Including smirking and crumpling a sign.
American Civil Liberties Union of Utah Legal Director John Mejía said:
"The government is not supposed to be deciding what people think about the police."
"Disagreeing with government action, disagreeing with action by government actors, petitioning for grievances—these are actually paramount in protecting our democracy."
Seth Brysk, a Utah regional director with the Anti-Defamation League, shared his thoughts on the use of the term "hate crime":
"This doesn't really seem to meet the criteria for what we would generally consider a hate crime, nor the specific language of the statute."
"That's not the intention and that's not what's going on here."
Under the Utah law to protect people based on race, religion, gender, or sexual orientation, they added law enforcement with a key word being "intimidate." A similar law was passed in Louisiana in 2016.
The American Civil Liberties Union of Utah said in a statement:
"This kind of charging decision sends an extremely chilling message to the community that the government will seek harsher punishment for people ... who disagree with police actions,."
"We consistently warn that [hate crime] enhancements are oftentimes used to single out unpopular groups or messages rather than provide protections for marginalized communities."
"This case has confirmed those warnings."
This isn't the first time someone has been charged with a "hate crime" in Utah and been arrested.
Joseph Dawson was arrested last August for spray painting the word "bisexual" in pink on a "Back the Blue" sign.
He was in jail for two days and sentenced a year of probation and a $500 fine.