The University of Oklahoma is once again embroiled in controversy in less than two weeks after a second professor used a racial slur in class on Monday morning.
During her lecture, history professor Kathleen Brosnan issued a "trigger warning" to her students before reading aloud from a 1920's U.S. Senate document that repeatedly mentioned the N-word.

---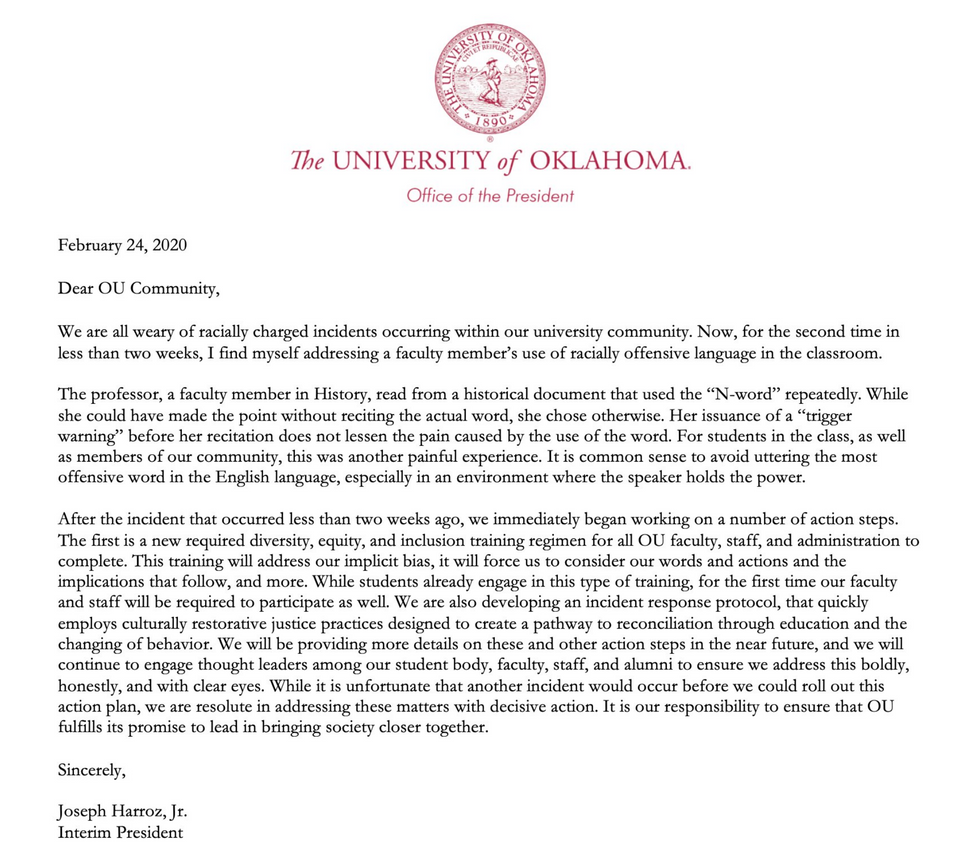 @UofOklahoma/Twitter
"We are all weary of racially charged incidents occurring within our university community," wrote Harroz Jr., before explaining the professor's ill-advised class conduct.

"The professor, a faculty member in History read from a historical document that used the 'N-word' repeatedly."
"While she could have made the point without reciting the actual word, she chose otherwise."

The OU President continued:

"Her issuance of a 'trigger warning' before her recitation does not lessen the pain caused by the use of the word."
"For students in the class, as well as members of our community, this was another painful experience."
"It is common sense to avoid uttering the most offensive word in the English language, especially in an environment where the speaker holds the power."
The first time was disappointing enough.
People demanded proper leadership in order to prevent a perpetual problem.
It is simple as this:
In response to the fallout, all OC faculty, staff and administration members will undergo required diversity, equity and inclusion training.
"While it is unfortunate that another incident would occur before we could roll out this action plan, we are resolute in addressing these matters with decisive action."
After being fed up over the two incidents involving professors using the racial slur, students responded by organizing a sit-in hunger strike at the university's administration building, Evans Hall, on Wednesday.
According to the student-run paper, the OU Daily, OU's Black Emergency Response Team held a protest demanding for the firing of Provost Kyle Harper "effective immediately."
Following the backlash, Brosnan apologized in a letter sent to The Daily by a student in her class and explained she never intended for her words to be hurtful.

"I am concerned that the words I quoted in class yesterday were hurtful. I want to apologize to all of you personally. Please know that this was never my intention."
Brosnan continued:

"By directly quoting a US senator, James Reed, I wanted all the students in class to recognize an ugliness in US history that is unfortunately still part of some students' lived experience."
"I also recognize that apologizing in advance for the offensive language and placing it in this historical context did not alleviate the injury. And for that I am deeply sorry."
Peter Gade, the journalism professor who made the comparison between "Ok Boomer" and the racial slur earlier in February stepped down for the rest of the semester and wrote a letter of apology to his students immediately following the incident.
He promised:
"I will strive to show you that I am an instructor and teacher who is trustworthy and respectful of all."
While apologies are admirable, all eyes will be on OU to witness the effectiveness of their "decisive action" plan.