Theorizing and analyzing popular culture is the second most important reason for the internet to exist.
And that analysis covers a very broad range of subjects.
---
Like who should have won at the end of the 1971 film, Willy Wonka and the Chocolate Factory. The movie is based on Roald Dahl's 1964 book Charlie and the Chocolate Factory.
Tumblr user Evayna lays out her reasonings why Violet Beauregarde, not Charlie, should have won Willy Wonka's Chocolate Factory.
Evayna starts by acknowledging she hasn't seen the movie in a while, but is willing to back up her claim.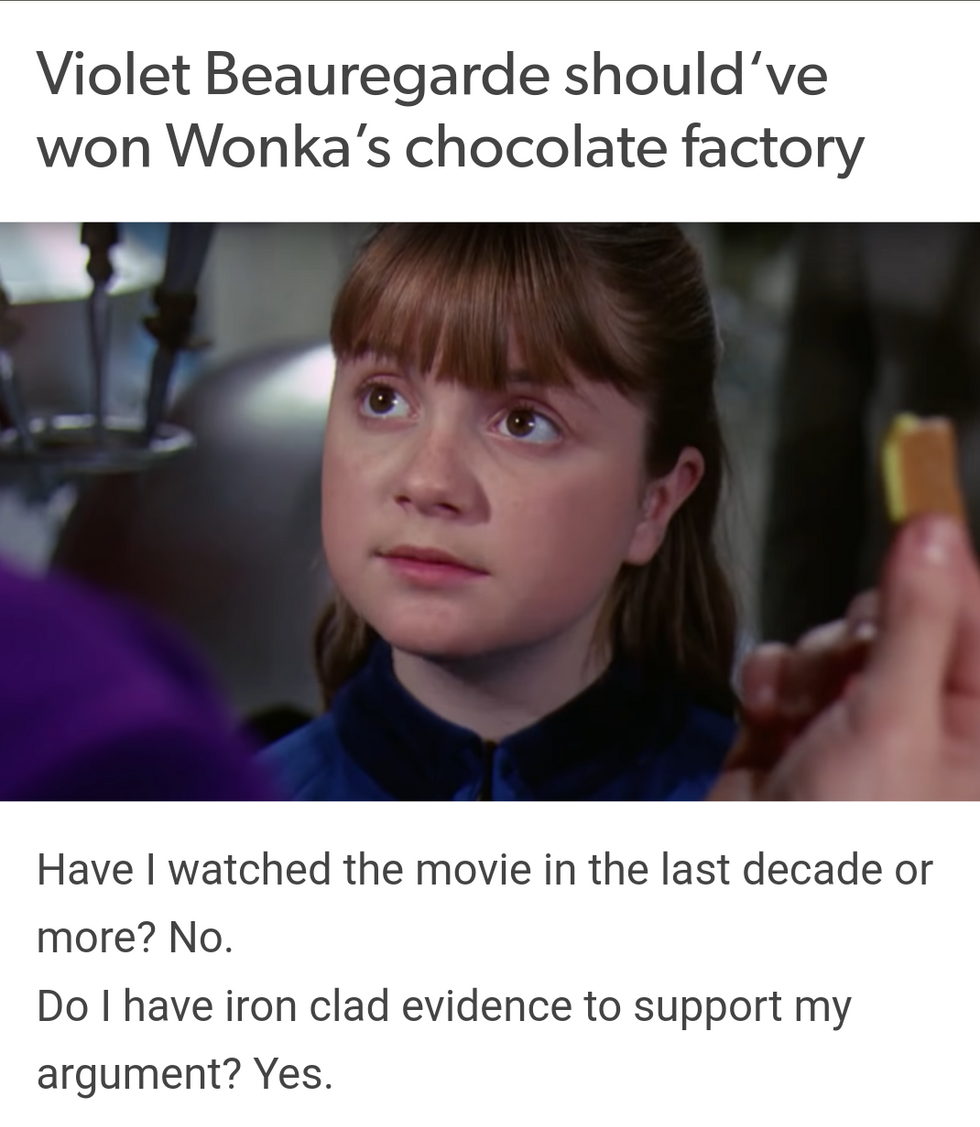 Tumblr.com
Out of all the children, Violet is the most competitive and knowledgeable about candy.
Is that not what is made by Willy Wonka?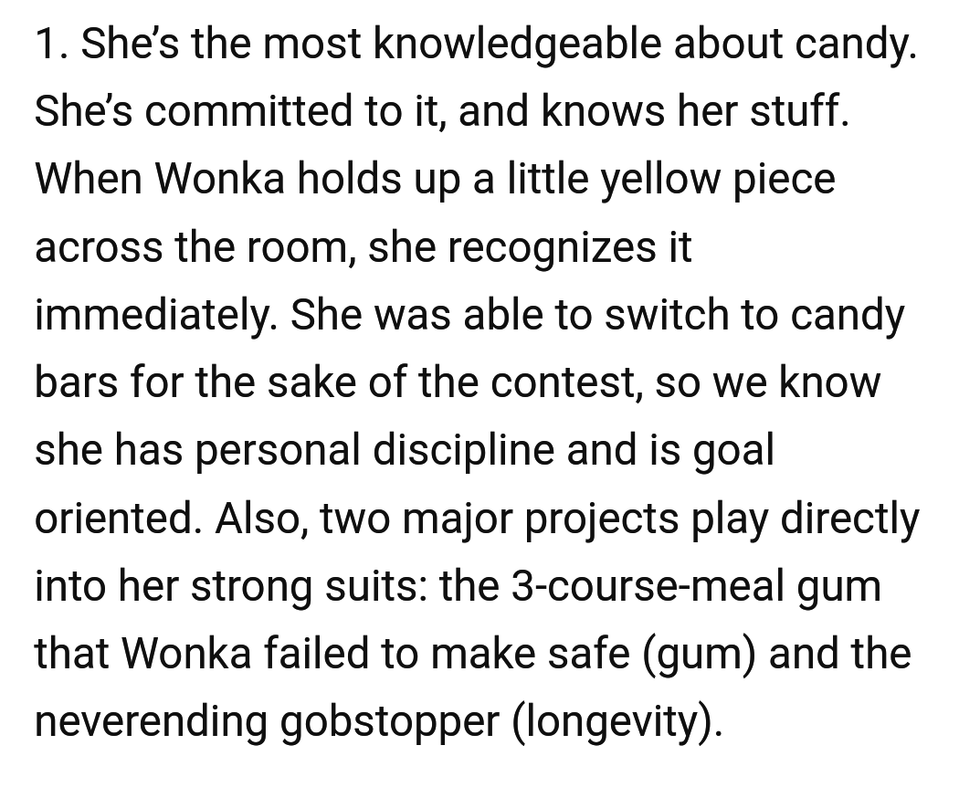 Tumblr.com
That competitive nature combined with her father's business acumen means Violet is the most likely to run the business successfully.
Who wants all those Oompa Loompa's to lose their jobs?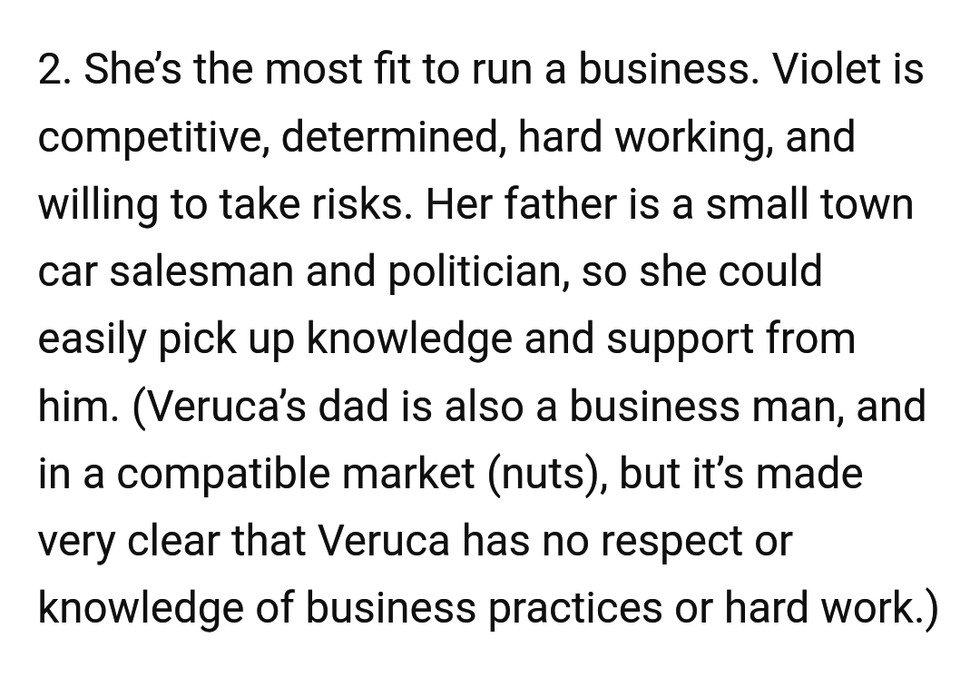 Tumblr.com
She portrays a degree of sympathy for the Oompa Loompas.
Workers' rights?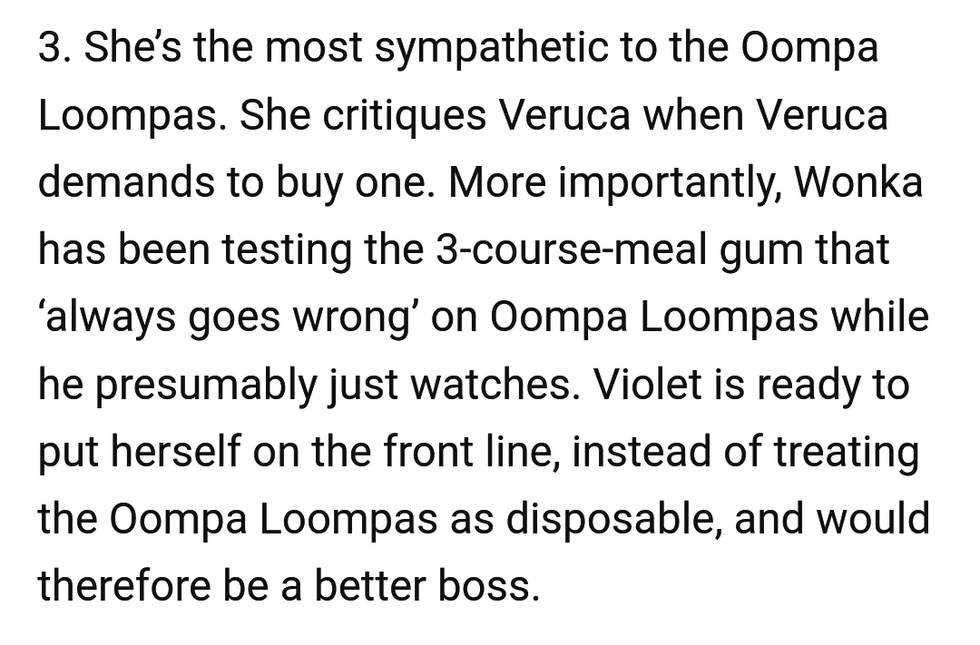 Tumblr.com
She is obsessed with candy.
Passion for the job?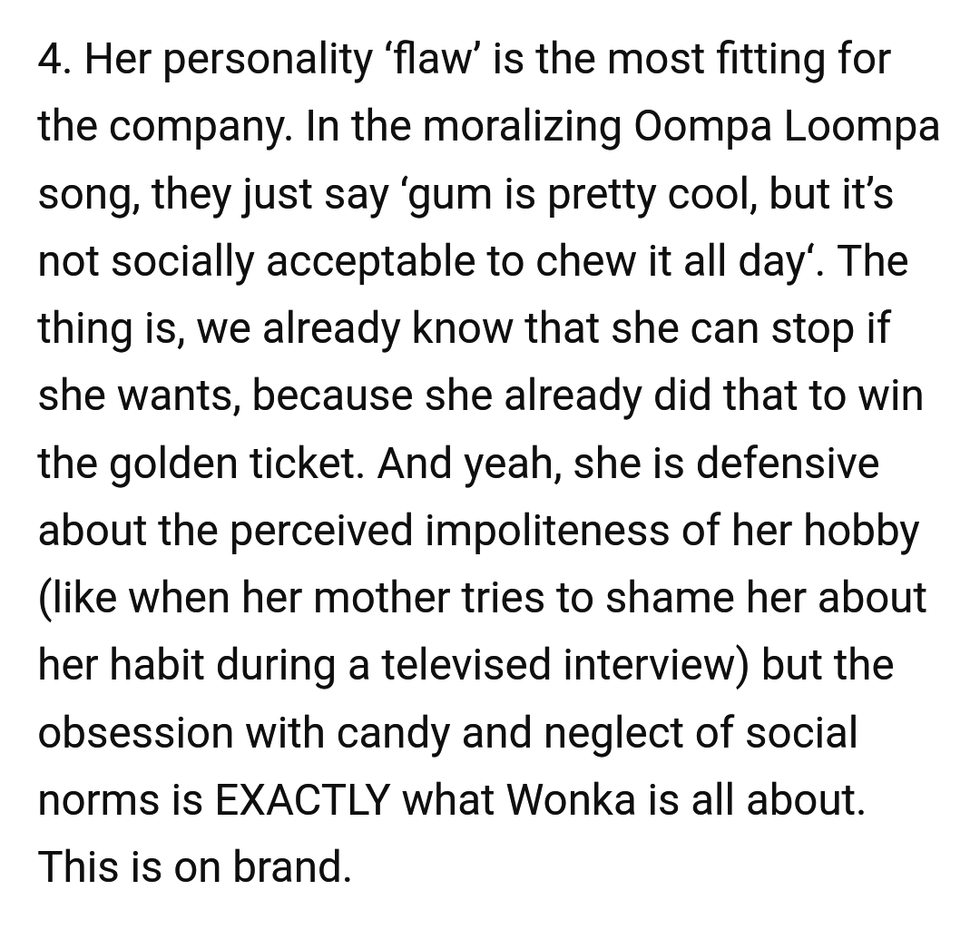 Tumblr.com
The reason she is eliminated is an understandable mistake.
Although the case could be made for entrapment for almost all of the eliminated contestants.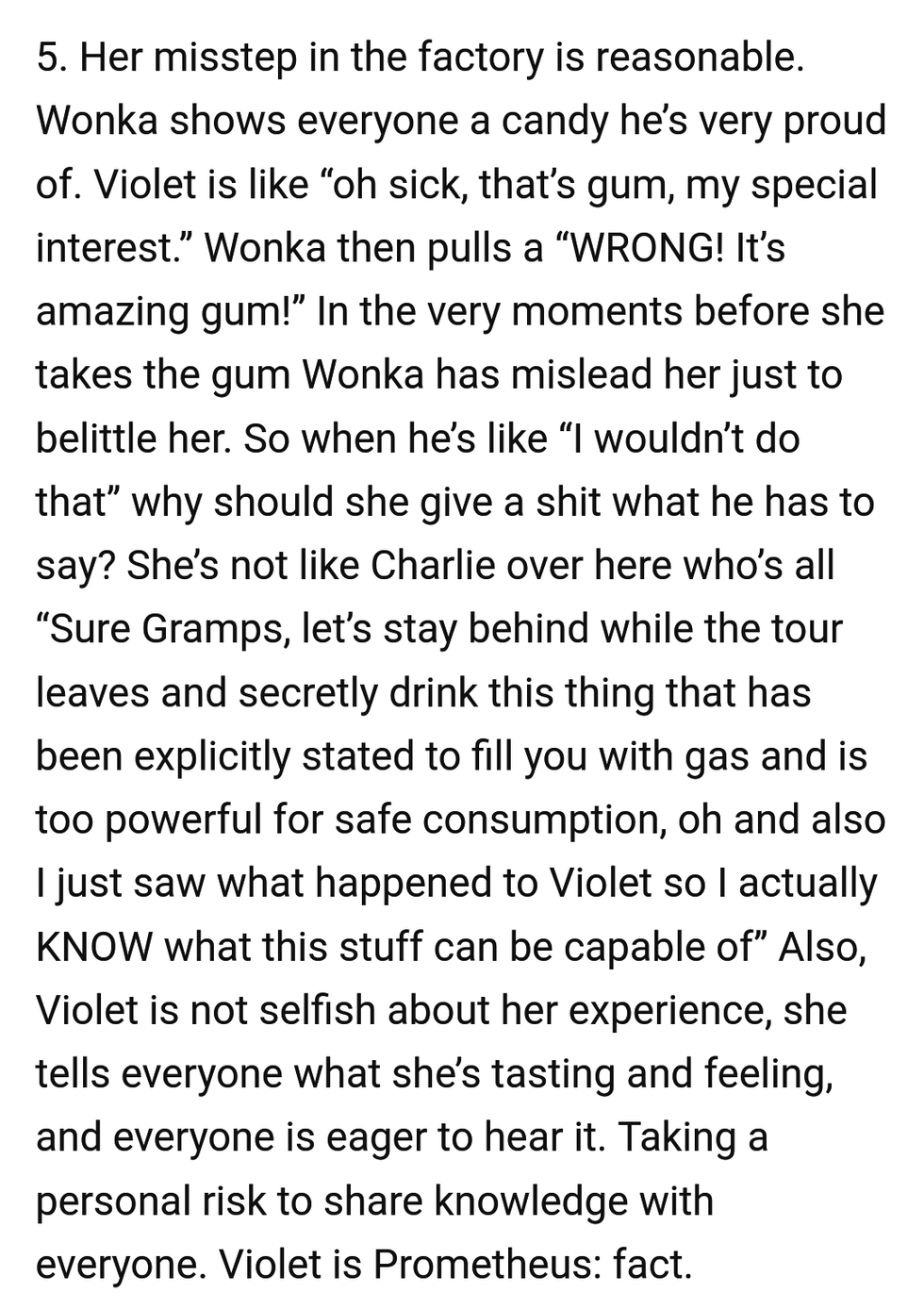 Tumblr.com
Finally, Evayna wraps up her theory and brings it all together.
It's beginning to look like Willy Wonka missed out big time.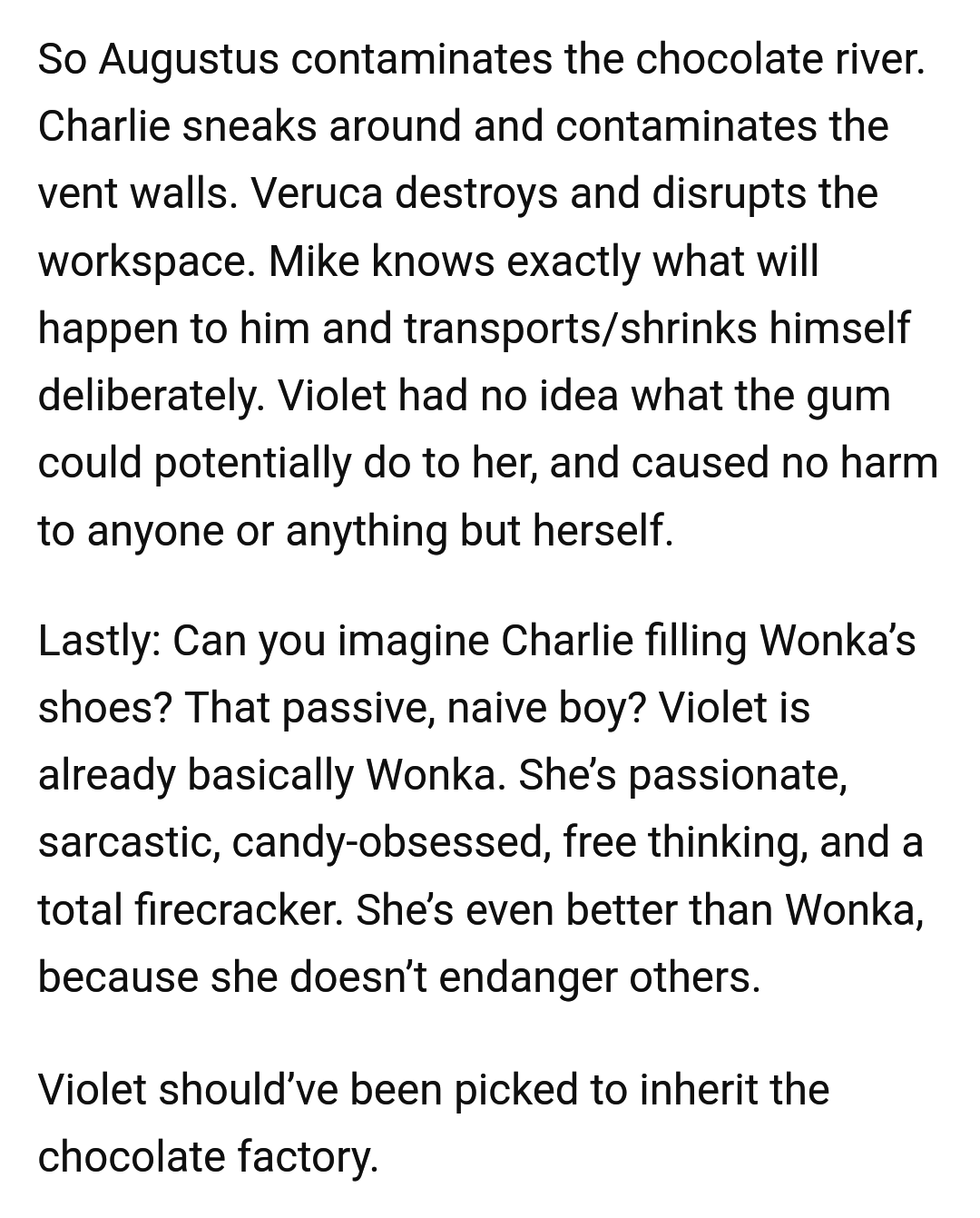 Tumblr.com
The theory is well crafted.
Many agreed with the matter of fact assessment.
@obedmanuel I don't think Charlie won because he was poor, but because he gave Wonka an outlook he was robbed of. I… https://t.co/X5kpOPTpIs

— Jessica (@Jessica) 1543850268.0
I should be studying for finals... but here I am reading Willy Wonka theories and procrastinating instead. I'm such… https://t.co/rs9Jcoo18F

— Meeko🐾 (@Meeko🐾) 1543811426.0
Totally correct. I'm sold. Violet SHOULD have won Wonka's contest! https://t.co/dD3Wqb4hpx

— Julia Marchese (@Julia Marchese) 1543693104.0
I honestly can't argue with this reasoning. Violet should have won https://t.co/c37Fg1BILi

— Big Screen (@Big Screen) 1543763529.0
at one point later on it was like guy 1: meat is murder and ur all dumbasses guy 2: i LITERALLY would pay to have… https://t.co/Z7yHDuhjY9

— ❃ 𝐰𝐢𝐝𝐨𝐠𝐚𝐬𝐭 ❃ (@❃ 𝐰𝐢𝐝𝐨𝐠𝐚𝐬𝐭 ❃) 1543649606.0
But others cannot understand why one would think it.
They have a different take on the true purpose of the contest: find a good kid, not a good person to take over the business.
@BuzzFeed Its not about her being business savvy. The goal of the contest was to find a good kid. Charlie may not h… https://t.co/uealz9aBbr

— Jenna Miller (@Jenna Miller) 1543622294.0
Violet should not have won the chocolate factory are you out of your minds

— Invasion of Astro-Gender (@Invasion of Astro-Gender) 1543699336.0
Woke up at like 6 o'clock this morning to find Rico reading a massive essay about why Violet Beauregarde should hav… https://t.co/QuYQsI8iv2

— Emma Summer (@Emma Summer) 1543743464.0
@englishguy Everyone here is missing the point. Violet is a character in a Roald Dahl book doing something Roald D… https://t.co/X3tz0TVyRo

— Noah Washburn (@Noah Washburn) 1543700445.0
Because I keep seeing this dumb Tumblr post on my TL: Violet Beauregarde should NOT have won the factory. Wonka exp… https://t.co/Lp8JHTxiD5

— E;R (@E;R) 1543779027.0
And it seems Evayna forgot about the true test in the movie.
@BuzzFeed She took an everlasting gobstopper to sell to slugworth. Charlie was the only one of the children to give the gobstopper back

— MD (@MD) 1543623778.0
All in all, it's a fun idea to toy with. Violet is a determined go-getter with a penchant for candy.
She really seems on paper to be a great successor to Wonka. What that outcome might look like, we'll have to leave to fan-fiction.

H/T: Tumblr