For one Trump supporter, a motorcycle exhibition turned into a star-studded affair when—to his completely incorrect eyes—Keanu Reeves passed through to look at some bikes.
Keanu Reeves was NOT at that motorcycle exhibition and the whole internet is telling the guy about it.
---
The case of mistaken identity occurred at the Timonium Bike Show in Baltimore, Maryland. The biggest brands were at the expo to show off their newest models.

Kawasaki, Yamaha, Harley Davidson, and Ducati were all there, to name a few.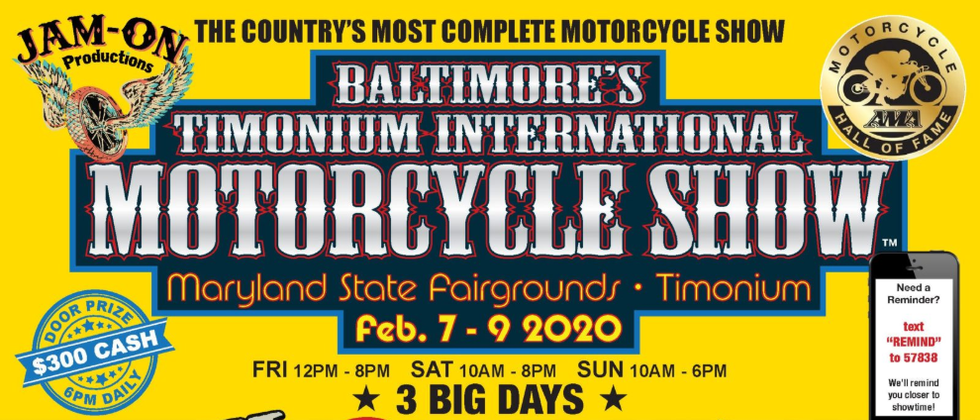 internationalmotorcycleshow.com
But for this now-infamous internet star, no amount of shiny hogs could pale in comparison to a real-life Hollywood celebrity strolling the grounds.
The guy was so jazzed he naturally posted his impromptu photo shoot with not-Keanu Reeves to Facebook.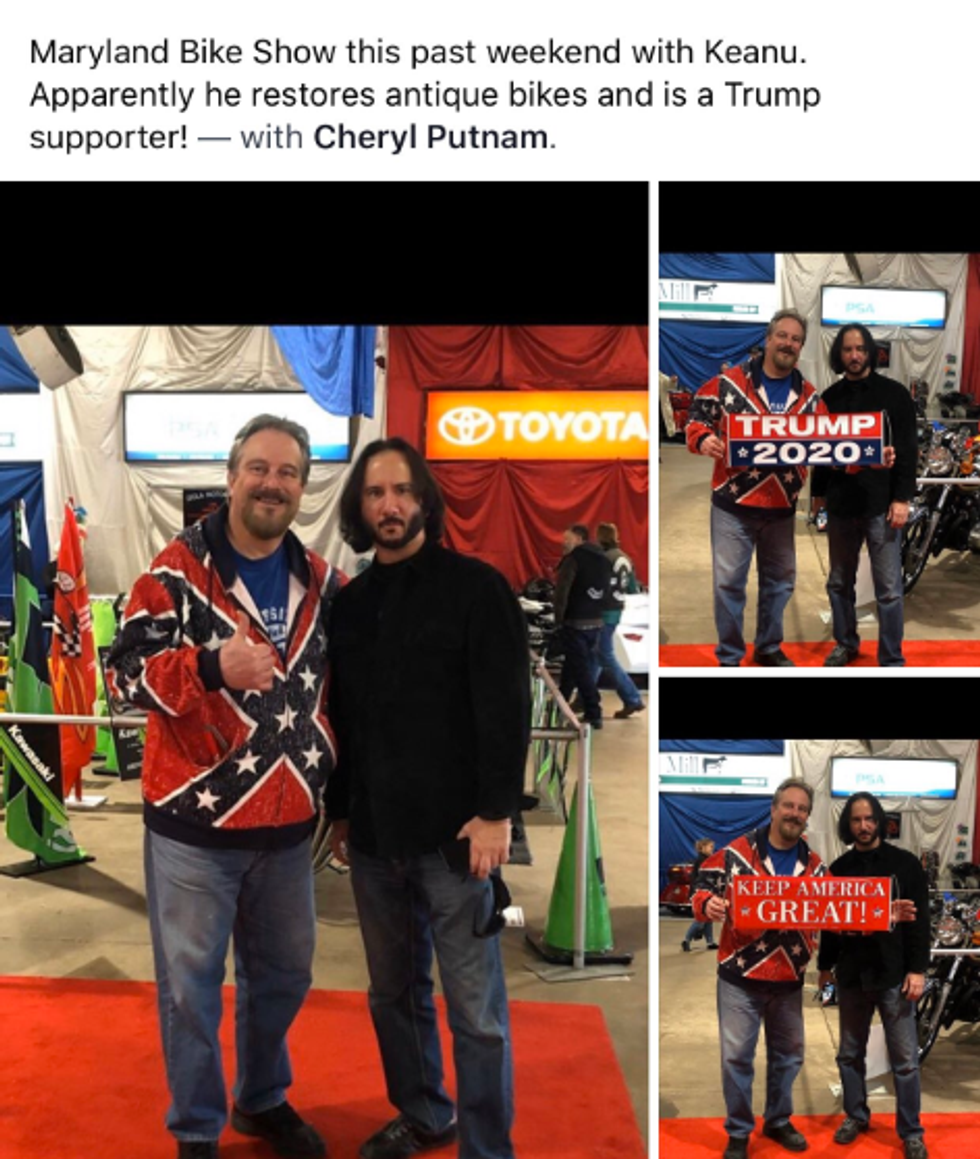 @zakiscorner/Twitter
A couple notes about the man's post.

First, he simply called him Keanu, omitting the last name as if they suddenly go way back. The GALL.
But also notice how the caption emphasizes how oblivious the starstruck rider of hogs was.
"Apparently he restores antique bikes and is a Trump Supporter!"
That means this fella managed to get through an entire conversation about politics and hobbies without knowing that he wasn't speaking with a very famous Hollywood film star who's appeared in over 100 films since the mid 1980s.
Giphy
The original Facebook post, which first made its way to Reddit and then onward to Twitter, has since been deleted.

But as we know, nothing posted on the internet ever actually goes away. Twitter did its duty and had a field day once the photo was let loose into the wild.
Who wants to tell him? https://t.co/il2vKltSni

— Zaki Hasan (@Zaki Hasan) 1581805400.0
Apparently Twitter has no shortage of humor in the area of knock-offs.
@zakiscorner what you order online vs what you get https://t.co/mkMusqnzB8

— Mayraag (@Mayraag) 1581838969.0
@zakiscorner @saladinahmed "Mom can we get John Wick?" "We have John Wick at home..." John Wick at home:

— Jason A. Trent (@Jason A. Trent) 1581817927.0
@__Johnnnn @zakiscorner https://t.co/j5ktjBvLsk

— 🇺🇸kwh🇺🇸 (@🇺🇸kwh🇺🇸) 1581876192.0
@zakiscorner the chosen one.... https://t.co/Zpqko0BbI8

— Darwin (@Darwin) 1581830229.0
@zakiscorner https://t.co/cLvNdqSe5y

— TrivWorks (@TrivWorks) 1581829587.0
@zakiscorner https://t.co/wOqDZ2Dl18

— ░▒▓Ds▓▒░🍖 (@░▒▓Ds▓▒░🍖) 1581824645.0
The post blew up so much that the actual Not Keanu Reeves felt the need to intervene.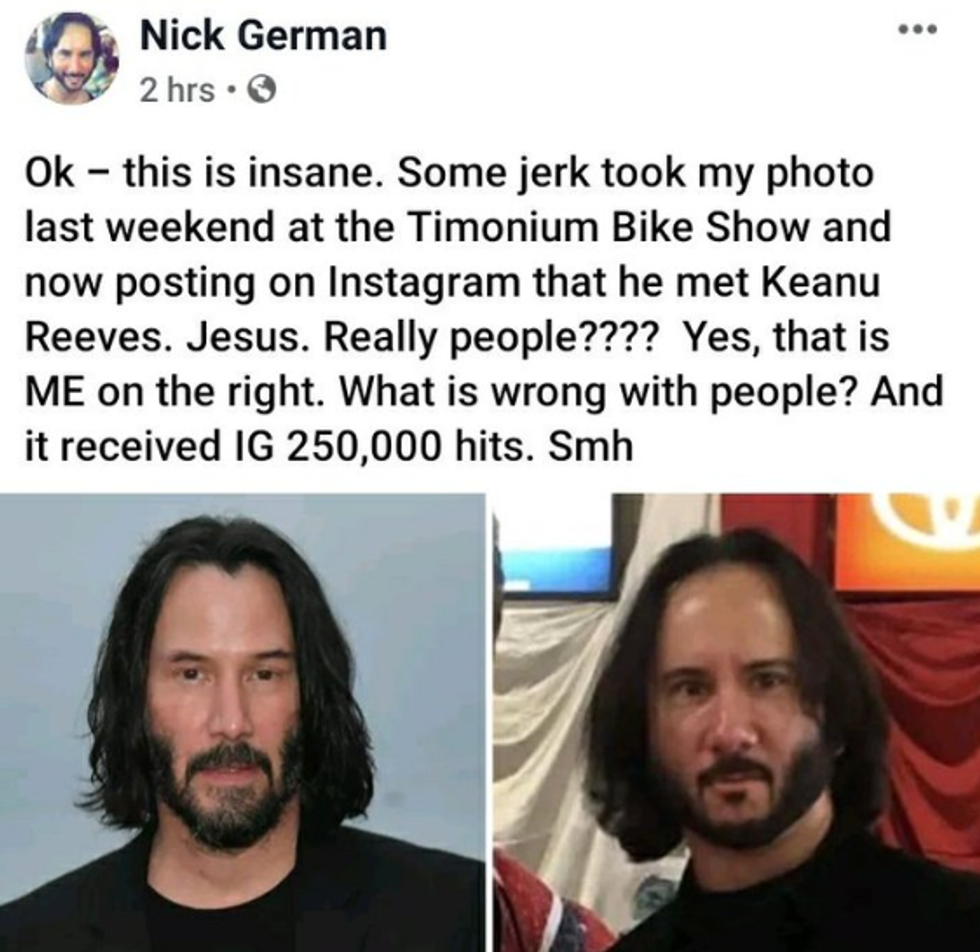 Nick German/Facebook
Ironically, Keanu Reeves actually is a big motorcycle enthusiast, even if he wasn't at the Timonium International Motorcycle Show.

In fact, Reeves co-founded ARCH Motorcycles in 2011. The bike shop, located in South Los Angeles, makes custom, hand-made motorcycles.
Perhaps there's a lesson here: if you're really stoked to talk to a celebrity, maybe swallow the need to be super casual about things and take a second to confirm. Otherwise you get dragged by the entire internet for about 12 hours.