Former Republican President Donald Trump recently lashed out at Senate Minority Leader Mitch McConnell, referring to him as a "broken down hack" for disparaging candidates he endorsed.
In a post on his social media platform Truth Social, Trump openly wondered why Republicans in the Senate "allow a broken down hack politician, Mitch McConnell, to openly disparage hard-working Republican candidates for the United States Senate?"
Trump then suggested Kentucky Senator McConnell should "spend more time and money" backing his Senate candidates and "less time helping his crazy wife and family get rich on China"—a racist and xenophobic reference to McConnell's wife Elaine Chao who served as Trump's Secretary of Transportation until she became one of the first members of his cabinet to resign following the January 6 insurrection.
You can see what Trump said below.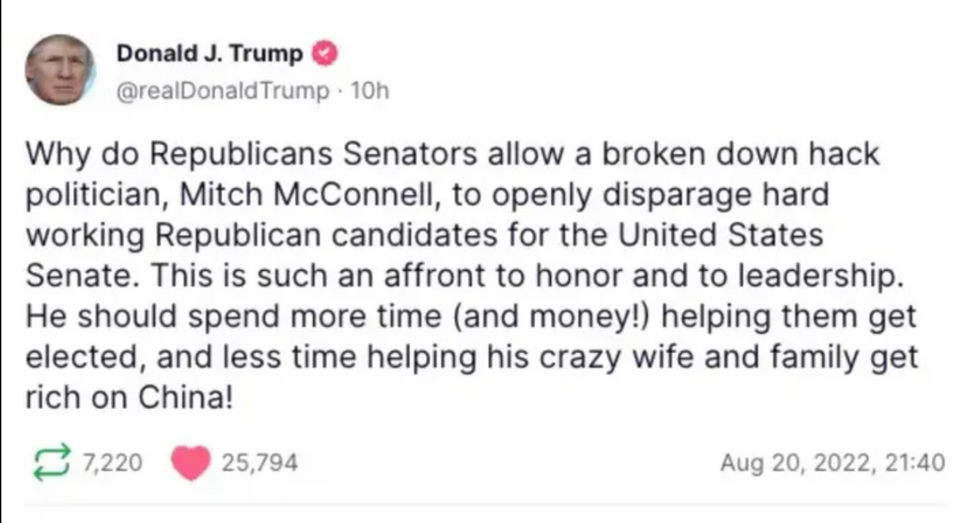 @realDonaldTrump/Truth Social
Trump's remark came the week after McConnell suggested Senate races currently lack "quality" Republican candidates.
Though McConnell did not mention Trump by name, he told NBC News "there's probably a greater likelihood the House flips than the Senate" and "Candidate quality has a lot to do with the outcome."
McConnell did not specifically mention any candidates either, but his comments come as more members of the GOP express their frustration with a tide of Trump-backed candidates that have largely made headlines for backing Trump's lies about the integrity of the 2020 general election and for wading into culture war issues, such as the current "groomer" hysteria among conservatives used to disparage LGBTQ+ people.
These include Mehmet Oz, who is running in the Pennsylvania Senate race and is currently the target of a social media campaign by his Democratic opponent John Fetterman that stresses Oz's ties to New Jersey over Pennsylvania, the state he claims to want to represent.
Additionally, Ohio Senate candidate J.D. Vance—bestselling author of Hillbilly Elegy—is one of multiple candidates who have continued to be called out for promoting conspiracy theories and disinformation, particularly in regard to the COVID-19 pandemic the United States was ill-equipped to handle as a result of the Trump administration.
Trump was widely criticized for his remarks, which have been perceived as a largely impotent attempt to curry favor with his base.

McConnell hasn't escaped criticism though, given so many of his actions before and during Trump's tenure—in particular denying former President Barack Obama to seat current Attorney General Merrick Garland on the Supreme Court—enabled Trump and further inflamed the country's politically polarized climate.

McConnell has criticized the former President more than once and indicated he is looking to move on to ensuring Republicans regain their majority in the Senate after experiencing significant setbacks under the Trump administration.

The relationship between Trump and McConnell has been largely strained since McConnell acknowledged Democratic President Joe Biden as the winner of the 2020 general election even as Trump mounted a failed campaign to overturn the election results that culminated in the Capitol riot.
According to New York Times journalists Jonathan Martin and Alexander Burns—who interviewed the Kentucky Republican for their book This Will Not Pass: Trump, Biden and the Battle for American Democracy—McConnell was "exhilarated" by the potential damage the insurrection would inflict on Trump.
McConnell felt "exhilarated by the fact that this fellow finally, totally discredited himself," according to the book. The exchange was reported by multiple news outlets ahead of the book's publication this spring.