It is amazing the kind of information that comes to light when looking for evidence of illegal business dealings. Especially when those are the business dealings of former United States President Donald J. Trump.
Prosecutors at the Manhattan district attorney's office are looking for information pertaining to possible illegal activity by Trump and his businesses. To that end, they are trying to get Allen Weisselberg, the Trump Organization's chief financial officer, to turn on the organization.
Because of this, stories about the interactions between Trump and Weisselberg have come to light, including an interesting story about Trump at a solemn event.
Reportedly, Trump shared nude photos and hit on family members of Weisselberg while at the shiva for the CFO's mother.
In a report released by The New Yorker, prosecutors are trying to obtain information to convince Weisselberg to testify against Trump. According to the report, prosecutors spoke with Jennifer Weisselberg the former daughter-in-law of the CFO.

She recounted an instance when she met Trump at the shiva for Weisselberg's mother in the early 2000s. According to Jennifer, Trump was rude from the moment he arrived.
She said:
"Trump showed up in a limousine and blurted out, 'This is where my C.F.O. lives? It's embarrassing!'"
However, that wasn't the worst part. Next, Jennifer explained Trump spent his time showing attendees photographs of naked women on yachts and hitting on her.
The shiva is a period of mourning in the Jewish religion. It wouldn't be expected that someone would spend such a solemn event sharing dirty pictures and hitting on unavailable women.
But little is surprising for Donald Trump.
Jennifer said Weisselberg's entire personality is devoted to Donald Trump and if anyone knew of something possibly illegal happening in the Trump Organization, it would be Weisselberg.

She said:
"You walk down the hall, it's Allen-Donald, Allen-Donald. They don't do anything separately."
As of yet, it's unknown whether Weisselberg will flip on Trump. But there are some who think he might to protect his sons.
The internet has a lot of thoughts about it.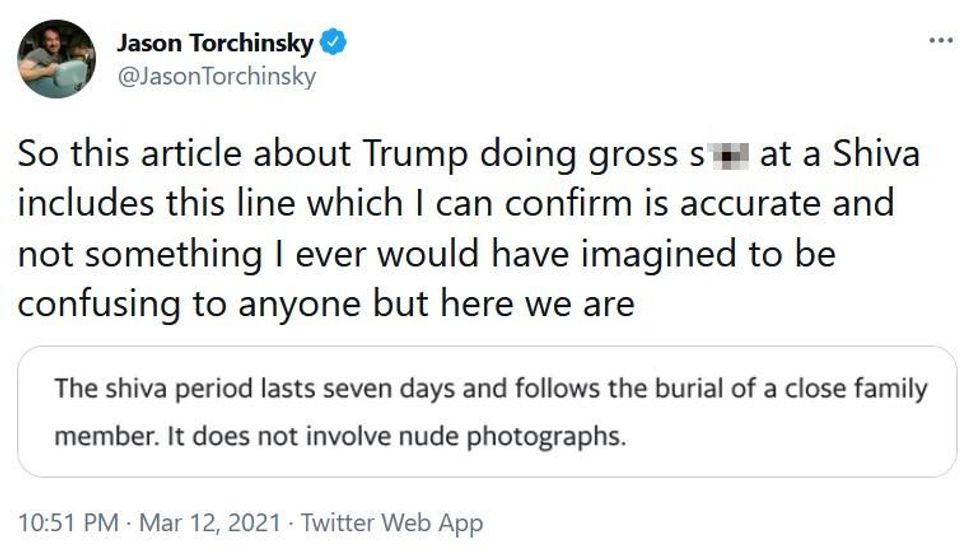 @JasonTorchinsky / Twitter
Since he left office, there's been a lot of talk about the legal implications of Trump's business dealings. Particularly, the Manhattan District Attorney's office subpoenaed the organization for information related to land and taxes.

Where the investigation goes from here will depend on the information received and the success of turning Weisselberg on Trump.