Here's a win for representation in media:
---
Chella Man, a deaf and transgender activist and artist, revealed he will be making his acting debut in a key role in Season 2 of Titans, playing the hero Jericho, the son of Deathstroke.
Man took to social media to share the news, saying:

As a trans, deaf, Jewish POC, I have always reminded myself of the power in my differences. It's a dream come true as I will now be able to showcase this power on the Titans.
SECRET'S OUT! It is UNREAL to announce I will be making my acting debut as Jericho on Season 2 Titans! As a trans… https://t.co/DpJjOU7hm3

— CHELLA MAN (@CHELLA MAN) 1553016799.0
Man added that Jericho "has always used sign language" because he had his vocal cords "severed by assassins."
In the comics, the character has always used sign language, as his vocal cords severed by assassins. Jericho's mys… https://t.co/aMYRyJziZ6

— CHELLA MAN (@CHELLA MAN) 1553016825.0
As noted by DC Universe:
"Best know [sic] to comics fans as the former Teen Titan Jericho, Joseph has the ability to possess anyone by making eye contact with them. He first appeared in 1984's Tales of the Teen Titans #43, in the midst of the classic "The Judas Contract" storyline, in which the team had its ultimate battle with Deathstroke. The character has appeared before in live-action, in TV's Arrow (in which he was played by Liam Hall), thought [sic] that show's version had more in common with Joseph's violent brother Grant than the gentle Jericho of the comics."
Man was quickly congratulated by his soon-to-be co-star Minka Kelly, who plays Dawn Granger/Dove on the program.
Welcome to the family, Chella!! 💙🤟🏽 https://t.co/UibqhCgJ7Q

— Minka Kelly (@Minka Kelly) 1553028488.0
The Transgender Law Center also congratulated him, calling him an "important" addition to the team.
Join us in congratulating @chellamanart for being a valuable addition to the @DCComics "Titans" team! https://t.co/MR6Zc4I7Hr

— TransgenderLawCenter (@TransgenderLawCenter) 1553027737.0
Other fans are just as pumped.
the deaf, trans and asian actor and activist, CHELLA MAN, has been casted as jericho in titans season 2. THIS IS AM… https://t.co/vsDNCKUoKT

— kaz. (@kaz.) 1553021155.0
@chellamanart Congrats 👏🏽💛👏🏽💛👏🏽💛👏🏽 https://t.co/o3IqTIlKPy

— Anthony (They/Them) (@Anthony (They/Them)) 1553017041.0
@chellamanart MAJOR! congratulations!

— tyler oakley (@tyler oakley) 1553020799.0
NOT AT ALL SUPER HEROS WEAR CAPES BUT SOME WEAR COCHLEAR IMPLANTS @chellamanart https://t.co/j53kZ2yodi

— Adam Eli (@Adam Eli) 1553036071.0
@chellamanart is gonna be on titans and it honestly feels like a dream?? I've followed them for so long and I feel… https://t.co/C6dhW7S6hZ

— brey (@brey) 1553014747.0
Man has been thanking fans...
so much love ! Thank you. 💌 https://t.co/BlL3wY3zFu

— CHELLA MAN (@CHELLA MAN) 1553032984.0
...and retweeting them, too.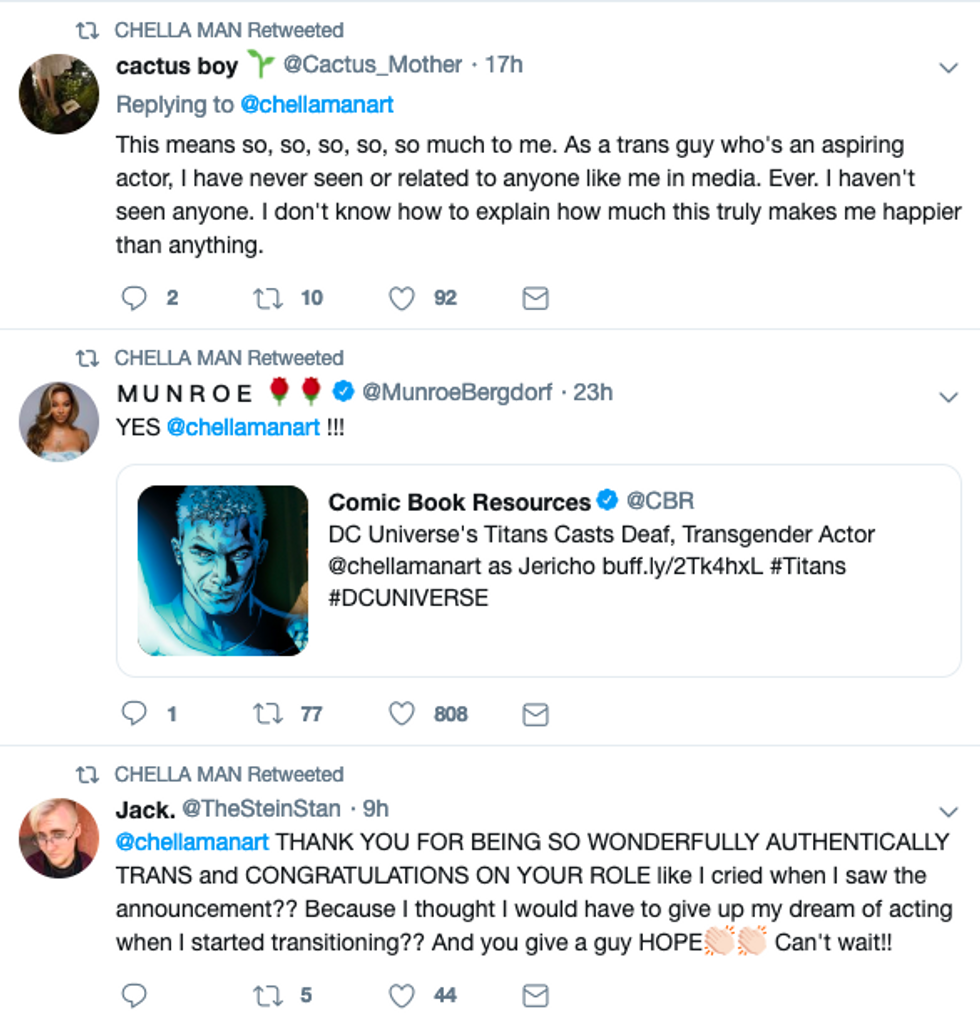 @chellamanart/Twitter
Representation matters. We can't wait for the new season.