The joy of a hot pot meal, now with that added "human" flavor. No we're not talking about cannibalism. At least, we're pretty sure we're not.
As part of the celebrations for the Lunar New Year, a hotel in China's Zhejiang province has re-purposed one of its hot springs into a giant hot pot.
---
Hangzhou's First World Hotel developed the tourist attraction for the new year celebrations starting next week.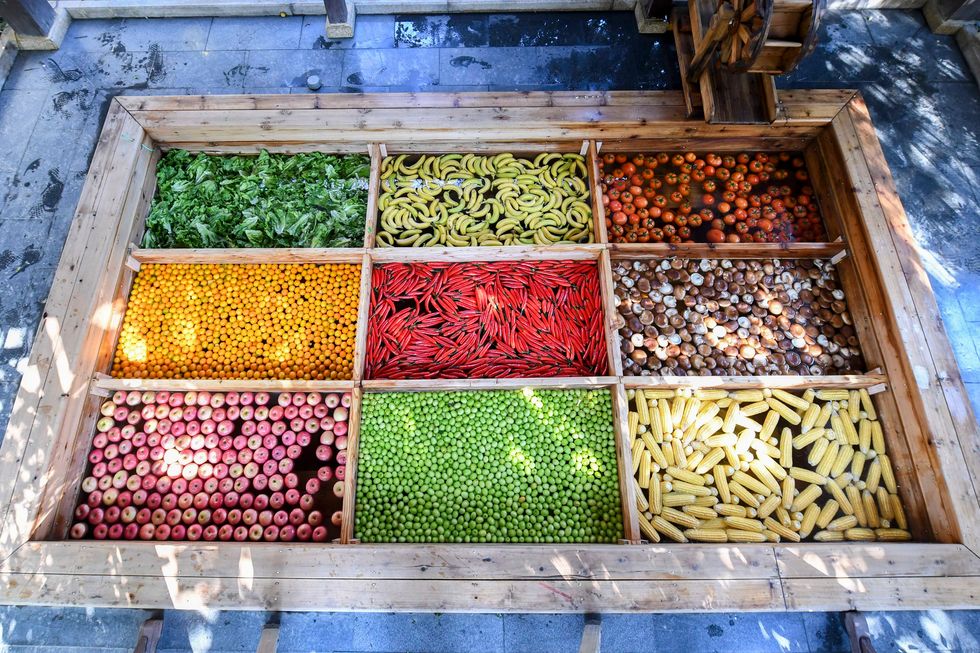 VCG/VCG via Getty Images
Much like some hot pots, this one has dividers, separating the different foods being cooked. Unlike any other hot pot, this giant hot spring is big enough for a person to jump in and swim with their food.
And people are actually doing it.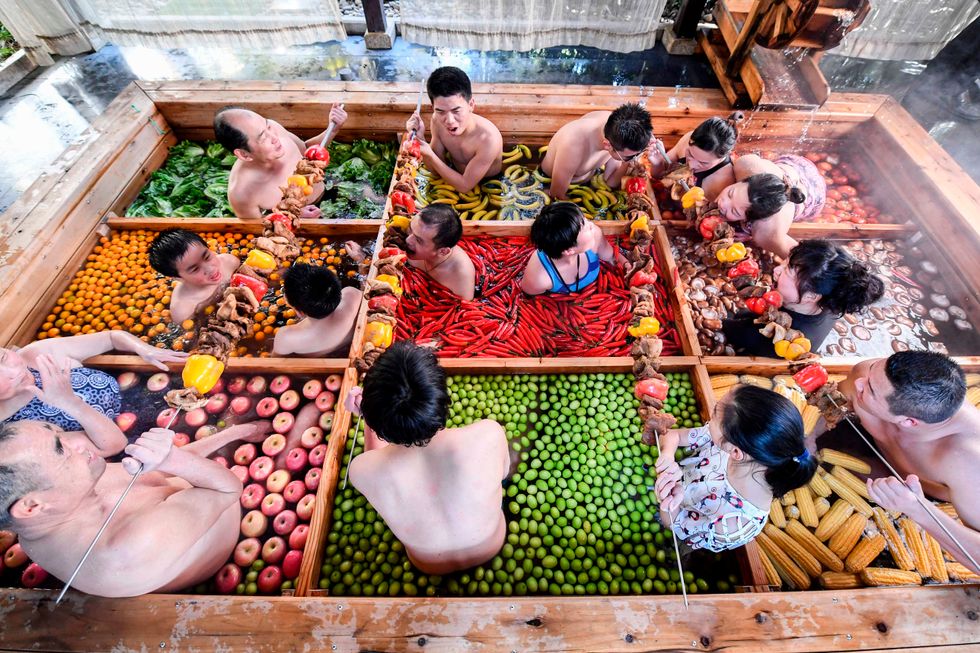 STR/AFP/Getty Images
Admittedly, you aren't meant to eat the food floating around with you, thank goodness. Instead, giant skewers of cooked meats and peppers lay across the compartments for divers to snack on together.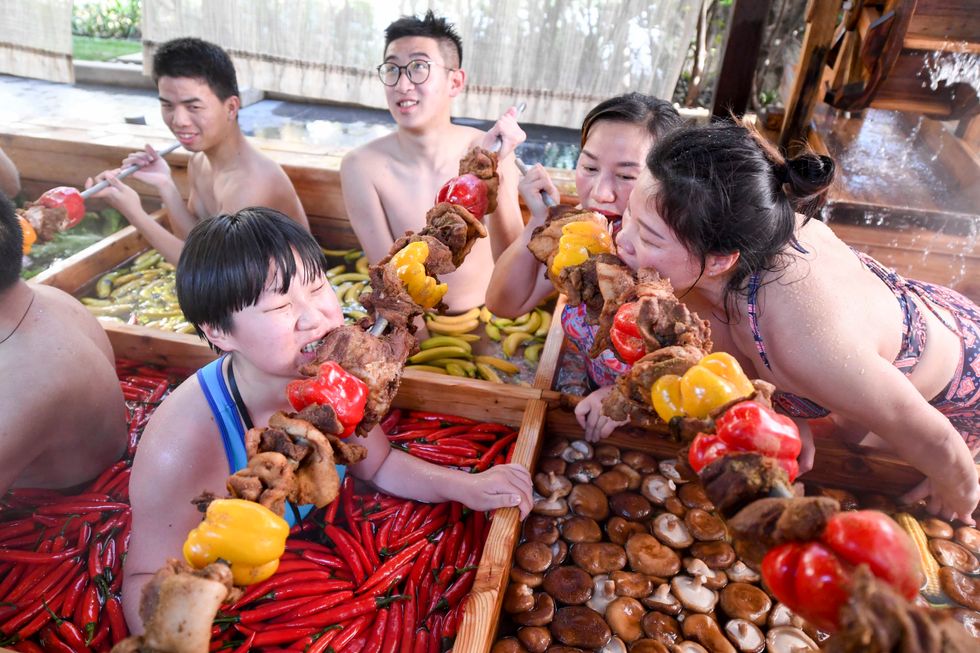 VCG/VCG via Getty Images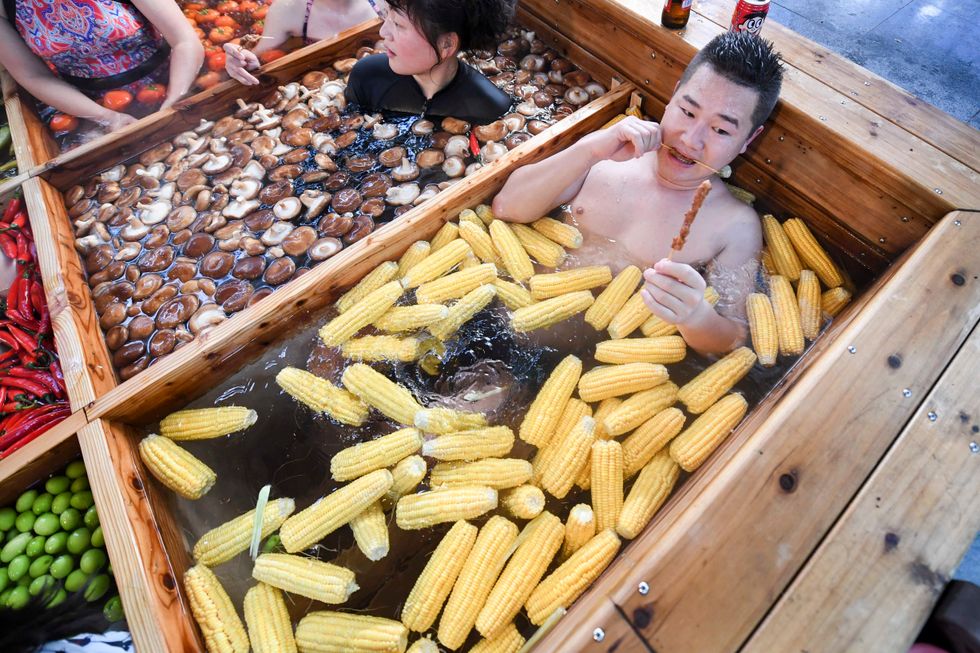 VCG/VCG via Getty Images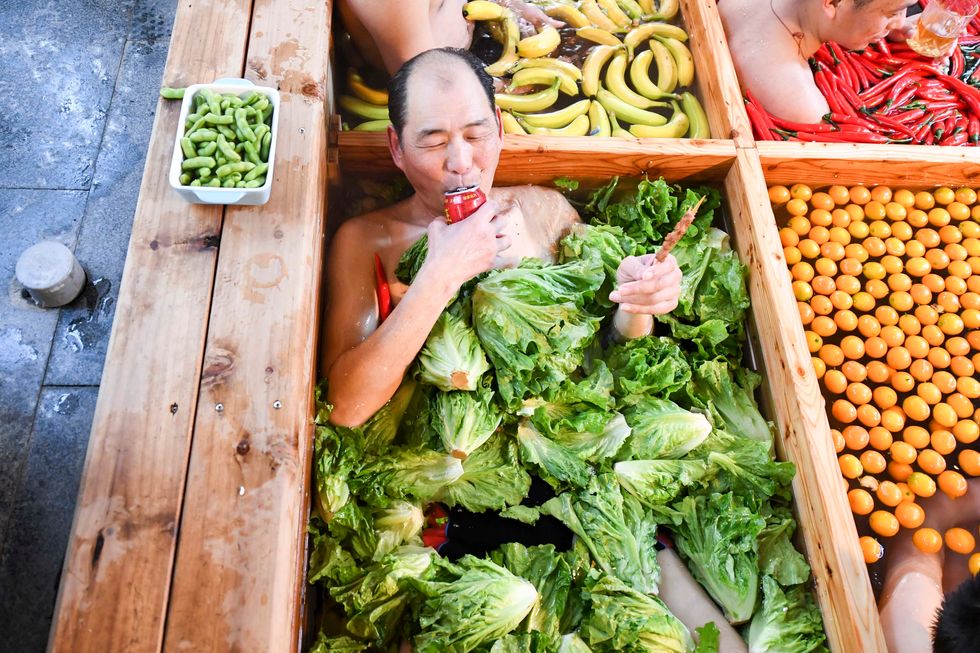 VCG/VCG via Getty Images
The giant hot pot was an idea to promote a healthy lifestyle for the new year. Though, with this year being The Year of the Pig, westerners might get the wrong idea from all the food.
@cnni I'm not putting any dude's massive meat skewer in my mouth. I've fallen for that one before. https://t.co/0b0Kh2OjCj

— Dr. Flavor (@Dr. Flavor) 1548748491.0
@utellmemore @cnni Perhaps this is your personal dilemma.

— fiastus (@fiastus) 1548749267.0
@TravelLeisure No, *YOU* do it!

— Kelly D (@Kelly D) 1548906404.0
Hot pots are eaten with friends or family, with the big pot in the center of simmering water or broth cooking the meats, vegetables and noodles. It's believed this communal eating and warm air surrounding the pot engenders a natural closeness.
While hot pots aren't something the city of Hangzhou is known for, they are famous for their natural hot springs. It's proximity to Shanghai makes it a popular weekend destination as well.
Luckily, most understand the fun of this attraction, even if others... don't.
Chinese hot pot is a beautiful thing... Human soup, is not. https://t.co/XLztEc5ito

— Emma Gabriel-Garcia (@Emma Gabriel-Garcia) 1548755390.0
@CNN And now I can never eat Chinese hot pot again without imagining peoples' butts in it. So thanks for that.

— Meander061 (@Meander061) 1548760399.0
@CNN What if someone really does get cooked, do we eat that person as well?

— Kenneth, Emperor (May I live Forever) (@Kenneth, Emperor (May I live Forever)) 1548754412.0
@TravelLeisure Well yeah, I guess I COULD but y tho

— Saint 'This Account Satirizes Socialists' Stephen (@Saint 'This Account Satirizes Socialists' Stephen) 1548944991.0
The country is doing its best to prepare for the upcoming celebrations. Chinese rails have put more trains in motion to accommodate the increased travel, while temples fill with worshipers and tributes.