A GOP Chairman in Austin, Texas, who endeavors to criminalize homelessness in his city was caught asking Facebook followers to help him charter a jet to Miami, Florida, as many Texans are left freezing during the statewide power outages.

In addition to being the Chairman of the Travis County Republican Party, Matt Mackowiak is the co-founder of Save Austin Now PAC (political action committee) – a nonprofit organization that is trying to reinstate a citywide camping ban on the May ballot in an effort to "restore the city's "safety and beauty."

Since Tuesday, millions of Texans have been trying to stay warm after being without heat due to a severe winter storm.
Mackowiak himself tweeted he was without power since "2 am Monday."

Here is a video of Mackowiak discussing Texas politics on two divisive issues.
It appeared his solution to stay warm was to flee on a chartered jet to the sunshine state—with financial assistance from online strangers.

The Chairman denied accusations of trying to skip town, but Austin Sanders from the Austin Chronicle had receipts in the form of a screenshot of Mackowiak's now-deleted Facebook solicitation.

Mackowiak's post read:
"If you want to go to Miami on private charter from Austin tomorrow, text me ASAP. Splitting up cost."
In a deleted tweet, Sanders posted a screenshot of the Chairman's post and wrote:
"omfg Matt Mackowiak, Travis County GOP chair and anti-homeless crusader, is trying to crowdsource funds to charter a private jet to Miami tomorrow morning."
"Shocked at the gall of this, because he has spent so much time and money trying to make the lives of unhoused people harder."

Austin Sanders/Twitter
Sanders also commented on the irony of the organization, "Save Austin Now," being led by a co-founder who planned to ditch the city during a climate crisis.

Austinites like reporter Dewey Cooper also expressed their disappointment for the Chairman.

Mackowiak included his phone number in the deleted Facebook post, but when it was reposted by Democratic Texas Representative Lloyd Doggett on his Facebook page, Mackowiak was overwhelmed with harassers dialing him up at night.

Doggett screenshot Mackowiak's post and in the caption compared the GOP member to the former U.S. President.

He wrote in the caption:

"For those who are cold tonight, know that the jet setters in your local Republican party leadership are working for you just like their cult leader at Mar-a-Lago."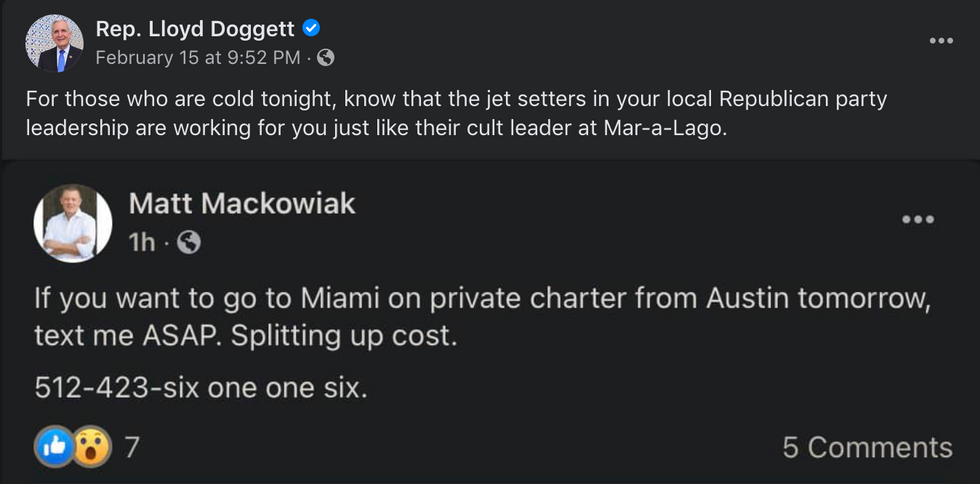 Rep. Lloyd Doggett/Facebook
A flustered Mackowiak tweeted at Doggett, writing:

"Thanks for sharing my cell phone number on your Facebook page. It's been great getting threatening and harassing phone calls all night."
When the Daily Dot inquired as to what Mackowiak's original post was about, he claimed he was "only trying to help a client fill his plane."
Mackowiak added the flight never took off since airports remain closed due to the icy weather.