For lovers of fashion, there's nothing quite like a fierce woman in a tailored suit.
---
Over the years, many iconic women have rocked the look, from the legendary Marlene Dietrich, to the always classy Diane Keaton, to singing and acting superstar Janelle Monae.
So when a photo of Thor: Ragnarok star Tessa Thompson rocking a "boxy plaid" suit surrounded by some of her fellow female Marvel Cinematic Universe actors was released by Vanity Fair, it was time for Twitter to be reminded of the awesome power of a woman in a suit.
The call came from Inkoo Kangst, a TV and film critic who writes reviews for The Hollywood Reporter and The Wrap, as well as tech and culture articles for Slate. Kangst shared the epic photo, saying: "I need an afternoon pick-me-up. Please reply with your favorite pictures of women in suits. Tessa Thompson's boxy plaid is my new lewk."
I need an afternoon pick-me-up. Please reply with your favorite pictures of women in suits. Tessa Thompson's boxy p… https://t.co/mZr032LVTQ

— Inkoo Kang (@Inkoo Kang)1511908846.0
There are a lot of fierce women in that photo, but Thompson definitely stands out from the crowd with her chic look.
Kangst got the ball rolling with some photos of Monae, who is basically known for her suit game:
I MEAN JANELLE ALONE https://t.co/y3N6lO5KG0

— Inkoo Kang (@Inkoo Kang)1511909918.0
Lets take a closer look at a few of these perfect looks: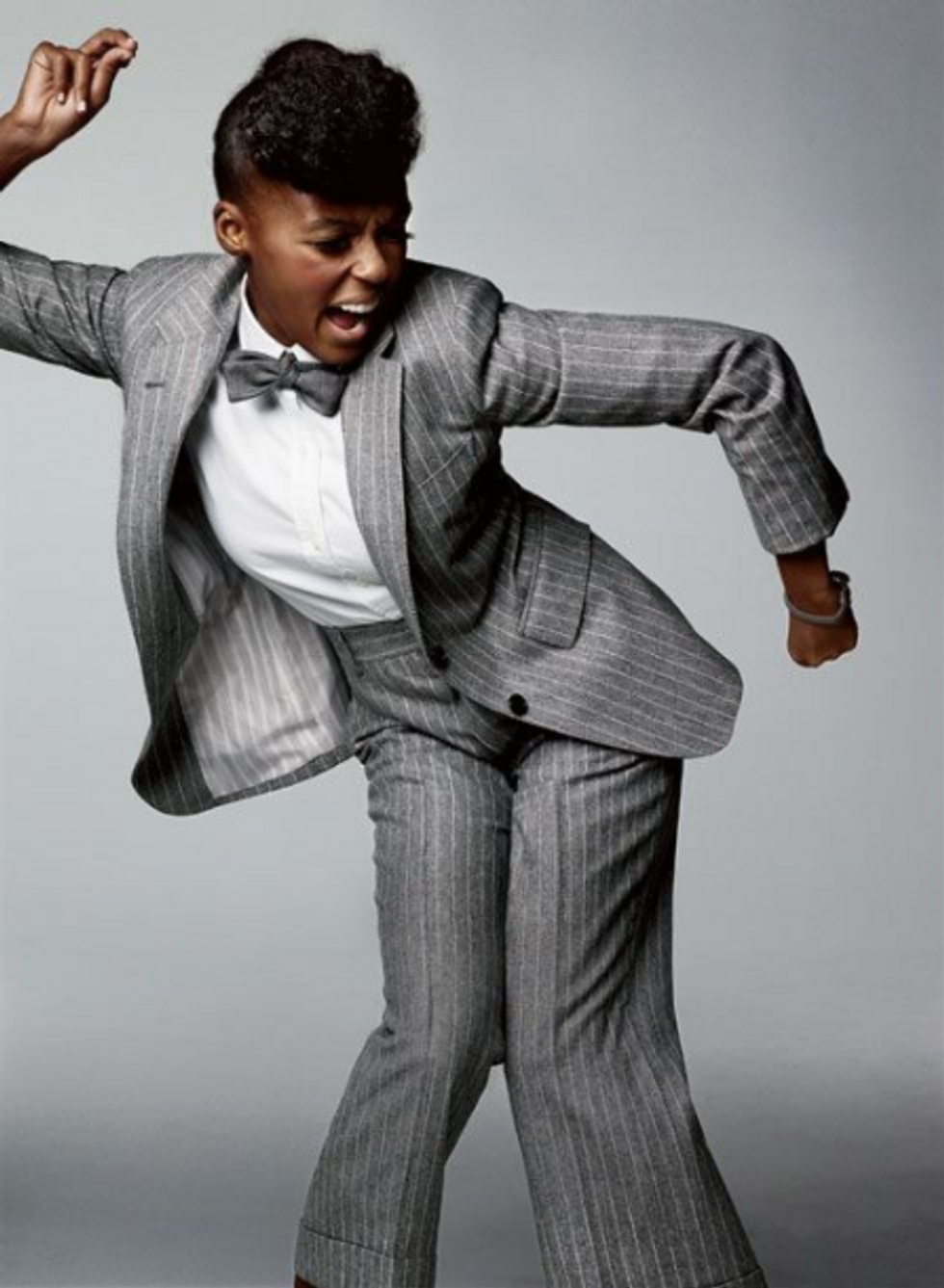 I mean, that pose with that suit? Everything.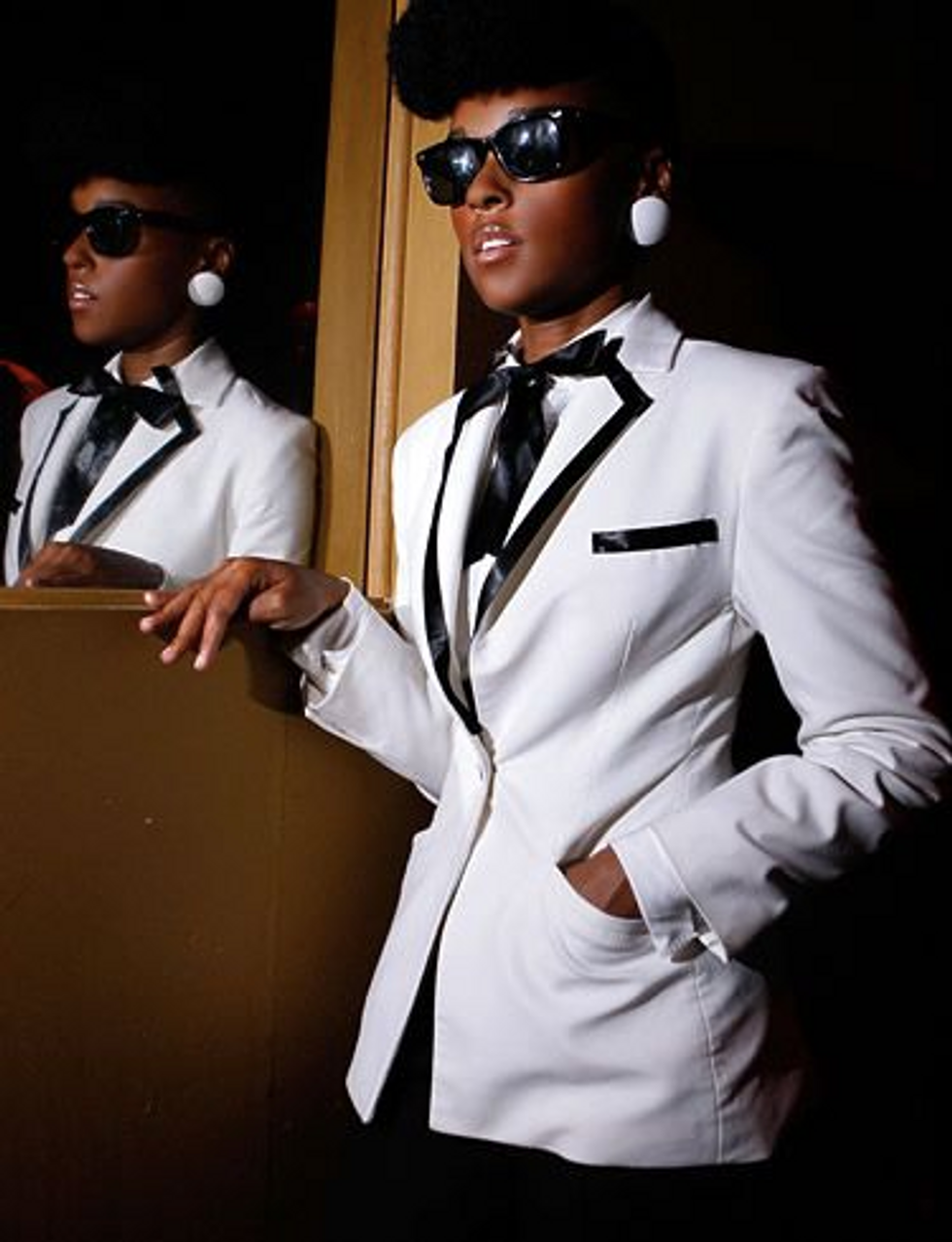 Looking dapper AF, yet cool as a cucumber.
Another Twitter user shared some more photos, including this one of actors Emily Blunt, Cate Blanchett, and Zhou Xun, which was for an IWC Schaffhausen ad campaign: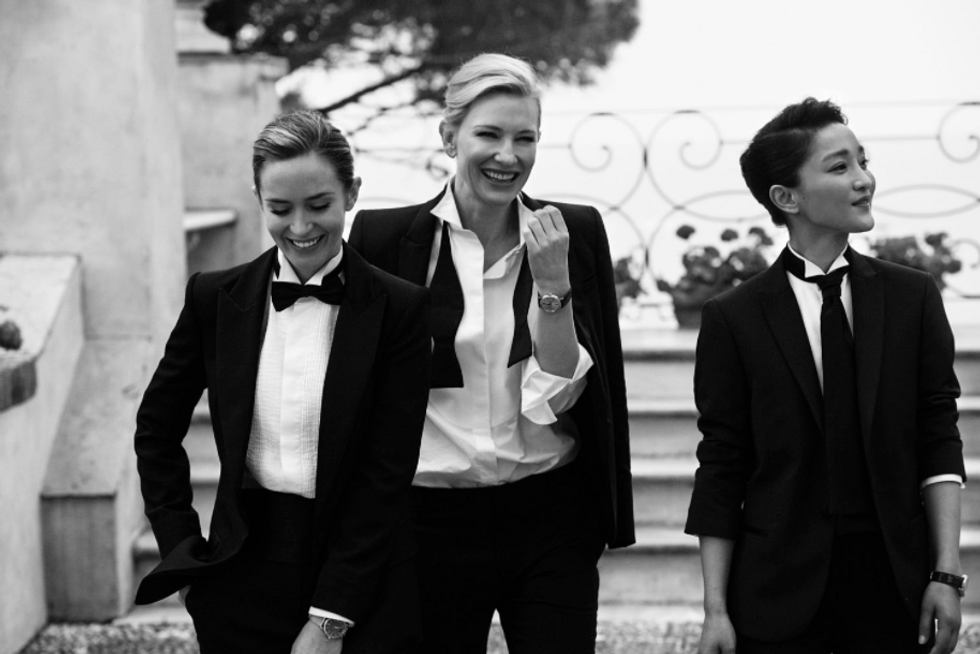 @inkookang some of my faves https://t.co/eQJ1wMDvZ0

— Emma Fraser (@Emma Fraser)1511912678.0
Another Twitter user shared this snazzy photo of Blake Lively: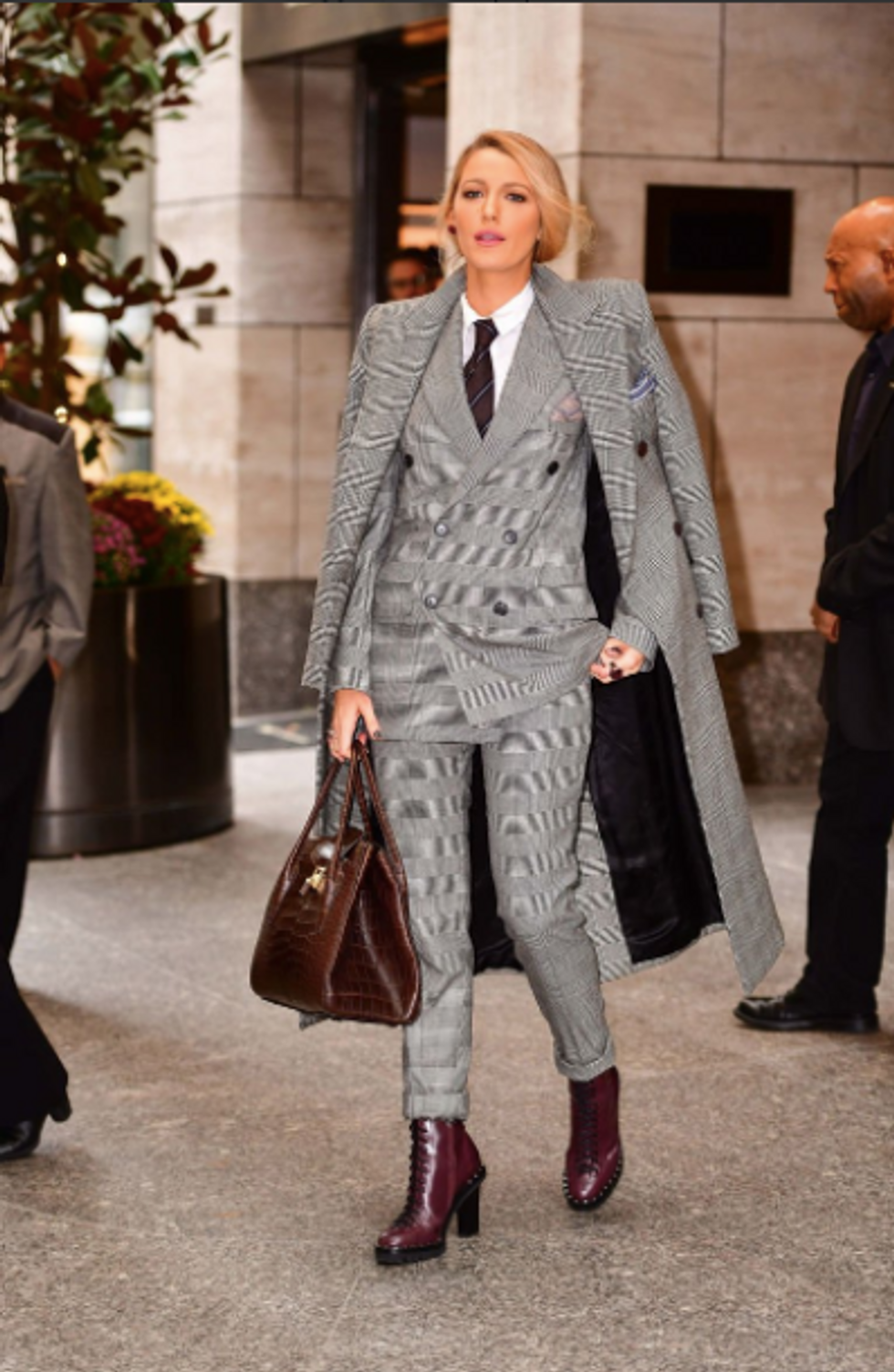 Let's not forget about Dietrich, one of the originals:
@inkookang Marlene https://t.co/2DM70OIiqo

— Nell Minow (@Nell Minow)1511910804.0
Or the great Katherine Hepburn:
@inkookang K Hep forever (we Mawrters worship her) https://t.co/wZLLChztQu

— Emily Gaudette (@Emily Gaudette)1511909587.0
Grace Jones? Enough said:
@inkookang Gotta make sure the great Grace Jones is included in this https://t.co/cpRjsqjzDx

— Adam Hartzell (@Adam Hartzell)1511913851.0
And just look at this one of Sigourney Weaver giving us androgyny for days:
@inkookang Ms. Sigourney. https://t.co/3Ws0gJDGc1

— Jessica Ritchey (@Jessica Ritchey)1511909252.0
If that doesn't leave you feeling sexually confused, then there's something wrong.
A pop of color never hurt anybody either:
@inkookang Throwing in Alexandra Shipp cause nobody's done green yet. https://t.co/tLfYdsd7tg

— CRT (@CRT)1511911137.0
And let's finish of with this well-fitting, well-tailored Emma Watson look, which is described as "flawless:"
@inkookang the tailoring on this one is basically flawless https://t.co/TdFl3rtlBk

— lindsey romain (@lindsey romain)1511910651.0
We'd have to agree.
In fact, all of these fierce women are flawless.
And Twitter is applauding:
@inkookang Be still my dapper lil' heart. Brings me such joy to see this #ladysuit thread! Favorites who are alread… https://t.co/FZPbfoqBye

— joy adjacent (@joy adjacent)1511967300.0
@inkookang A person after my own heart! 💖💖💖 https://t.co/Iv92Kb6q1t

— Freyan (@Freyan)1511971646.0
@inkookang I absolutely freaking love this whole thread😍

— Catarina🏳️‍🌈 (@Catarina🏳️‍🌈)1511965632.0
@inkookang This thread saved my life https://t.co/XD39lQ2E0V

— 1001 people (@1001 people)1511966115.0
@Decervelage @inkookang https://t.co/AS6kUvhGG6

— María Eugenia (@María Eugenia)1511918936.0
Please SHARE this with your friends and family.