British news outlet The Telegraph is under fire after it published an article decrying LEGO as "woke" because the company released a new line of LEGO Friends Minifigures of children with various visible and invisible disabilities.
The Telegraph put out an article criticizing LEGO for the inclusion with the headline:
"Lego goes 'woke' as new figures released with Down's syndrome and missing limbs"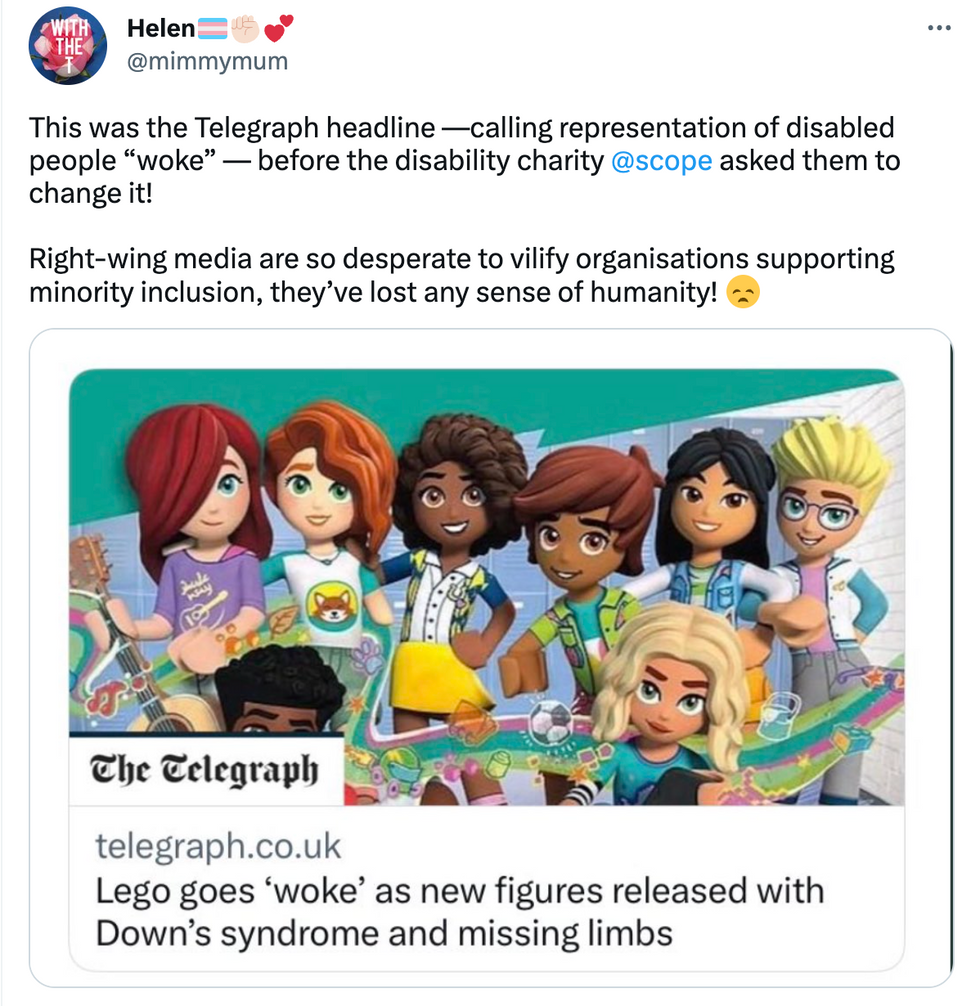 @mimmymum/Twitter
Disability rights group Scope—as well as plenty of others—quickly called out The Telegraph and article author Nick Squires on Twitter.
Scope asked:
"Why are you so against disabled children being able to see themselves reflected in their toys? Don't they deserve the right to play?"

They also noted:
"Weaponising disabled representation like this is hugely damaging."
The Telegraph eventually changed the headline, but it was concerning it was ever published in the first place.
Other Twitter users were also incredulous at The Telegraph headline's audacity.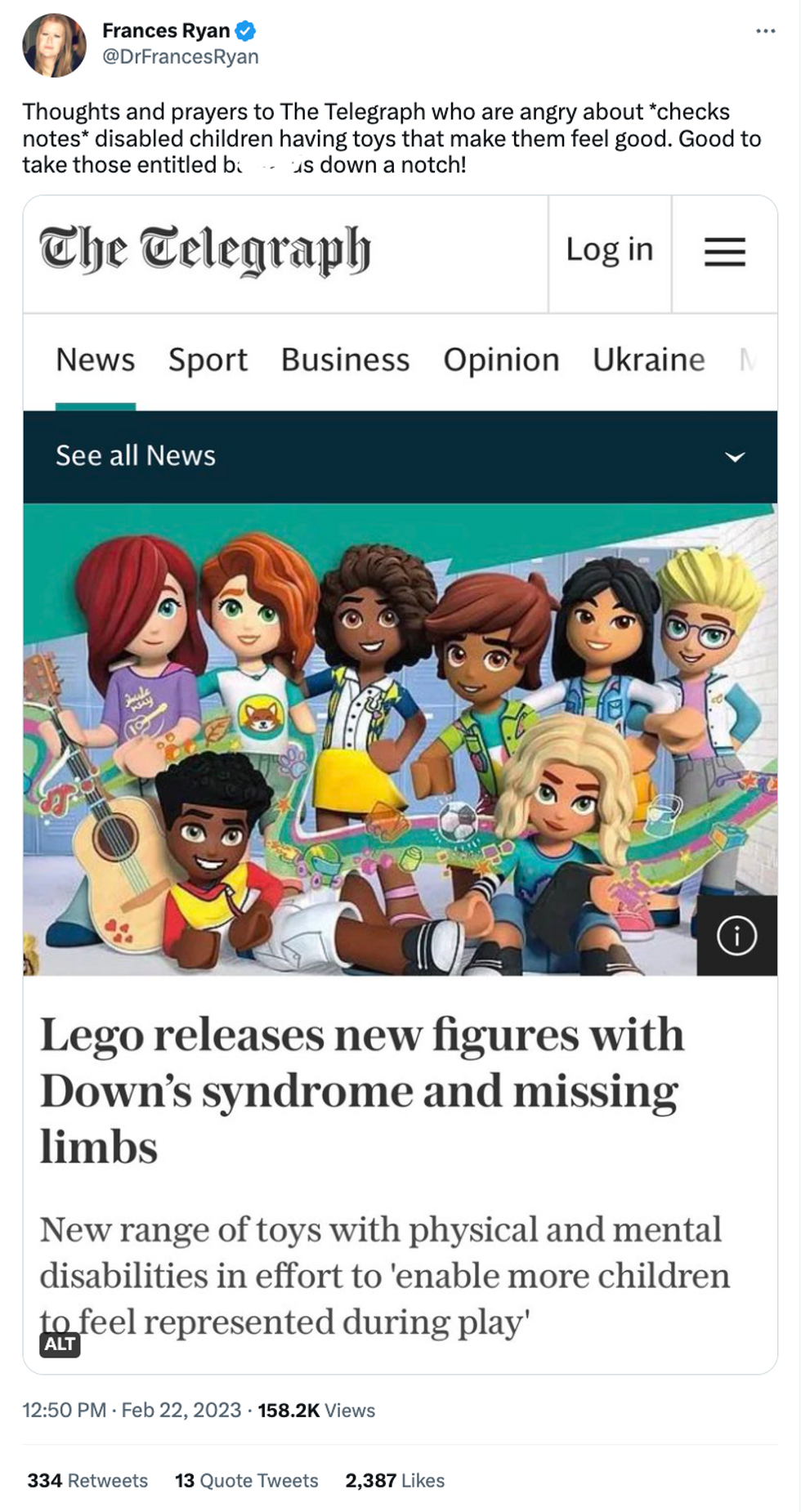 @DrFrancesRyan/Twitter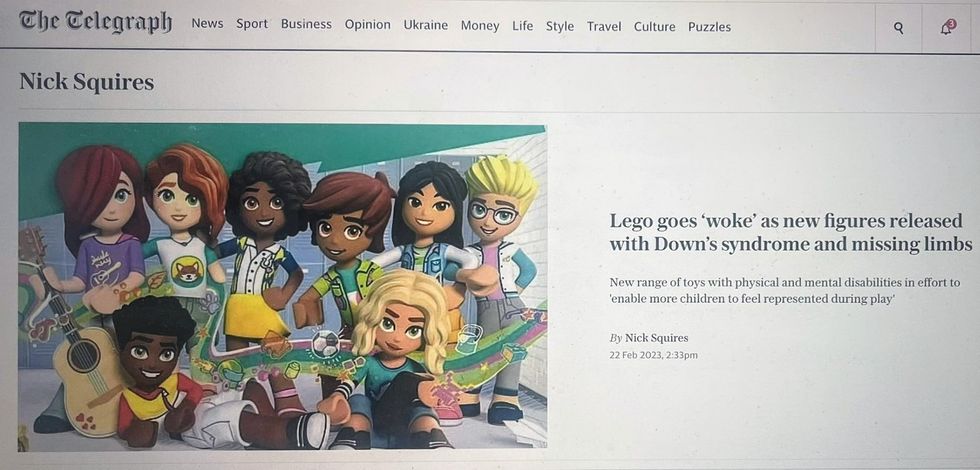 @adamhillscomedy/Twitter

@adamhillscomedy/Twitter
Others were just glad to see LEGO making an effort to acknowledge disabled children and help them see themselves in their toys.

The Telegraph wasn't alone in calling out Lego for going "woke" by including disabled people in their Friends line of products.
Fox News' Harris Faulkner did a segment claiming the Lego company based in Denmark was pushing identity politics on behalf of Democrats to attack Republicans.
The Young Turks skewered Fox for their latest outrage in a segment you can see here:
According to LEGO's press release, they definitely didn't make this decision randomly.

Or in relation to any politics.
Lego conducted a thorough investigation of what kids actually want.
"Because the LEGO Group values children as its role models, this next generation of LEGO Friends has implemented input from kid testing, research and feedback from letters sent to the company, which all found children had a desire to see themselves, their friends and their families better represented."
Their findings were honestly encouraging for the future.
Kids want their toys to be more diverse and reflective of real kids and for the world, in general, to be more equitable.
"The research also found that 3 in 4 (73%) children felt that there were not enough toys with characters that represented them and similarly, that 8 in 10 (80%) children would like there to be more toys with characters who look like them."
"Moreover, children themselves are asking for a fairer, more equitable world with 9 out of 10 (91%) saying they care about everyone being treated equally."
They said of the new toy line:
"The brand-new universe of authentic, interesting, passionate, and diverse characters includes additions of multiple skin tones, cultures, physical and non-visible disabilities, and neurodiversity."
"The new sets and series will feature characters with limb difference, Downs [sic] Syndrome, anxiety, vitiligo, and a dog with a wheelchair."
It's not just visible representation either.
The characters' storylines were written to reflect what life is really like for disabled kids.
"The new friends also explore and work to overcome modern challenges that they face, passions, obstacles, and differences, all while trying to create friendships."
LEGO is far from the only toy manufacturer moving to be more inclusive in their toys.
So, if The Telegraph is truly bothered by diversity in children's toys, they'd better be ready to be really, really upset.