Tag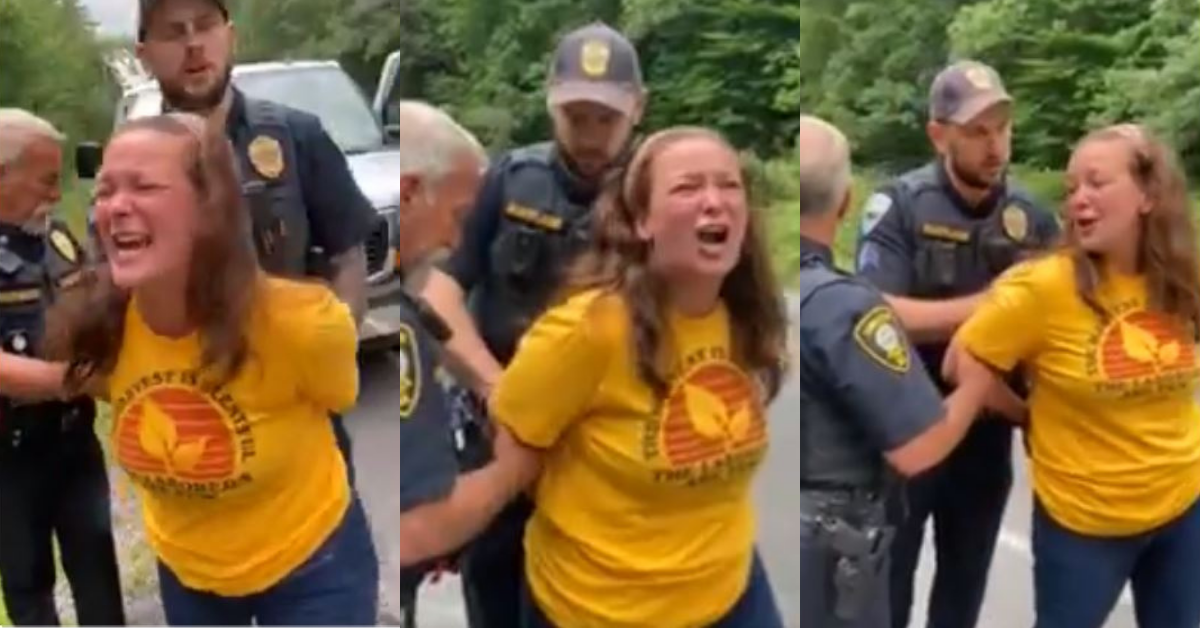 @miscellanyblue/Twitter
A member of the Weare School Board in New Hampshire was seen shouting homophobic slurs at two officers while getting arrested. Now, she's given a bizarre speech attacking the "liberals" in her community.
Rochelle Kelley is a known Trump supporter and anti-masker. The video of Kelley was taken by her husband and has gone viral on social media.
Kelley was heard screaming:
"Let go of me, you piece of sh*t!"
F*ck you, you f*ggot!"
"Eat sh*t, you c*ck-sucking d*ck!"
"I'll sue the sh*t out of you!"
Her husband claimed the police entered their vehicle illegally without a warrant.
She continued screaming and insisted the cuffs were too tight.
Rochelle Kelley was charged with obstruction of government administration and resisting arrest.
Kelley had already been facing charges of disorderly conduct for shouting at a police officer that asked them to leave a playground in Concord.
A video of that incident recorded her saying:
"I don't understand why the Constitution is an opinion."
"In all seriousness, don't you feel really sad you're a police officer, a man of the law, and you're kicking kids off (the playground)?"
She also equated the police enforcing COVID safety precautions to Nazis rounding up Jews during the Holocaust.
Those charges were cleared by Judge Edwin Kelly who said she did not act unreasonably and did not violate the law.
Kelley has since done an interview with local newspaper the New Hampshire Union Leader where she talks about her views on the "tyranny" we are living under today.
She also talked about her most recent trial on August 11.
"I received endless amounts of death threats, DCYF (Division for Children, Youth and Families) was called on me, all kinds of things, but that's expected when you're on the right side of history."
"And it didn't stop just because I was found not guilty. It's still going crazy."
"They're just super liberal and don't believe in freedom."
"They believe masks are for the greater good, if you don't do it you're killing grandma, they don't believe in real science, they believe in mainstream media."
"Anything the news tells them, they believe."
Her most recent arrest came after her husband, Samuel Kelley, had already been pulled over for driving without an updated car inspection four days earlier.
Weare Police Chief Christopher Moore said they had been told the car would be towed.
"During the inventory search of the vehicle, Mrs. Rochelle Kelley, who had been a passenger in the vehicle, engaged in conduct which resulted in her being placed under arrest."
Kelley believes the trial will go in her favor a second time, given the slow nature of the New Hampshire court systems.
"By the time it was in front of a judge, the majority of the world realized that being forced into all these restrictions is nothing more than complying to tyranny."
The video was only a few seconds, but the whole interaction was said to last three hours.
Since the video has gone viral, people are commenting on the lunacy of the whole situation.
Kelley claims that she resisted the arrest because the officers went against their search and seizure protections under the Fourth Amendment.
She said:
"We declined an inventory, which shouldn't be legal to begin with."
"He did it anyway and arrested me because I said 'no.'"
School Board Chairwoman Wendy Curry censured Kelley for using the slurs and said:
"[Saying] homophobic statements to police officers is not an acceptable school board thing."
Hopefully, Kelley will be held accountable for her actions.