Tag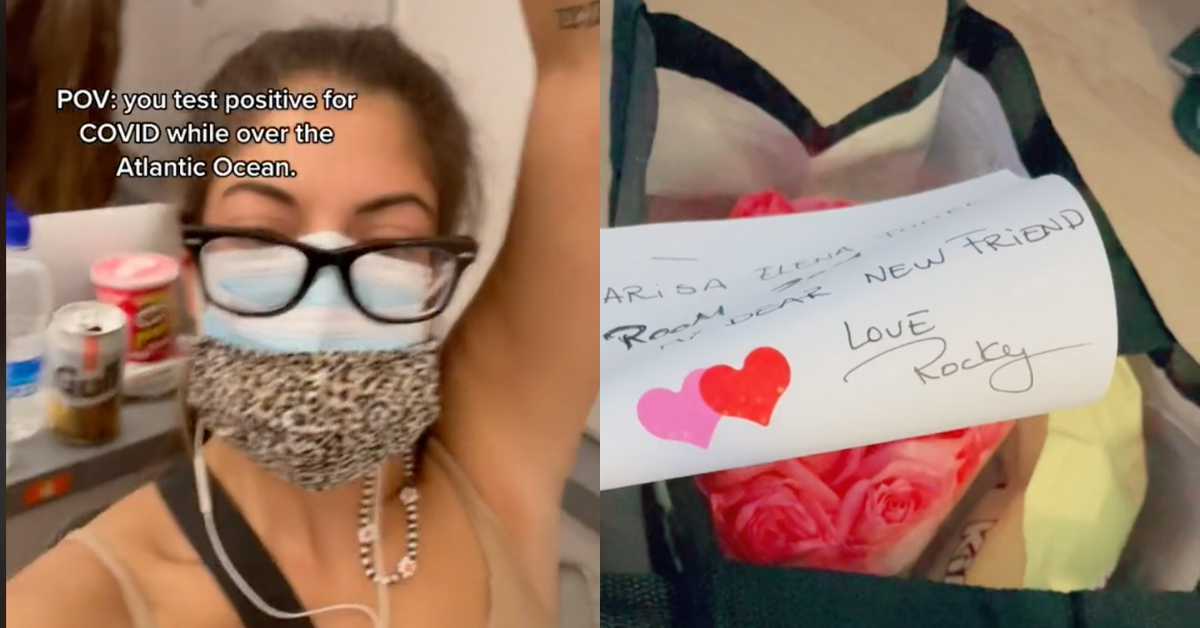 @marisaefotieo/TikTok
With new cases of the Omicron variant rapidly spreading all over the world, countless people found themselves forced to change their plans for the holiday season.
Such was the case for Chicago based teacher Marisa Fotieo, who had to adjust her plans mid-flight to Iceland.
Fotieo, her father and her brother had planned to spend Christmas in Switzerland. Prior to their departure date, Fotieo took a total of seven Covid tests—two PCR, five rapids—all of which came back negative.
Being an early childhood teacher, Fotieo is also tested regularly for her work. She had also received two doses of the vaccine as well as a booster shot prior to their trip.
But midway through their flight to Reykjavik, Iceland en route to their connection to Switzerland, Fotieo began to feel a sore throat, prompting her to head to the plane's bathroom and take another rapid test.
This time, it came back positive.
Fotieo couldn't help but panic upon seeing the test results, as she told CNN:
"I was hysterical, I was crying."
"I was nervous for my family who I just had dinner with."
"I was nervous for the other people on the plane."
"I was nervous for myself."
Luckily for Fotieo, she managed to catch the attention of Icelandair flight attendant Ragnhildur Eiríksdóttir, who also goes by "Rocky", who did her best to
calm
Fotieo's nerves.
"Of course, it's a stress factor when something like this comes up, but that's part of our job"

Rocky attempted to find Fotieo an empty row, so she could sit away from her father, brother and other passengers, but the flight was fully booked.
This led Fotieo to opt to remain in the plane bathroom for the remaining three hours of the five hour flight.
Rocky continued to check in on Fotieo, constantly, bringing her food and drinks.
In spite of the fairly stressful situation she found herself in, Fotieo seemed to remain in good spirits for the remainder of the flight, as evidenced by a TikTok video she uploaded to her page, under the account @marisaefotieo, which has gone on to receive over 4.5 million views.

Fotieo could be seeing dancing along to Grandzz's "I'm So Lucky Lucky", accompanied by the overlay:
"POV: You test positive for COVID while over the Atlantic Ocean."
Upon landing in Reykjavik, Fotieo's father and brother, neither of whom were experiencing any symptoms, continued on their connecting flight to Switzerland, but Fotieo was forced to take both a rapid and PCR test at the airport, both of which came back positive.
She was then shuttled to a Red Cross hotel, where she would complete her 10 day quarantine.
While this meant Fotieo would be unable to celebrate Christmas with her family in Switzerland, she revealed on her TikTok page she was taken very good care of during her quarantine, with Rocky continuing to look out for her after disembarking.

In a follow up-video, Fotieo described Rocky as her "new bestie" in the overlay and revealed they remained in contact with one another via Instagram following the flight.
Fotieo could then be seen opening a care package Rocky sent to her hotel room, which included an abundance of sweets, as well as a miniature Christmas tree.
Fotieo was overcome with emotion at the end of the video, apologizing in an overlay:
"Please excuse the dramatics, it's been a long two days."
Fotieo also expressed her love and appreciation for Rocky in the video's caption:
"We LOVE Rocky from @icelandair.is she makes the world a happier place."
That wouldn't be the last gift Fotieo received from Rocky.
In a subsequent follow-up video, Fotieo revealed with the help of some of Foteio's cousins, Rocky delivered her both a Christmas eve dinner, as well as some presents to open on Christmas morning.
Fotieo also called on the help of fellow TikTokers, asking for advice on how to repay Rocky's generosity.
Fotieo continued to document her Reykjavik quarantine on TikTok, even at one point hinting she was beginning to enjoy it.
Though, it seemed some of Fotieo's TikTok followers had their doubts about her story, as Fotieo subsequently posted a follow up to a comment which called "B.S." on the idea anyone would be allowed to remain in a plane bathroom for such a long period of time.
Capturing an interview Fotieo gave to NBC with the doubtful comment in the overlay, Fotieo "Calle[d] BS on [the commenter's] BS" in the video's caption.
All comments have since been turned off on all of Fotieo's TikTok videos, but as her story got more and more attention, it also got plenty of commentary on Twitter.
Some commended her for taking the initiative to test and quarantine mid-flight.
Fotieo completed her quarantine on December 30, and her father and brother planned to meet her in Reykjavik prior to flying back to Chicago.
Fotieo also expressed her hopes to CNN she would be able to reconnect with Rocky before flying home, remaining in awe of how well she took care of her, and believing she has made a new friend for life.
"Coming out of this experience I have a new friend and I have a new outlook on how much flight attendants have to do."
"Rocky and the flight crew had me, but they also had the other passengers to deal with on the flight."
Icelandair has yet to comment on Fotieo's experience.