Tag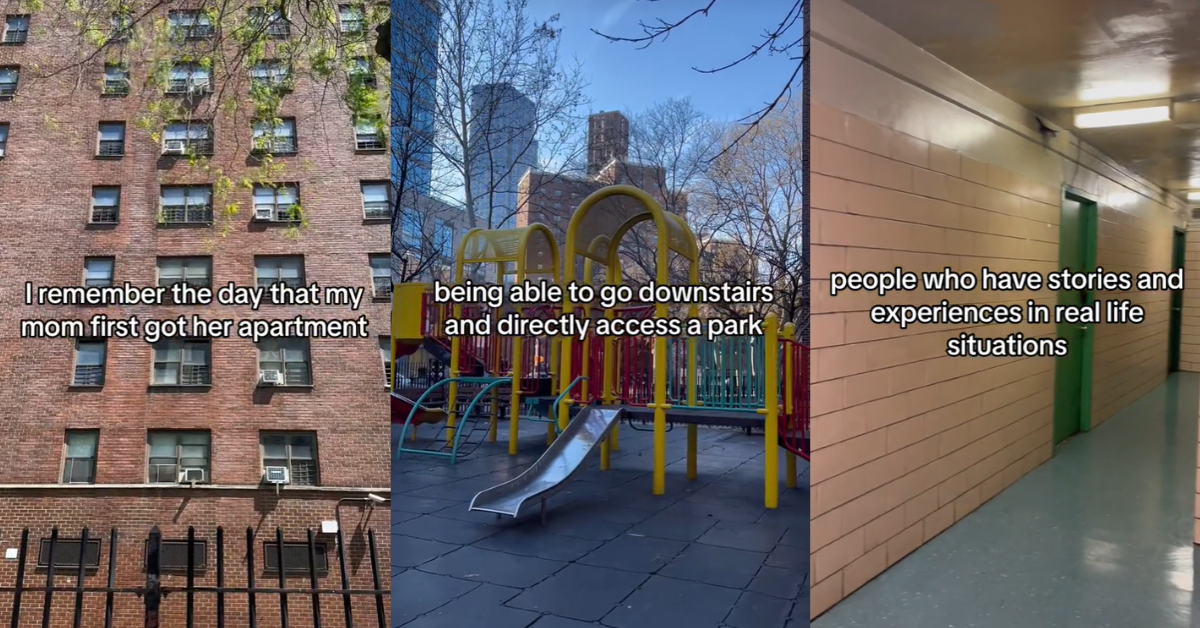 @jayah.a/TikTok
We've inevitably all heard stereotypes about what it's like to live in public housing or income-based housing, and most of those stereotypes are overwhelmingly negative and judgmental.
One woman in New York City, a TikToker named Jayah Arnett, decided to use the power of social media to show everyone that growing up in public housing is a much different experience than what is often portrayed.
Arnett started her TikTok channel to share life in New York City, stories of culture, and her project, "My Projects Runway," which is an artistic and cultural examination of people's real experiences growing up and living in public housing.
You can watch her first video here:
@jayah.a

New York City Public Housing Exhibition "Community Matriarchs of NYCHA" curated by Jayah.a founder of @myprojectsrunway #newyork #nyc #nycha #exhibit
Arnett demonstrates a great amount of pride for her project in the first video, which quickly gained moderate but overwhelmingly positive attention with nearly 7000 views.
Arnett then went on to share her personal story of growing up in public housing alongside her mother. She described it as a comforting and family-friendly environment, and one where a closely-knit community was bound to grow.
Arnett reflected in the video:
"Growing up in public housing was a different experience."
"I remember the day that my mom first got her apartment. She was excited to call something her own. I remember it being a sense of freedom, not having to live in other family members' homes."
"Despite the stereotypes placed on people, I want others to know that the inside of these homes are usually carefully curated from their kitchen to the living room with their random figurines [sitting] out that reflect our spiritual beliefs, cases of pictures with memories from childhood..."
"The people who are living in public housing are just that: people who have stories and experiences in real life situations."
"To some, the projects may just be the hood, but for others, this is the best experience they've had because it's better than what they've known."
You can watch that video here:
@jayah.a

Join our #FeelingAtHome campaign, a partnership between the National Public Housing Museum (@thenphm IG) and My Projects Runway (@my.projectsrunway IG), celebrating the creative imagination and brilliant efforts of public housing residents to create a lot from a little. Beyond the deferred maintenance and unassuming and conventional exteriors of public housing project buildings, there are often apartment units with unique, enthralling, and carefully curated interiors. To participate in this campaign, post a photo of your stylish public housing interior, past or present, tag @thenphm and @myprojectsrunway, use #FeelingAtHome, and share a memory in the caption. Or, use the link in our bio to submit. #nycha #publichousing #newyork #projects #FeelingAtHome #thehood #memories #theprojects #hoodmemorial #newyorkcity #publichousingliving #home #manhattan #bronx #carverhouses #clintonhouses
Fellow TikTokers were overcome by the video and shared their similar experiences.


@jayah.a/TikTok

@jayah.a/TikTok

@jayah.a/TikTok

@jayah.a/TikTok

@jayah.a/TikTok
@jayah.a/TikTok
@jayah.a/TikTok

@jayah.a/TikTok

@jayah.a/TikTok

@jayah.a/TikTok
While we may not all share the same experiences growing up, it's important for us to hear others' stories and understand where they are coming from. This not only gives us a chance to learn something new, but it makes us more well-rounded and empathetic people. Plus, it's truly heartwarming to hear others' stories of home.