health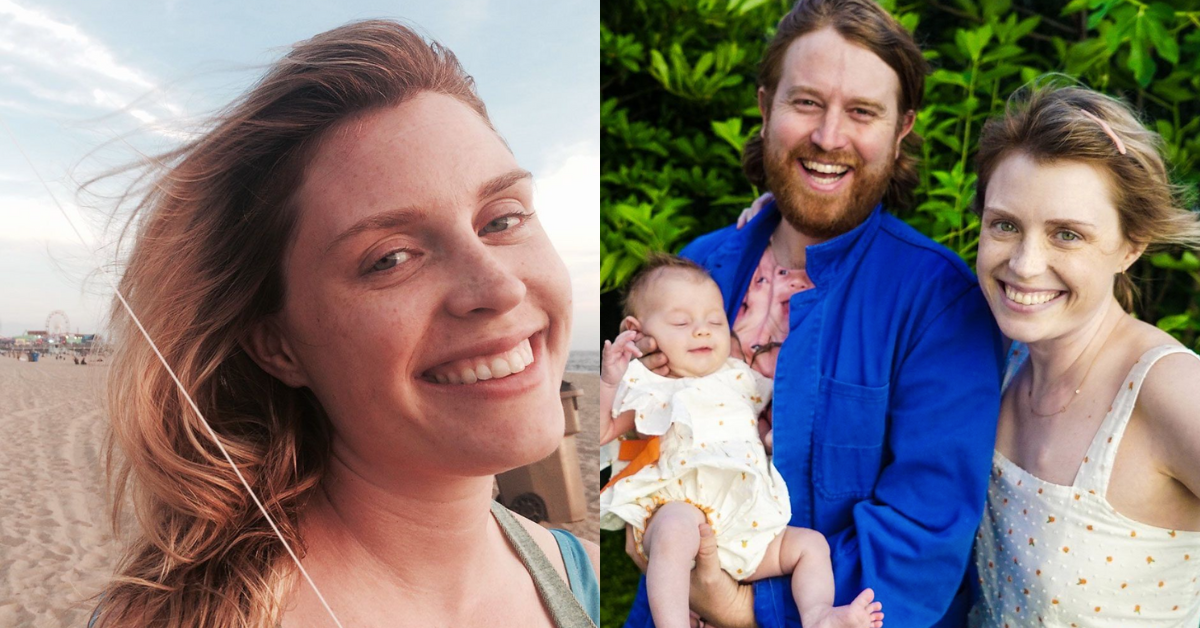 @caseyrmcintyre/Instagram
A young mom recently went viral after announcing her own death and final wish in a heartbreaking social media post.
On November 12, 38-year-old Casey McIntyre lost her battle with ovarian cancer, but she wanted her loved ones to learn of her death directly from her and in her own words.
On November 13, that's exactly what happened.
A message posted to Instagram from McIntyre read:
"A note to my friends: if you're reading this it means I have passed away. I'm so sorry, it's horsesh*t and we both know it. The cause was a recurrence of my previously diagnosed stage four ovarian cancer."
The message continued:
"I loved each and every one of you with my whole heart and I promise you, I knew how deeply I was loved."
"The five months in home hospice that I got to spend with my family and friends in Virginia, Rhode Island, and New York were magical."
An edit was added to McIntyre's message from her husband Andrew Rose Gregory, who revealed his wife was unable to finish writing the post, but he knew she wished to add some of her "comforts and joys."
Gregory wrote:
"Editors note: Casey meant to finish this post with a list of things that were a comfort & a joy to her during her life, and I am heartbroken that I will never see that list."
"As she grew sicker she couldn't finish it."
"I imagine it would've included our daughter Grace, whales, ice cream, her beloved friends, being at the beach, her niece and nephews she incorrigibly doted on, reading 10 books on a weeklong vacation, her beloved parents and sister and their amazing extended family, swimming, a perfect roast beef sandwich, and me, her sweet sweet honey."
Gregory also shared:
"A memorial service & debt jubilee in Casey's honor will take place in December. We will celebrate her life by anonymously purchasing medical debt and then anonymously forgiving it, hopefully with a bonfire if they will let us."
The post was also shared on X, where it quickly went viral.
McIntyre also explained the "debt jubilee."
"To celebrate my life, I've arranged to buy up others' medical debt and then destroy the debt."
"I am so lucky to have had access to the best medical care at @MSKCancerCenter and am keenly aware that so many in our country don't have access to good care."
The post also included the link to her RIP Medical Debt campaign.
McIntyre was first diagnosed with ovarian cancer in 2019 and developed ascites, swelling of the abdomen caused by fluid accumulation.
Gregory told TODAY.com via email that his wife tried "everything," from chemotherapies and surgeries to experimental immunotherapies.
"I will just assure you that she tried everything for me, her daughter and her family."
"She re-entered treatment in September 2021 after 18 months of no evidence of disease and was released into home hospice in June 2023."
"We were fortunate to have one last bonus summer together."
The couple planned the "medical debt jubilee" in May when they felt the end was near.
People on social media learning of McIntyre's final wish were heartbroken over her passing but also incredibly moved by her generous act of helping others.
@ripmedicaldebt/Instagram

@ripmedicaldebt/Instagram
@ripmedicaldebt/Instagram
@ripmedicaldebt/Instagram
Gregory hopes that as loved ones mourn the loss of McIntyre, they can also take solace in knowing that their efforts are helping others.

And though Gregory, too, is devastated over the loss of McIntyre who he "purely adored," he takes comfort in knowing she can finally "find peace."
"I am struggling to live my life without my wife who I purely adored, but Casey suffered so much in the last years and especially last weeks of her life."
"Ovarian cancer is crueler than you can imagine. In her last days we were all able to tell her, 'Casey, you have done it all. The race is swum. Find rest, find peace, be free.'"
As of this writing, Casey McIntyre's Debt Jubilee has raised nearly $680,000 to "destroy" the medical debts of others. The non-profit organization RIP Medical Debt pays off $1 of medical debt for every penny that is donated, meaning McIntyre has helped erase almost $68 million in medical debt.
A truly powerful final gift, indeed.
Keep reading...Show less