A beloved local eatery owned by Syrian refugees in Toronto, Canada was forced to permanently close up shop after receiving numerous "hate messages and death threats."
---
Husam and Shahnaz Al-Soufi opened Soufi's in 2017 after immigrating to Canada as refugees in 2015.
The cafe was inspired by their love for "Syrian culture, music, and delicious home-made food," according to their website.

On Tuesday, they announced with a "heavy heart" that they would shut down their business.
"As a result of numerous hate messages & death threats we've received over the past week, we've decided to permanently close our shop."
"Our decision is made with a heavy heart in [an] effort to maintain our family and staff's safety."
In a statement, the Al-Soufis said their decision was based out of fear for their safety.

"However, we could not put our family members, staff, and patrons in danger. The magnitude of hate we are facing is overwhelming."
According to the cafe's website, the Al-Soufis' have three children Alaa, Jala and Ayham.

The onslaught of racist threats are believed to stem from the family's eldest son, Alaa, participating in the September 27 protest against a fundraiser for Maxime Bernier—the conservative founder of the anti-immigration, White nationalist People's Party of Canada.
CBC reported that Bernier supporters spread a video online of protestors blocking people from entering a building at Mohawk College where the fundraiser took place.

Neethan Shan, with Urban Alliance on Race Relations, delivered the family's statement confirming Alaa's attendance at the protest but said he was not a part of the group that blocked those trying to attend the White nationalist fundraiser.

Those harassing the Al-Soufi's are using the example of one 81 year-old woman who was one of the fundraiser's supporters that the protesters blocked.
The Al-Soufi's addressed this in their response.
"Alaa regrets that he did not step aside and/or stand up against the act of verbal abuse that occurred against her, and would love the opportunity to personally extend his apologies to her."
"Alaa has been an activist and humanitarian for the past 9 years, fighting for the rights of oppressed communities in Canada and worldwide. We support and love our son for standing up against oppression."
"That said, he did not in any way verbally or physically assault the elderly woman and has nonetheless offered to apologize personally for not doing more."
They also mentioned that Alaa was physically assaulted and doxed, meaning, his personal information was released online with malicious intent.

"Our family and business do not condone acts of hate, violence or harassment in any shape or form, and advocate for peace, equality and free speech for all human beings."

One of the violent messages the family received, read in part:

"Your [sic] going back in a box."
Another read:
"Keep it up and your family, and those who defend your family's terrorist actions will suffer immensely."

People responded to the unfortunate turn of events and offered their sympathies.
Toronto resident Taea Magnuson frequented Soufi's and considered the cafe as one of her favorites to visit with friends.

She was shocked over the news.
"They were so welcoming and such a friendly family. It's so hard to believe that this could happen to them. It's really unfair."
Others were furious.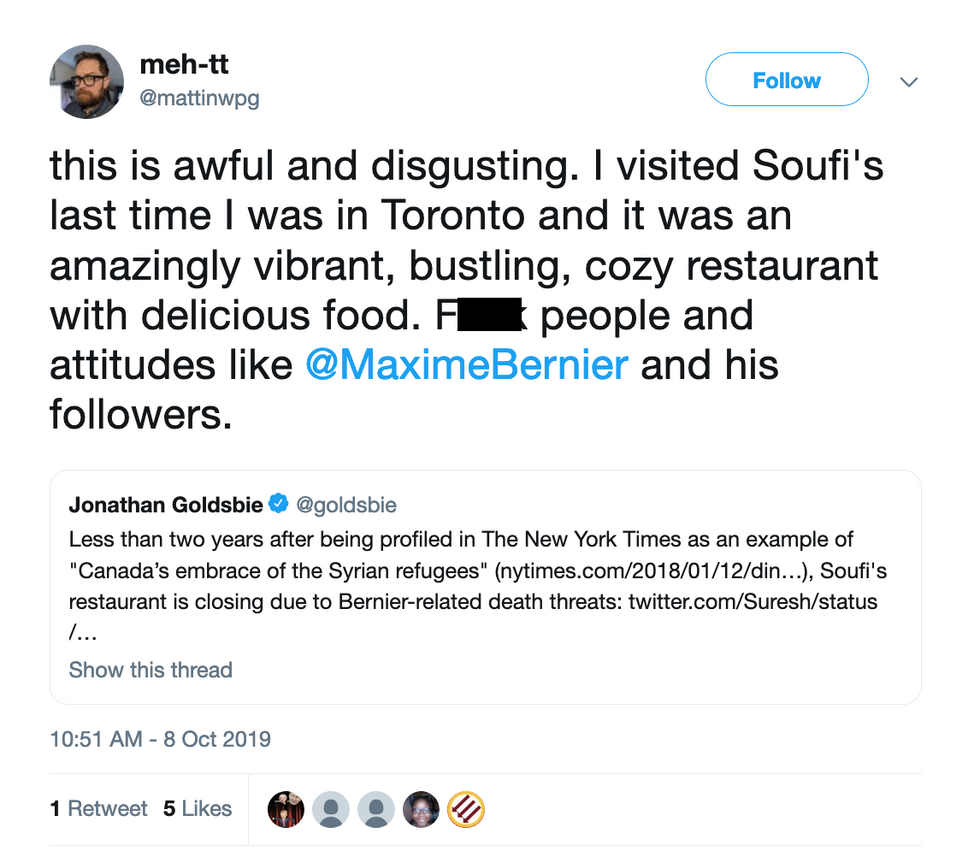 @mattinwpg/Twitter
The family-run restaurant featured Syrian fresh oven-baked flatbreads and Middle-Easter desserts like Knafeh, consisting of soft white cheese and phyllo pastry soaked in an orange-blossom syrup.
They described Soufi's as "downtown Toronto's first Syrian restaurant and cafe."
The family thanked loyal patrons and supporters of their establishment.

"We are extremely lucky and grateful to be here and are in awe of the kindness and warmth of the Canadian people."
******
Have you listened to the first season of George Takei's podcast, 'Oh Myyy Pod!'?
In season one we explored the racially charged videos that have taken the internet by storm.
We're hard at work on season two so be sure to subscribe here so you don't miss it when it goes live.
Here's one of our favorite episodes from season one. Enjoy!