Following the death of controversial conservative radio host Rush Limbaugh, many liberals have said their goodbyes by remembering some of the firebrand's most awful moments on air.
Rapper and actor ICE-T retweeted one of his own tweets from 2012 remembering a particularly racist moment from an interview with Limbaugh.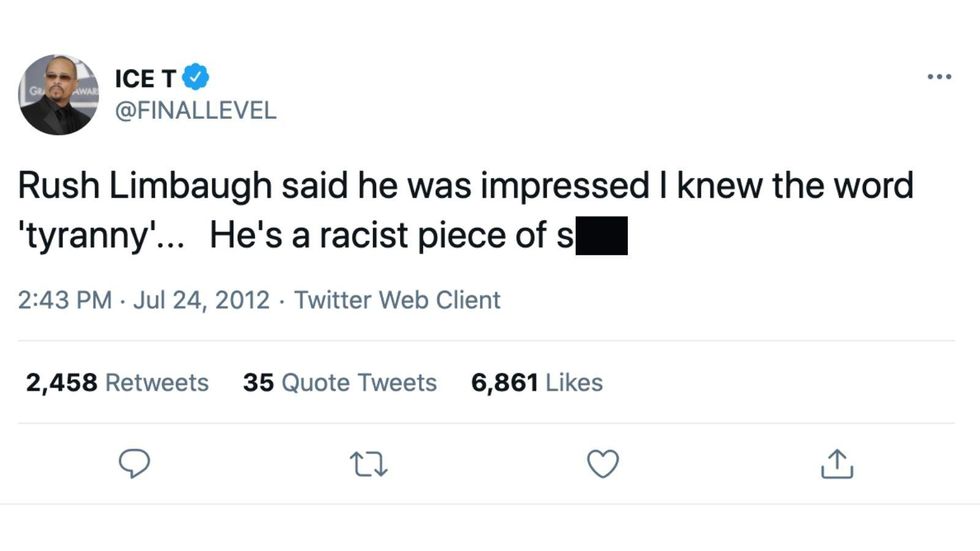 @FINALLEVEL/Twitter
Twitter joined Ice-T in his sentiment, which was obviously meant to show that Limbaugh was not the inspiring figure many Republicans have made him out to be.
Limbaugh had a long history of racist, misogynist, and homophobic statements on his program.
@dunchman @FINALLEVEL he mocked people dying of AIDS, why can't we mock him in death?

— salamander (@salamander) 1614114891.0
@RobAnderson2018 @FINALLEVEL Said it before Ice T is cool.

— Hilary 😏wens (@Hilary 😏wens) 1614099566.0
Republican Governor Ron DeSantis of Florida flew Florida's flags at half-mast in honor of Limbaugh's death, a decision heavily criticized by many online.
It seems fairly obvious that Ice-T will not miss Limbaugh's presence in the media.
Generally speaking, there didn't seem to be much overlap between fans of Ice-T and Rush Limbaugh.
Limbaugh's legacy will likely look very different depending on who you're talking to, but it seems pretty obvious what kind of memories Ice-T thinks the radio host left behind.