Tattoos last forever, so why not get one that goes viral? One fan of the TV show Rick & Morty decided to take his tat to the next level by getting a picture of the titular characters staring into a green-screen portal. Now, the internet is helping the tattoo live up to its full potential.
---
Here's what the tattoo looks like in real life: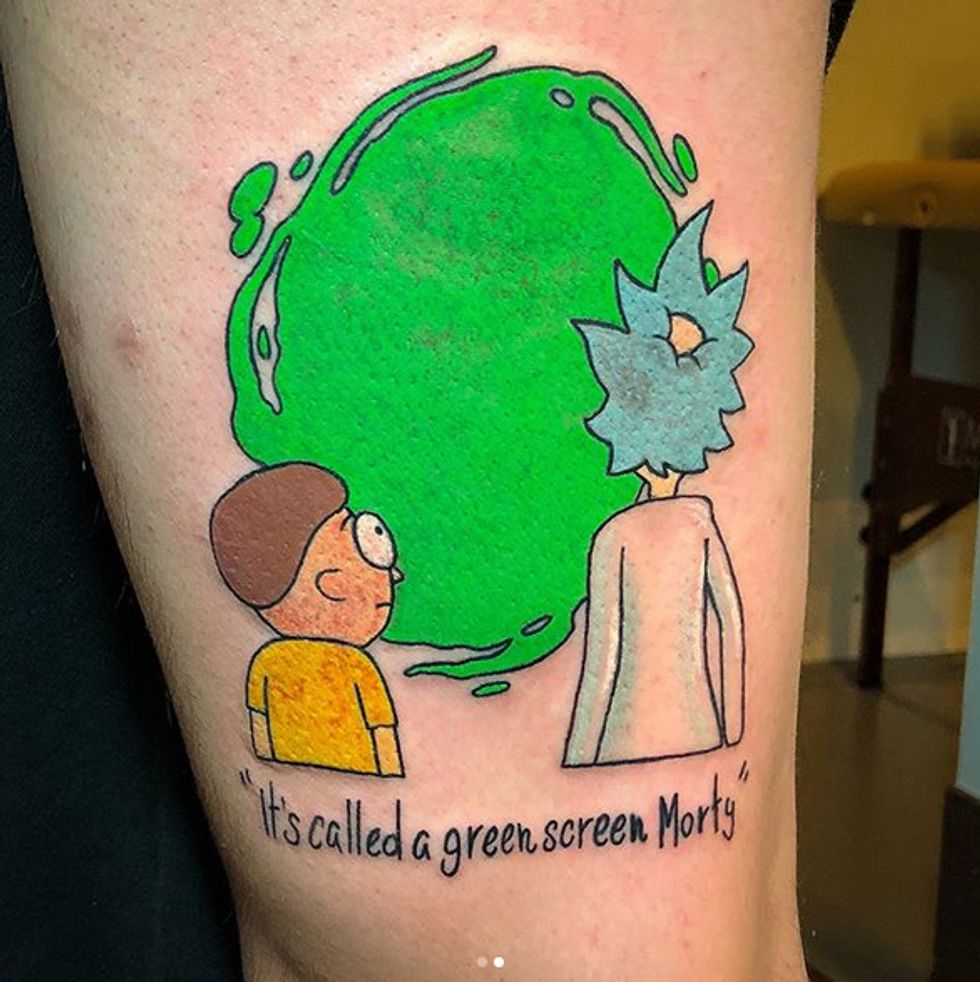 Roy Rowlett
Of course, the real magic begins when the tattoo-wearer busts a green-screen app out on his phone and projects footage onto his skin:
The tattoo was designed by tattoo artist Roy Lee Rowlett, who explained his process to Buzzfeed news:
I sat down with a friend, Brian Lejman, and we went over cool ideas that would be practical with the green screen effect. Rick and Morty just made sense. I plan on doing more of these in the future. You saturate an area of skin with green, or any other color depending on how good you are with the software. Then use video editing software or an app on your phone to overlay a video.
This 'Rick and Morty' tattoo is a permanent multidimensional portal https://t.co/BZ991F9KXo

— NowThis (@NowThis)1533955980.0
The tattoo has quickly gone viral, which surprised but delighted Rowlett:
Honestly, I figured people would like it but not to this extent. It was pretty overwhelming honestly. It's been email after email. It was good to see that most of the responses were positive. A few negative ones but that's OK. I understand it's not something everyone's going to be into. My favorite responses were the ones from people that thought the tattoo actually moved in real life. They were pretty funny.
Twitter wanted to run out and get a matching tat IMMEDIATELY.
This has to be one of the coolest tattoos ever! #greenscreen #rickandmorty #nerds https://t.co/QUJwfFj9yE

— Nerds On Call (@Nerds On Call)1533834000.0
This Rick and Morty tattoo is everything I need to see on the Internet this week #RickAndMorty #AdultSwim #Tattoo… https://t.co/NlIocViKMk

— Ankita Shetty (@Ankita Shetty)1533709475.0
Ok don't get me wrong, it's a sick tattoo. But won't you always need a greenscreen? https://t.co/9hPnDfxHdE

— Anthem (@Anthem)1533658957.0
The green-screen tattoo idea isn't brand new, but it's being used to its fullest potential with Rick & Morty!
LPM 😍 💉 #GreenScreen #Tattoo https://t.co/0IdrsYxFp2

— Cone Ojeda 🐰 (@Cone Ojeda 🐰)1533657429.0
Yall gettin real hype over this greenscreen tattoo 😂 like we havent been using green screen technology for decades

— Aldō Thē Apachē (@Aldō Thē Apachē)1533609524.0
During our last recording session I told Brad that my next tattoo is "coincidentally" going to be the exact same sh… https://t.co/twKvav5nWa

— I'm trying my best, guys. (@I'm trying my best, guys.)1519586851.0
@nowthisnews personally don't like tattoos but this is pretty darn cool

— Shadrina | サドリナ (@Shadrina | サドリナ)1533881391.0
@IGN https://t.co/lP91GkIbpW

— mike kromski (@mike kromski)1533951654.0
Of course, tattoos' color tend to fade over time, which could cause some serious problems when attempting to use the tattoo's green-screen. Hopefully that won't be the case here—the Rick and Morty tattoo is a national treasure.
the green screen rick and morty tattoo is my boyfriends best friend so now he thinks he's cool bc it's being shared every where 😂😂😂😂

— princess chelsea (@princess chelsea)1533943572.0
@nowthisnews Legendary!!!

— D. Royale (@D. Royale)1533959356.0