There's been a lot of upsets in this year's March Madness, with many dealing with brackets busted far earlier than expected. The so-called Year of the Underdog has fans all over the place finding out their "sure thing" is less sure than they thought.
Which may be why the fail of Florida news reporter Anna Hoffman has gone viral.
Hoffman was covering a youth night for a segment when she took her shot.
While covering the youth empowerment night in Panama City for WMBB News, Hoffman took a shot from just inside the three-point line.

In the video above, the ball looked like it was going to roll around the rim and fall in, causing Hoffman to turn around and celebrate. However, gravity had other plans, as the ball fell out just as she turned her head.
However, her glee and celebration were so infectious, you couldn't help but cheer along. Even if it almost looks like it was knocked out by another basketball.
Many people pointed out the man who didn't tell her what actually happened.
Though to be fair, it'd be nice to have a friend who hypes you up like that.
The basketball fail went viral, racking up nearly five million views. Part of the charm is the sincere celebration of Hoffman, who was genuinely excited to have made the shot.

A commenter asked Hoffman when she found out she didn't make the shot and she responded:
"Not until I heard the anchor say 'great job Anna. You almost made that shot.' So basically way after my celebration."
A lot of people compared it to the infamous shot by Nick Young, who missed a three-pointer against the Knicks. Young didn't realize he missed due to turning around and posing for his own celebration.
It's since become a common GIF reaction.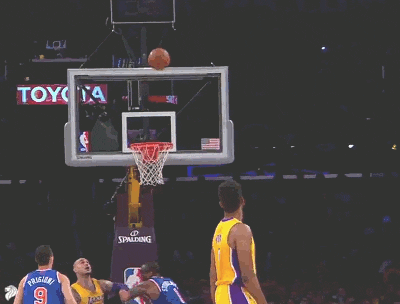 media.giphy.com
Other people compared the shot to instances of people really missing the shot.

I don't think anyone will fault Hoffman for enjoying herself, even if she ended up missing in the end. After all, in such a weird year, don't you think we all need a little cheer for ourselves?