The newly resurfaced 2016 video from YouTubers Dude Perfect showcases Serena Williams' phenomenal accuracy and talent, and shows why no amateur has a hope of scoring a point on her.
Even if they're one in eight random men on the internet.
---
Given Williams' 23 Grand Slam wins, this may seem like something that very few people would aspire to. It would seem that is not the case, however.
A recent poll of UK citizens by YouGov found that 1 in 8 men (12%) thought that they could score a point on Serena in a tennis match.
One in eight men (12%) say they could win a point in a game of tennis against 23 time grand slam winner Serena Will… https://t.co/mTfKNGV41V

— YouGov (@YouGov)1562944694.0
In case anyone has any doubts about Serena's astounding tennis abilities, here is Dude Perfect's video to clear up the confusion:
Tennis Trick Shots ft. Serena Williams | Dude Perfect youtu.be
Even with all 5 of the guys on the court, they're barely able to even think about keeping up with Serena.
Despite her utterly wiping the floor with them, the guys of Dude Perfect are so enthusiastic about collaborating with Williams, and with her amazing skills!
Twitter users were thoroughly impressed with Serena's performance after Rob Bennet shared a clip from the video.
@rob_bennett @JesseFFerguson @serenawilliams And she is expending -0- effort to make these guys look silly. She is the GOAT!

— JerseyStrong11 (@JerseyStrong11)1563636195.0
@rob_bennett @cinniharpy @serenawilliams I love the transition to "ok she's unstoppable lets have her do some sick… https://t.co/0r6UivzLYw

— samich @ BB21 Hell (@samich @ BB21 Hell)1563717597.0
They also loved how supportive everyone was of Serena and that everyone was having fun.

@n7cene @rob_bennett @serenawilliams Seriously that's the best part

— 🇨🇦🌐hshidash🇬🇧 (@🇨🇦🌐hshidash🇬🇧)1563673989.0
@rob_bennett @serenawilliams Oh man, the delight of these dudes celebrating how incredible Serena is, it makes me so happy. 💙💪🏻🎾

— Bluefire (@Bluefire)1563646494.0
@rob_bennett @serenawilliams Loved how hyped these guys are for her!

— Nikki Flores (@Nikki Flores)1563646273.0
@rob_bennett @cmclymer @serenawilliams I love how excited the guys were that she was nailing the targets.

— Su 🏳️‍🌈 (@Su 🏳️‍🌈)1563651863.0
The video renewed some people's respect for Williams' level of tennis skill.
@rob_bennett @serenawilliams Ik she was amazing but the accuracy and delivery and these swings alone have given me… https://t.co/qmqfXonCMX

— Tajmrk 🌸👭🏿Lesbianinator8 (@Tajmrk 🌸👭🏿Lesbianinator8)1563643925.0
The hubris required for some random dude on the street to assume that they can best a professional athlete at their chosen sport was astounding to some.
@YouGov Is she blindfolded, too? Is there a 50 pound weight around her neck? Is her side of the court covered in tar and other hazards?

— Pé Resists (@Pé Resists)1562975856.0
@YouGov as a lifelong tennis player and fellow penis-haver I can confirm that 12% have no freakin' idea what they're talking about

— Will's The Best D*mn Tapper; Most-Smartest (@Will's The Best D*mn Tapper; Most-Smartest)1562957658.0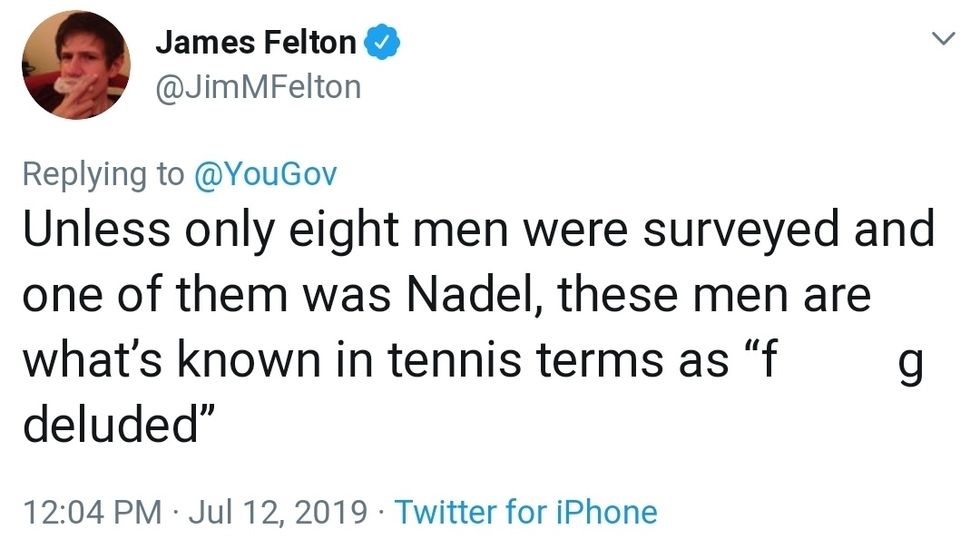 @JimMFelton/Twitter
@YouGov Clearly those 1 in 8 men are either deluded or Grand Slam-winning professional tennis players.

— syedhossain (@syedhossain)1562945485.0
Serena may have been having fun and thoroughly enjoying herself in the video, but that didn't hurt her ability to perform in the slightest. There's no denying that her tennis skills are the real thing.
She has devoted her entire life to the game of tennis, even working through blood clots and other health complications after the birth of her daughter Alexis Olympia Ohanian, with husband Alexis Kerry Ohanian, in 2017.
If anyone hopes to match her skill on the court they will have to be just as devoted and put in just as much effort as Serena.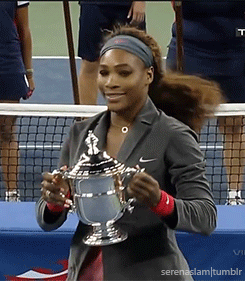 Giphy
The HBO documentary series Being Serena: Her Story, Her Words is available here.

"HBO Sports and IMG's Original Content group team up once again for a five-part documentary series chronicling tennis icon Serena Williams at a pivotal moment in her personal and professional life. Being Serena will give viewers unprecedented access to Williams during her pregnancy, new motherhood and marriage, while documenting her journey back to regain her longtime supremacy on the court. Viewers will experience Serena's life from every angle, as each half-hour episode delves into her landmark career, her family life, and her expanding role as a businesswoman and investor in the worlds of tech, fashion, fitness, philanthropy and, of course, tennis."