Queer Eye star Jonathan Van Ness has some thoughts about former GOP Congressman Aaron Schock coming out as a gay man.
Republican Aaron Schock came out as gay on Instagram last week.
---
Schock wrote a nine pages long post, which in part read:
"The fact that I am gay is just one of those things in my life in need of explicit affirmation, to remove any doubt and to finally validate who I am as a person. In many ways I regret the time wasted in not having done so sooner."
Schock also detailed his struggles with his sexual identity and his hope that his family would accept his orientation.
Queer Eye grooming expert Van Ness is familiar with Schock's politics.
Van Ness, who identifies as non-binary, was born in Quincy, Illinois which happened to fall into Schock's district when he was a Republican Representative from 2009 to 2015. Schock resigned after being accused of stealing campaign funds for personal uses.
Van Ness is calling out Schock's anti-LGBTQ+ position as a politician.
Schock opposed gay marriage throughout his career. According to Votesmart, he also voted against the interests of the LGBTQ+ community several times, including voting "no" to repealing "Don't Ask, Don't Tell" and to acknowledging LGBTQ+ people in revamped hate crimes legislation.
Schock defended his past stances in the post:
"That fact doesn't make my then position any less wrong, but it's sometimes easy to forget that it was leaders of both parties who for so long wrongly understood what it was to defend the right to marry."
Van Ness wasn't impressed by the post, and shared his thoughts on his Instagram story.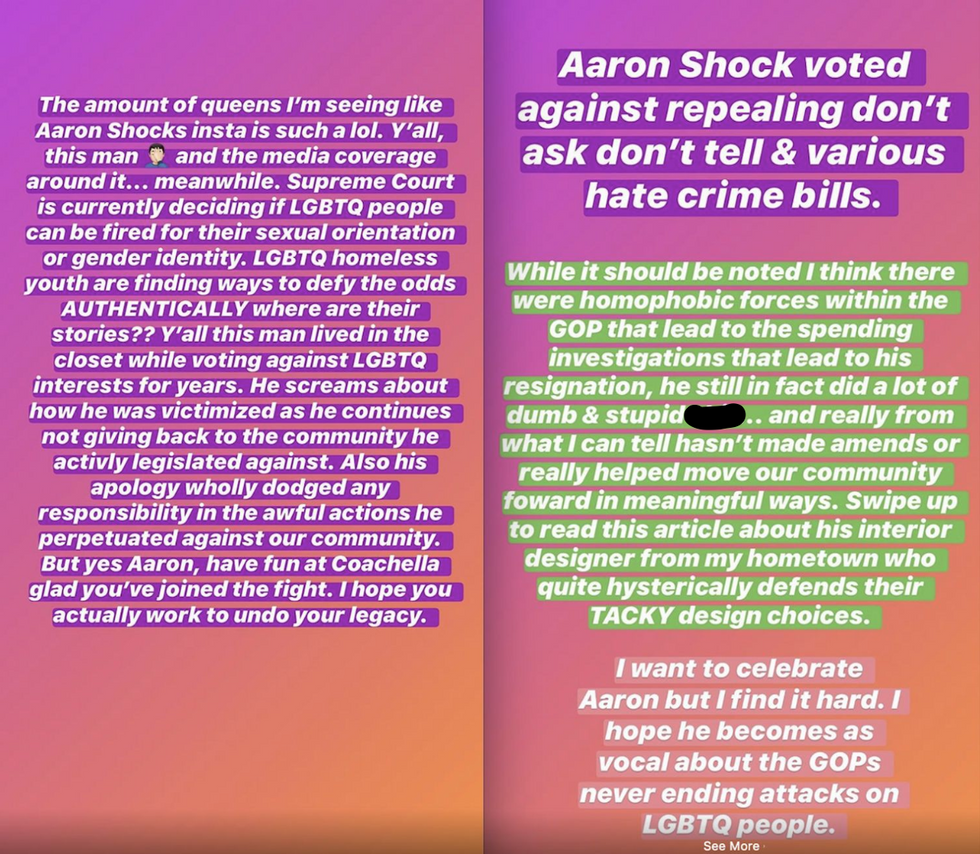 @jvn/advocate.com
He thought it was ironic that Schock was acting like a victim after having used his career to oppress the LGBTQ+ community:

"Y'all this man lived in the closet while voting against LGBTQ interests for years. He screams about how he was victimized as he continues not giving back to the community he [actively] legislated against."
Van Ness thought that Schock wasn't owning up to his actions:
"Also his apology wholly dodged any responsibility in the awful actions he perpetuated against our community."
Overall, Van Ness said he wasn't ready to celebrate Schock officially joining the gay community yet.
"I hope you actually work to undo your legacy... I want to celebrate Aaron but I find it hard."
People online are split about Schock's coming out.
Many, like Van Ness, cannot look past his voting record during his political career.
Former GOP congressman Aaron Schock finally comes out and makes like it's no big deal that he's gay. He voted agai… https://t.co/aiSXVo8Iw7

— Michelangelo Signorile (@Michelangelo Signorile) 1583425988.0
@MSignorile As a lesbian, I abhor people like him. It's part of their cover until it isn't and then they expect to… https://t.co/ObpDdyaxft

— Mary Ingalls (@Mary Ingalls) 1583426910.0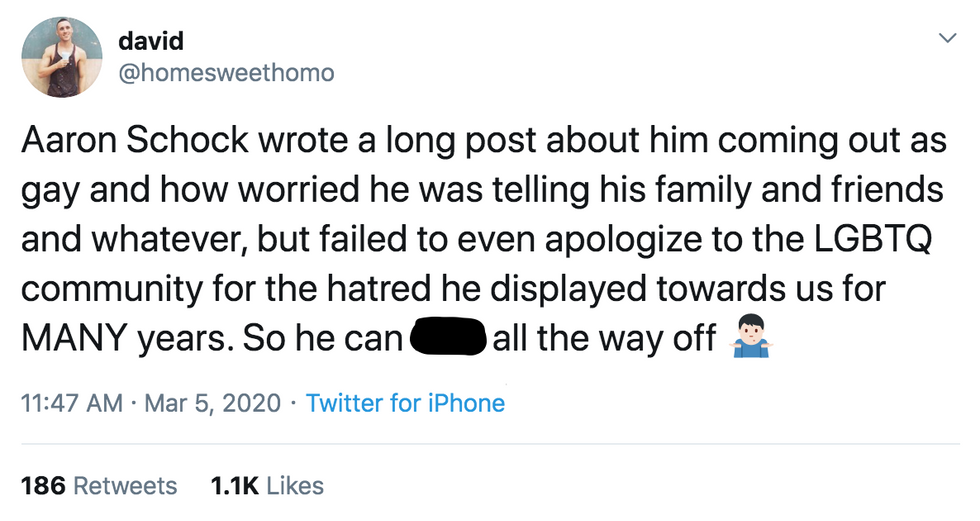 @homesweethomo/Twitter
Me when someone asks me to treat Aaron Schock with kindness https://t.co/q2Sm0v2tCW

— Becky Spaghetti 🍝 (@Becky Spaghetti 🍝) 1583798927.0

@matt_greens/Twitter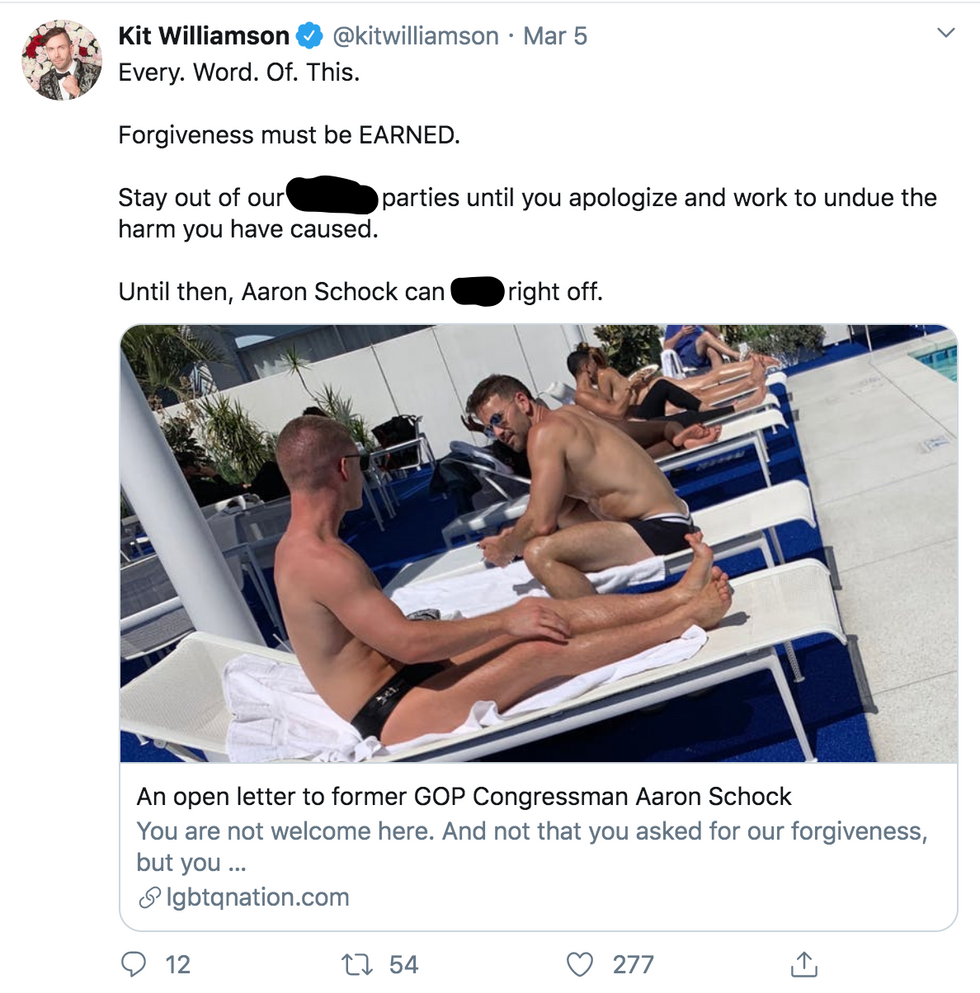 @kitwilliamson/Twitter
Others are willing to forgive and forget despite Schock never apologizing for actively working to strip rights from the LGBTQ+ community.
@aaronschock Congratulations on coming out! As the daughter of a gay man who began his process of coming outand was… https://t.co/AZ6dCHqIh5

— imperfect ally (@imperfect ally) 1583438155.0
@MSignorile Don't be so hard on him, he is brave for coming out considering his family resistance. Those votes was… https://t.co/bJUGfA23rX

— Henry Meyers (@Henry Meyers) 1583426964.0
I am quite certain most of you will hurl stones at me for this, but can we just take a minute and love...… https://t.co/Dwn2dFtsqE

— michael.aycox (@michael.aycox) 1583771843.0
Most people want to see a sincere apology from Schock.
@MSignorile It's sad & awful how his family is treating him, and nobody should ever be crucified for coming out on… https://t.co/COSyRWfNyR

— KathiInCali (@KathiInCali) 1583433136.0
@MSignorile It's worth reading his IG post. Not a single reference to, nor apology for, all the anti-LGBTQ legislat… https://t.co/3z6ICyfhjP

— Stuart in Boston (@Stuart in Boston) 1583432950.0
@inflomotioncars @ShirleySTANson @HenryMeyers20 @Queerty @aaronschock Voting against LBGTQ rights isn't a mistake t… https://t.co/ls9Ulv4btG

— Sasha's Glossy Lips (@Sasha's Glossy Lips) 1583777548.0
I'm glad @AaronSchock finally feels free to be his authentic self publicly, which everyone deserves, but in his lon… https://t.co/ytfxR69XA6

— Charlotte Clymer 🏳️‍🌈 (@Charlotte Clymer 🏳️‍🌈) 1583428386.0
GLAAD also tweeted their support for Schock, but still pointed out his failure to acknowledge his past.

Everyone deserves to come out as their authentic self on their own terms. However, Aaron Schock's statement fails t… https://t.co/B2MSTbopSY

— GLAAD (@GLAAD) 1583434775.0
Schock dealt with rumors about his sexuality throughout his career.
Schock denied being gay in a 2009 interview with Details magazine, but since 2014, has been publicly seen in romantic and sexual situations with other men. In 2019, Schock was photographed kissing another man while attending Coachella.
Schock's coming out surprised no one. However, his lack of owning up to or apologizing for the harm he did shocked many.