And in that moment, we were all the "eyebrow raised" emoji.
That moment, you ask?
When Pete Davidson admitted to pleasuring himself to Leonardo DiCaprio. Not the former teenage heartthrob himself, but his "acting."
Hmmm.
---
In an interview with Tommy Dorfman from 13 Reasons Why, Davidson straight up said:
"I used to jerk off to Leonardo DiCaprio… Uhh, like his acting."
@MensHealthMag https://t.co/qVeojEiJhz

— Rob Reber (@Rob Reber) 1574438553.0
@outmagazine Fair enough.

— L(G)BT+ Today (@L(G)BT+ Today) 1574375799.0
@outmagazine Leo is sitting somewhere idk probably in Capri like https://t.co/xDs9Rk7DX9

— Daniel (@Daniel) 1574419001.0
He went on:
"I used to have a HUGE crush on Leonardo DiCaprio. I had this huge poster of him from The Beach in my room, and there used to be, like, Leo 'love books'."
"Like, right when Titanic came out [when I was] in like third or fourth grade, he was just like, 'teen milk.' There were love books and I had all of them. He was the coolest."
@BuzzFeed https://t.co/B3pJ9hb4jd

— Mid-Century Scott (@Mid-Century Scott) 1574394692.0
@BuzzFeed https://t.co/VmI6cH57et

— The Real KJ (@The Real KJ) 1574383312.0
@BuzzFeed Me too Pete, me too.

— Jordyn (@Jordyn) 1574381743.0
@outmagazine https://t.co/A9r3BT6u7P

— Nils (@Nils) 1574440566.0
Davidson says nowadays, when he actually sees DiCaprio in person, he has "just shaken hands and run away fast."
But then again, let's take another look at teenage Leo DiCaprio: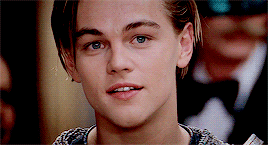 Giphy
So like, many people can only say "same."
Yo #PeteDavidson told @papermagazine he used to jerk off to #LeonardoDiCaprio back in the day. https://t.co/hC0zeGIneB

— Mandy85🦃🥧 (@Mandy85🦃🥧) 1574386663.0
pete davidson said he jerked off to leonardo dicaprio when he was younger i- ??????

— 𝔢𝔡𝔢𝔫 💜 | ruthari lockdown (@𝔢𝔡𝔢𝔫 💜 | ruthari lockdown) 1574375656.0
So Pete Davidson Admitted to jerking off to Leonardo DiCaprio and having posters on his wall of Leo lmaooo

— Pablo (@Pablo) 1574435872.0
Should I talk about Pete Davidson pleasuring himself to Leonardo DiCaprio? https://t.co/ZY7StpMq86

— BROchella (@BROchella) 1574426970.0
Davidson has long identified as an LGBTQ+ ally, saying he's the "first in his family to have gay friends," and called out female celebrities with large gay followings for "using" their fans as props:
"Well, nothing's cooler to me than seeing my friends crush it. I also have the most talented friends ever."
"And I think my friends are a good reflection of me…anybody that I f**k with is sweet and morally sound, you know? I find it super weird that it's weird that a straight dude has gay friends…like, some straight dudes do have gay friends, but like they make like a big show of it as opposed to them genuinely being a friend…"
"I really feel like I have to be careful when I'm saying this, but I do feel like a lot of women in entertainment use gay men as props. If you really listen to any of the songs that they're doing, or any of the things that they're doing, it's to promote them[selves]."
"It's rarely for the LGBT community. It's to make them look good. Like, how cool they are that they're hanging out with gay people."
There's a lot to unpack in the full interview in PAPER magazine.
And you may need to wash your hands when you're done.
The Leonardo Dicaprio Collection—including the films The Great Gatsby, The Departed, Internal Affairs, The Wolf of Wall Steer and J. Edgar—is available here.