A news reporter saved a nurse who was stranded in her car as the floodwater caused by Hurricane Ian rose to treacherous levels around her.
While many social media users swooned over the Florida man who rescued a cat trapped on top of an air conditioner during the violent storm, many people are now praising the heroic efforts of the valiant reporter who risked his life to bring the terrified nurse to safety.
In the viral clip, Tony Atkins–who works for Orlando NBC affiliate WESH 2–was reporting on the category 4 storm when he noticed the nurse inside the nearly submerged vehicle at an intersection. She was crying out for help.
He waded through the gushing floodwater, managed to carry the nurse on his back–while holding her purse above water–and trudged through the rushing, chest-deep waters.

You can watch the clip shared by Tom Durian of TMJ4 News in Milwaukee, where Atkins was formerly employed.
Durian wrote in the caption:

"Hats off to former @tmj4 News reporter @TonyAtkinsTV for his heroic efforts this morning near Orlando rescuing a nurse stranded in her car by flood waters."
Following his act of heroism, Atkins recalled there were no rescue workers on the scene to save the nurse.
He also said he watched for crocodiles and downed power lines before making the life-saving maneuver.

"I just used caution, and I just decided to slowly make my way out there and just help her out."
While the internet lauded Atkins for his bravery, perhaps no one was more grateful than the rescued woman's daughter.
She reached out to Atkins and let him know her mother arrived safely at work, thanks to him.

Atkins shared a screenshot of her message and tweeted:

"Our woman from early this morning made it to work. Her job as a nurse hung in the balance, according to her daughter."
"I got this message from her daughter today! So glad things worked out."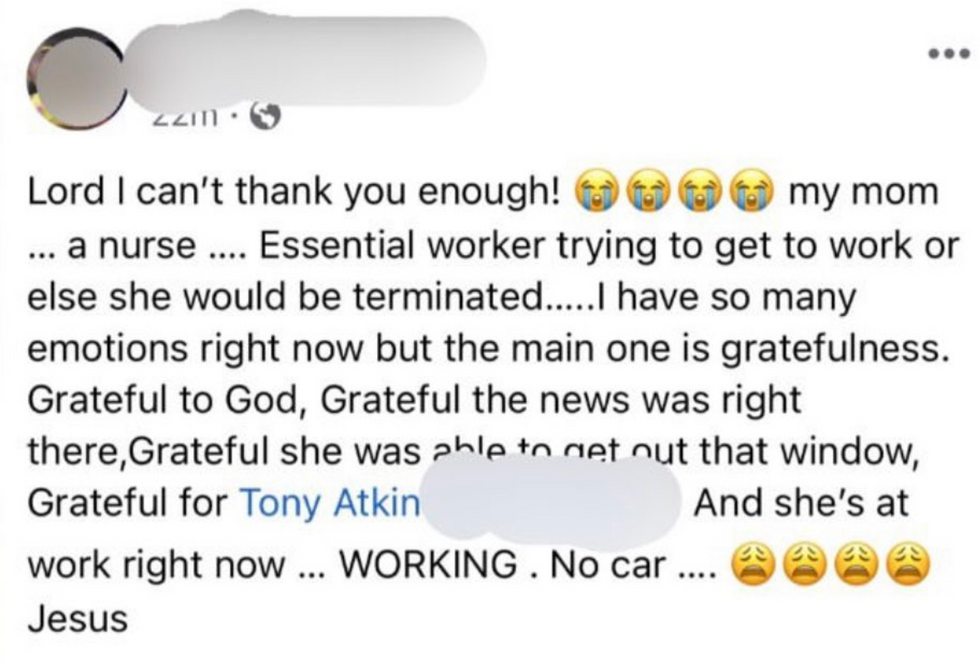 @TonyAtkinsTV/Twitter
"Lord I can't thank you enough!" she wrote.
"My mom...a nurse...Essential worker trying to get tot work or else she would be terminated...I have so many emotions right now but the main one is gratefulness."
She added:
"I want to Thank you so much for helping and rescuing my mom! (The nurse you carried on your back) We are so grateful for you! A true hero."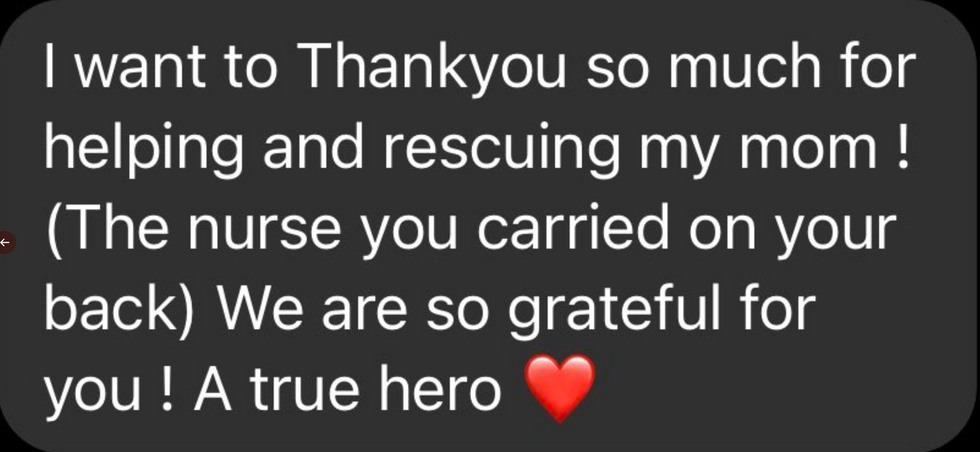 @TonyAtkinsTV/Twitter
People also made sure to give the woman an honorable mention for her role in helping many others during a catastrophic storm.
Hurricane Ian is considered to be one of the worst storms to hit the United States in recent years, causing much destruction and leaving thousands of people awaiting rescue.
In spite of the major catastrophe, heroic acts like the one displayed by Atkins and the essential worker who risk their lives every day to help others is ongoing proof that there is plenty of hope for humanity.