Earlier this month, online personality Andrew Tate was banned from multiple social media platforms including Twitter, Facebook, Instagram, TikTok and YouTube. This came about amid controversy over Tate's statements about women.

Tate is a 35-year-old former kickboxer, ex-reality show contestant, podcaster who proudly wears the title "King of Toxic Masculinity" whose fans use terms like manosphere, alpha male, Cobra and Tate speech as a riff on "hate speech."
Tate—born in Chicago, Illinois but raised in England—described in detail how he would assault a woman for cheating on him, claimed he broke a woman's jaw and got away with it, insisted men would rather date teenagers than women in their mid-20s, claimed he moved to Romania because police are less likely to investigate rapes, expounds on the "only things women are good for" and claims an absolute disdain for "low value" people.

After being banned from so many social media platforms, Andrew Tate is out of the public eye.
That doesn't mean he's out of our DMs.
Olivia Dunne, a gymnast from Louisiana State University, shared her own encounter with the proud misogynist on Instagram.
After the announcement of Tate's ban, Dunne posted a TikTok with an Instagram screenshot.
In the video, Dunne appears in front of a screenshot of the private message from Tate.
It was sent before Tate's social media ouster.
It's just a single line from Tate saying:
"Come to Europe dear 🌹."
Based on the screenshot and caption, Dunne did not accept.
The caption said:
"It's a no from me dawg."
The comments were not kind to Tate over his attempt to woo.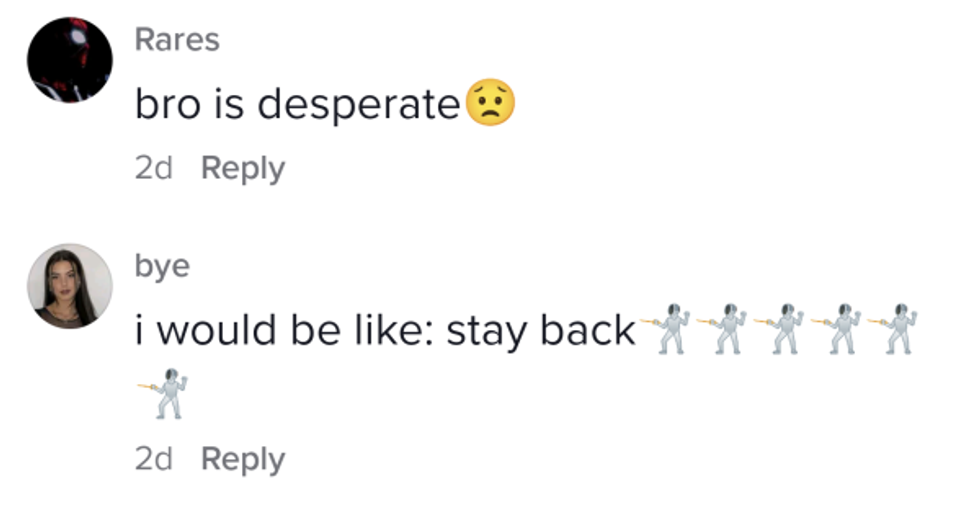 After being banned from social media, Tate made one last video with a messagefor the internet.
It's over an hour long and doesn't say much beyond claiming he was a victim of his own success. He also claimed he's the only man who could lead men in a positive direction.
The internet didn't quite agree.
Dunne hasn't spoken more on the attempted interaction from Tate.
She's just left his message up on her TikTok for others to see.
On the other hand, Tate claimed he was merely playing a "bad boy" character and has many videos praising women. So far, social media isn't buying what he's selling.