National Cat Day is today and it's the day we recognize our favorite feline friends. Learn more about the history of cats and this holiday in general with these 3 Fast Feline Facts!
---
1. National Cat Day Saves Many More Than 9 Lives
Sponsored by the Animal Miracle Foundation, National Cat Day was created by animal welfare advocate and ailurophile Colleen Paige in 2005. Over the past 12 years, National Cat Day has helped save the lives of more than one million cats through awareness education and feline adoption advocacy. Their website, National Cat Day, says that 4 million cats enter shelters every year in the United States, with up to 2 million of them being euthanized.
"We believe that every cat should have a forever home where they are safe, warm, loved, cherished and regarded as FAMILY," their website reads.
The American Society for the Prevention of Cruelty to Animals reports there are an estimated 74 to 96 million pet cats in the United States, which is more than the 70 to 80 million pet dogs.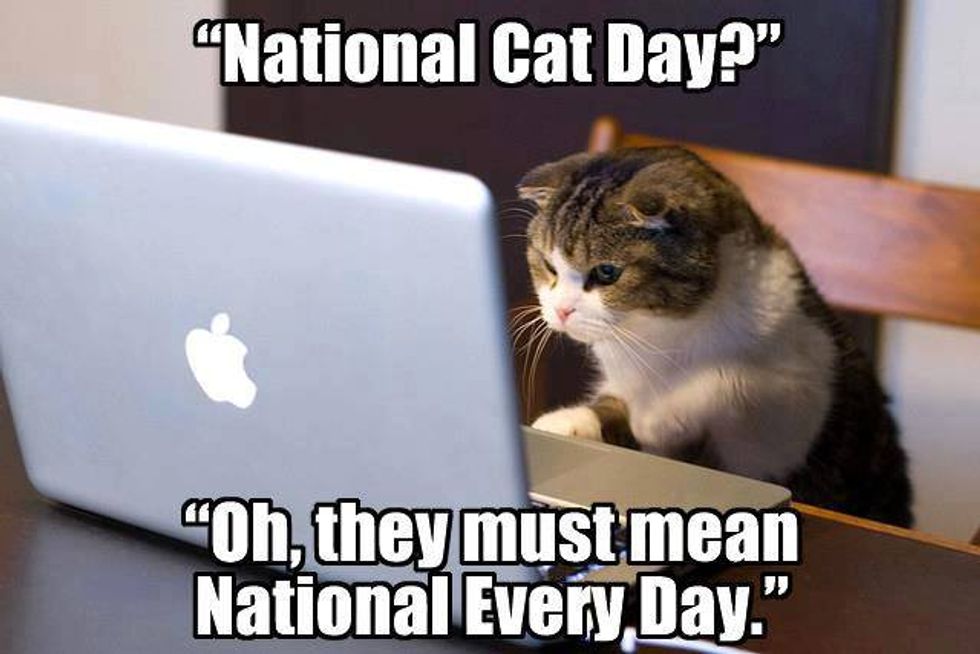 ---
2. The Musical Will Forever Be in our Memory
The musical Cats by Andrew Lloyd Webber and poet T.S. Eliot (posthumously), based on Eliot's 1939 collection of poems called Old Possum's Book of Practical Cats, follows the whimsical adventures of a group of felines. Eliot originally intended to feature dogs as well as cats in his poems, but "dogs don't seem to lend themselves to verse quite so well, collectively, as cats," wrote Eliot.
The musical became a industry staple, forever fixed in the memory of Broadway culture, and it generated more than $3 billion for New York City's economy. Speaking of memories, the famous musical number "Memory" was inspired by a poem that Eliot never finished.
The current 2016 Broadway revival featured a famously unhappy feline for one night. On September 30, the Internet-loved Grumpy Cat made her Broadway debut in Cats for one night only, briefly appearing on the stage with the cast.
Congratulations on a furocious Broadway debut, @RealGrumpyCat! We're sure you hated every minute. #CatsBroadway https://t.co/WJlyW2aEAC

— CATS on Broadway (@CATS on Broadway) 1475326623.0
---
3. Cats Have the Strangest Behaviors
It has been 4000 years since the first cats were domesticated in Ancient Egypt, and cats today continue to have the strangest behaviors.
Feline researchers do try to explain as much as they can though. For example, domestic cats no longer have to hunt for their food, but still sleep on average 16-20 hours a day - roughly 70 percent of their lives. This is because domestic cats genetically still have the same hunter-survival instincts as their feral counterparts, which entail large amounts of rest between hunts.
Cats also spend 30 to 50 percent of their day grooming themselves. This behavior tones down their scent, keeps them cool, promotes blood flow, and distributes evenly along their coat natural oils that help them to stay warm and dry. Grooming other cats, or humans, is also a sign of affection, and their saliva contains natural antibiotic enzymes for wounds.
As to why they rhythmically massage or knead their owners with their paws... experts are still scratching their heads about that one. Two possible explanations include marking territory with scent glands in their paws, or it's a remnant kitten behavior from when they would knead their mother's belly to stimulate milk production.
---
Bonus: The Cats of Disneyland
Over 200 feral cats roam the grounds of the most magical place on Earth, where they help control the amusement park's rodent population. They've all been spayed or neutered by Disney, and park employees provide them with extra food and veterinary care when needed.
They even have their own Twitter and Instagram accounts.
50 Facts About Felines for National Cat Day
Official National Cay Day Website
#nationalcatday
Please SHARE this with your friends and family.
H/T: Mental Floss, National Cat Day, ASPCA, New York Times, Disneyland Cats,