Public hearings in President Trump's impeachment inquiry began on Wednesday, November 13.
Most media outlets seem to agree things aren't looking too good for the Donald.
---
Democrats carefully laid out many pieces of evidence suggesting President Trump used the powers of the presidency for his own political gain at the expense of our allies overseas. Republicans, in response, offered few, if any, arguments of substance.
After such a tour-de-force, Nancy Pelosi couldn't help but throw some victory shade at Donald Trump during a press conference the next day.
Pelosi with some serious shade for Trump: "If the president has something that is exculpatory -- Mr. President, tha… https://t.co/taZfkdmBuI

— Aaron Rupar (@Aaron Rupar)1573748869.0
During her press conference, Pelosi went out of her way to define "exculpatory" for President Trump, knowing it's a little beyond his vocabulary reach.
Holy crap. 😂 Nancy Pelosi stopping her statement to the press and taking a moment to explain what the word "exculpa… https://t.co/blVD8T1LmN

— Holly Figueroa O'Reilly (@Holly Figueroa O'Reilly)1573759350.0
I love it when Nancy Pelosi shades trump: It's called an inquiry, and if the president has something exculpatory –… https://t.co/765XT56AX1

— BrooklynDad_Defiant Savage! (@BrooklynDad_Defiant Savage!)1573764304.0
Nancy Pelosi trolling Trump by defining "exculpatory" for him will make your day. https://t.co/4Pf4eoQLjV

— Ron Waxman 🏳️‍🌈 (@Ron Waxman 🏳️‍🌈)1573748343.0
Twitter couldn't believe they'd just witnessed such an epic roasting.
Did @SpeakerPelosi just define exculpatory for TANG because she KNOWS he's a plum fool?! 😂😂😂😂😂 She is 'bout THAT shade life and I love it!!!

— yvette nicole brown (@yvette nicole brown)1573748229.0
@ABC I still have to say my favorite thing about all of this is the dialogue going back-and-forth! I love the fact… https://t.co/Opl0MrSMm5

— Michael Bush (@Michael Bush)1573760133.0
Nancy Pelosi breaking the fourth wall to explain to Trump what exculpatory means has me in stitches. Her shade is l… https://t.co/bEEHgLTNzg

— Daryl Sturgis✊🏽 (@Daryl Sturgis✊🏽)1573749024.0
Donald Trump's reputation has had a VERY bad day.
@blaustein @realDonaldTrump Honest to god, this is one of the greatest throwing of the shade I have ever seen.… https://t.co/Enqv6XzLNT

— WhatWouldHumperDo (@WhatWouldHumperDo)1573751689.0
@blaustein @realDonaldTrump she also is able to lift a glass of water using only ONE HAND .@POTUS

— nell post (@nell post)1573753779.0
@blaustein @apexnerd @realDonaldTrump I love Nancy Pelosi.

— Maureen Moore (@Maureen Moore)1573761741.0
Nancy Pelosi has been an absolute hero to many since taking control of the House in 2018.
Watching Nancy Pelosi define "exculpatory" for Trump's benefit is heavenly. She's the one of the rare politicians w… https://t.co/GJ8hBmNUyw

— Paul Rudnick (@Paul Rudnick)1573767324.0
@realDonaldTrump Nancy Pelosi is explaining to Trump what "exculpatory" means. Obviously, way too many syllables f… https://t.co/wT5TIQ0dye

— LiA (@LiA)1573754917.0
The look at the camera was especially devastating.
There is 'shade' and then there is a 'total eclipse'. Nancy Pelosi literally turns to the camera mid-sentence and… https://t.co/pL99tInNaG

— TrumpsTaxes (@TrumpsTaxes)1573763503.0
Bam!!! @SpeakerPelosi Your with is excellent! Defining exculpatory for him because you know he doesn't know what… https://t.co/sb08aeX1O4

— Brian M. Williams (@Brian M. Williams)1573763966.0
@AynRandPaulRyan https://t.co/udr6mun7aF

— Roula Hatz (@Roula Hatz)1573761070.0
Sorry President Trump...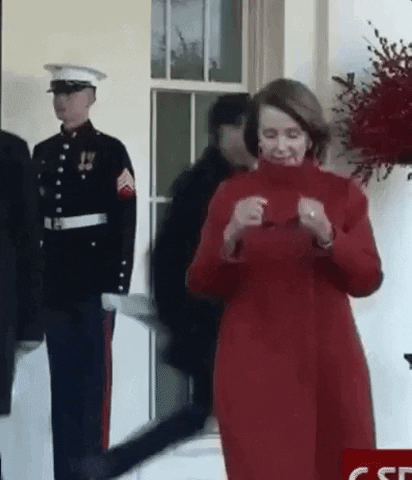 Giphy
...it doesn't look like things are going to be getting easier for you anytime soon.

The book To End a Presidency: The Power of Impeachment is available here.