Former Republican state legislator and Mississippi gubernatorial candidate Robert Foster is under fire after calling for supporters of trans rights to be executed.
In the tweet, Foster, an evangelical Christian who runs an agritourism business called Cedar Hill Farm, also equated LGBTQ activism with pedophilia while calling for a "firing squad" for trans supporters--a form of execution that is legal in Mississippi thanks to legislation Foster wrote during his time in the state House.
The tweet has since been deleted by Twitter for terms of use violations, but a screenshot, seen below, has been widely distributed. Be advised that the tweet contains language that many will find offensive and disturbing.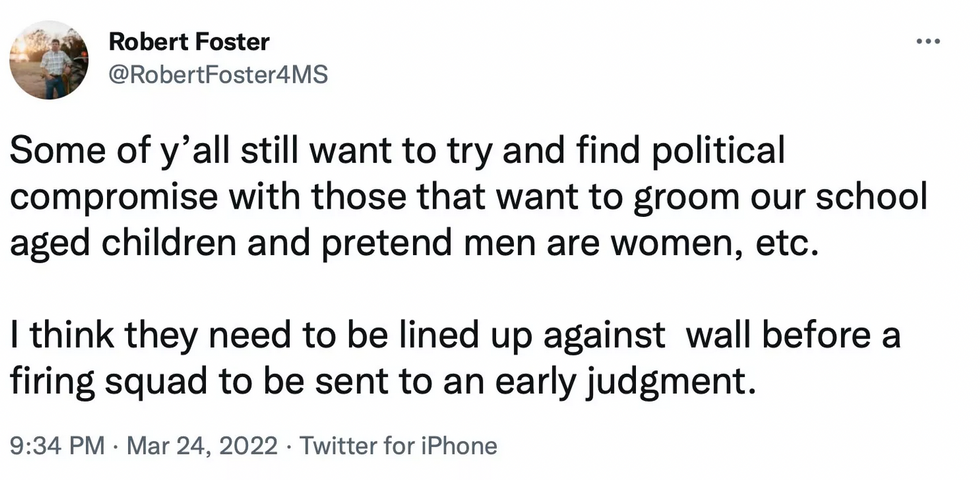 @RobertFoster4MS/Twitter
In the tweet, Foster wrote:
"Some of y'all still want to try and find political compromise with those that want to groom our school aged children and pretend men are women, etc."
"I think they need to be lined up against [a] wall before a firing squad to be sent to an early judgment."
After pushback, Foster doubled down on his statements.
"I said what I said."
"The law should be changed so that anyone trying to sexually groom children and/or advocating to put men pretending to be women in locker rooms and bathrooms with young women should receive the death penalty by firing squad."
In other tweets in the deleted thread, Foster called parents and other adults who allow children to be transgender "groomers" and pedophiles, and called "transgendered" people merely victims of these abusers.
He also suggested the death penalty for adults who allow transgender children to have "surgery to remove their sex organs," procedures which are illegal for minors in the United States.

Even Republicans in Mississippi, arguably the most conservative state in the country, decried Foster's tweet, including the former executive director of the state's Republican Party, Spencer Ritchie, who accused Foster of being a "fascist" for the tweet. Foster lashed out in response, accusing Ritchie of enabling "Communists."
Foster closed his response to Ritchie with what many interpreted to be a call for civil war to save America from "godless" Democrats.

"Now the Godless have power and they are destroying our country. Soon we will have to deal with this directly."
On Twitter, Foster's naked Christofascist fanaticism left many people shocked and outraged.

Foster thankfully lost his bid for governor in 2019 when his views were too extremist even for Mississippi, resulting in him winning less than 18% of the GOP primary vote.