Meta CEO Mark Zuckerberg and Twitter CEO Elon Musk are ready to duke it out in a fight no one saw coming but are ready for.
The supposed impending duel between the tech rivals traces back to when Musk started taunting Zuckerberg's Meta Platforms after the American multinational technology conglomerate announced its upcoming Twitter competitor.
In a recent internal meeting, Meta chief product officer Chris Cox called the company's forthcoming standalone app "our response to Twitter" that is "sanely run"–which elicited cheers from the audience after recognizing the shade thrown at Musk.

In response to a Daily Mail headline teasing "Mark Zuckerberg's masterplan to kill off Twitter, " Musk tweeted:
He took another jab at Zuckerberg, tweeting:

"I'm sure Earth can't wait to be exclusively under Zuck's thumb with no other options."
The public ribbing led to a user warning Musk to be on his toes since the co-founder of Facebook was known to have recently become an accomplished jiu-jitsu fighter with gold and silver medals.

However, Zuckerberg's fighting credentials weren't enough to make Musk quiver as he has also dabbled in martial arts.
Musk once told podcaster Joe Rogan he's practiced several forms of martial arts including taekwondo, judo and Brazillian jiu-jitsu. So he was more than eager to take on a challenge facing off with Zuckerberg in the ring.
Musk tweeted:
"I'm up for a cage match if he is lol."
One of Musk's followers warned:

"Lol I love you Elon but you better start training."

This prompted Zuckerberg to share a screenshot of the Tesla CEO challenging him on his Instagram story accompanied by the following request for Musk:
"Send me location."
Here is a screenshot of the exchange obtained by The Verge.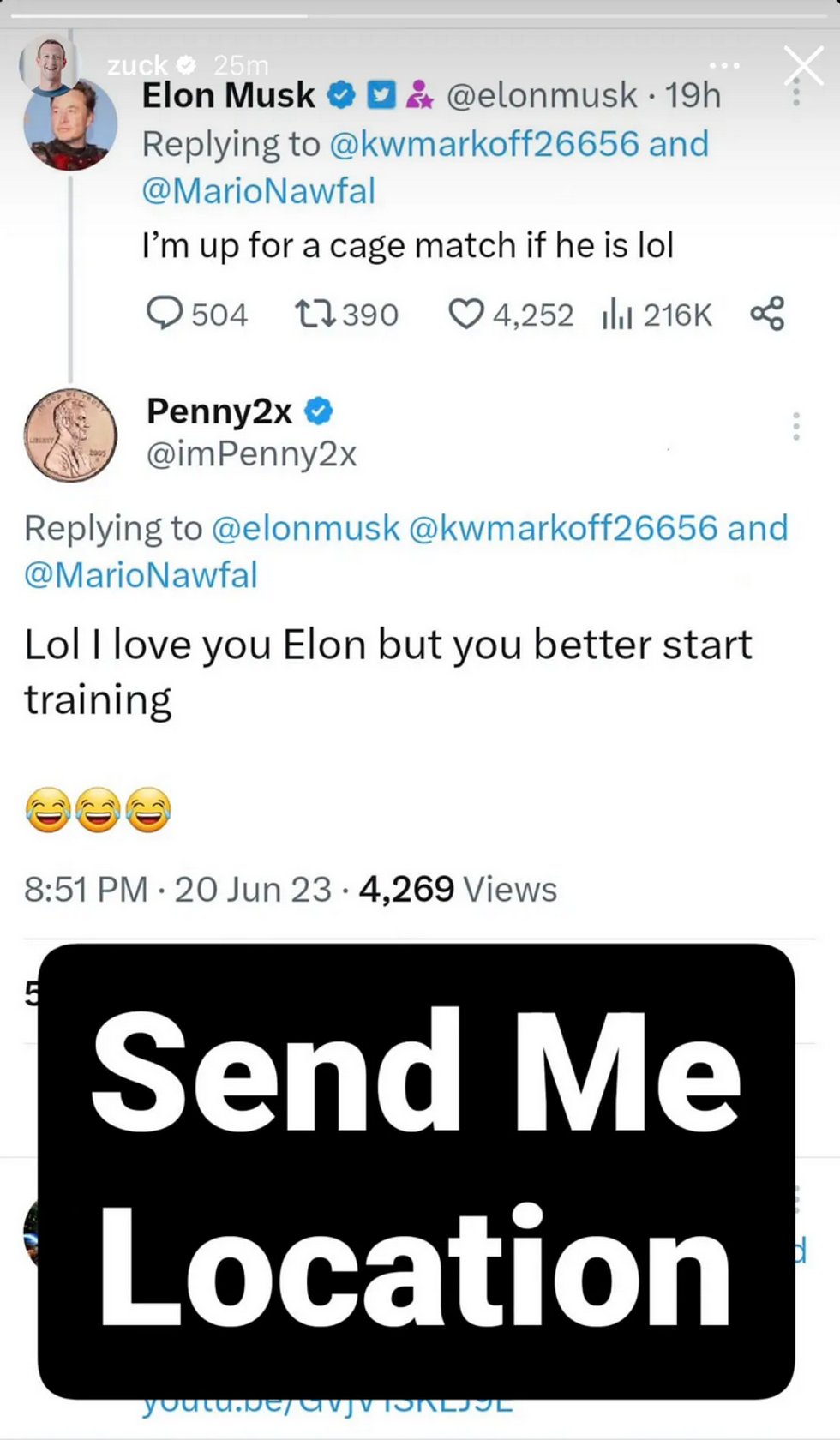 The Verge
The Verge confirmed the reply wasn't a joke.

Meta spokesperson Iska Saric told the media outlet:
"The story speaks for itself."
After the story was published, Musk tweeted the location:
"Vegas Octagon."
He then followed up with:
"I have this great move that I call 'The Walrus', where I just lie on top of my opponent & do nothing."
His next tweet suggested Musk is not playing around.

He wrote:
"If this is for real, I will do it 🔥🔥"
Twitter was pumped and ready for the main event.
Others were less encouraging of Musk.

People imagined what the resulting match would look like.

So, we got a location.

Now we're waiting for when the showdown happens.