On a recent episode of The Tonight Show Starring Jimmy Fallon, actress Margot Robbie spilled the tea about a major tattoo blunder.
---
The Bombshell star admitted to moonlighting as an amateur tattoo artist. However, while she remains a very talented Oscar nominated actress, she admits that it might be time to retire her side hustle.
Watch the interview here.
Robbie recalled a particularly bad incident that took place after a friend's bachelorette party. After a few drinks, she decided to give a member of the wedding party an impromptu tattoo on her back—the day before the wedding.
Apparently, the bride was "cool with it". But not everyone in the wedding party was.
"But do you know who was not cool about it? Her mom," Robbie said.
"When she walked down the aisle, as one of the maids of honor in a backless dress, and there's like this red, raw scabbing tattoo. And her mom was filthy with me. ... She was so angry. And I thought I really shouldn't do this anymore."
While she admitted to not being trained, not being able to draw and having bought the tattoo gun on eBay, Robbie had previous experience tattooing the Suicide Squad cast and crew.
This isn't the first time she's messed up on a tattoo.
Robbie made headlines for another incident involving a Suicide Squad crew member. While the person intended on getting the word "SKWAD", intentionally misspelt, what ended up getting tattooed was "SWAD".
Whoops.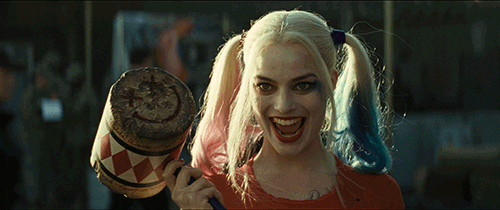 Giphy
Luckily, Robbie took it as a valuable lesson this last time. She decided her life as an amateur tattoo artist is over.

People on Twitter seemed pretty amused by the situation, with many saying that Robbie could still tattoo them if she wanted.
But while Margot Robbie won't be giving any more tattoos, that doesn't mean there will stop being tattoos OF her.
Now, what would Harley do?