In the midst of the growing tension between the public and law enforcement, the Los Angeles Police Department commission held a live streamed town hall over Zoom.
Calls were taken from the public to voice their opinion on the ongoing situation, with many criticizing LAPD Chief Michael Moore.
However, one call stood above the rest.
The whole livestream of the meeting is available on YouTube, and if you have the time, it's really interesting to watch. But it's also over 8 hours long.

There are many interesting moments in all that time, including at one point, someone calling in pretending to be legendary skateboarder, Tony Hawk.
However, it might be nice to get right to the good stuff, and boy, is that call the good stuff.
Many online are praising the caller for getting in so much information in such a short amount of time.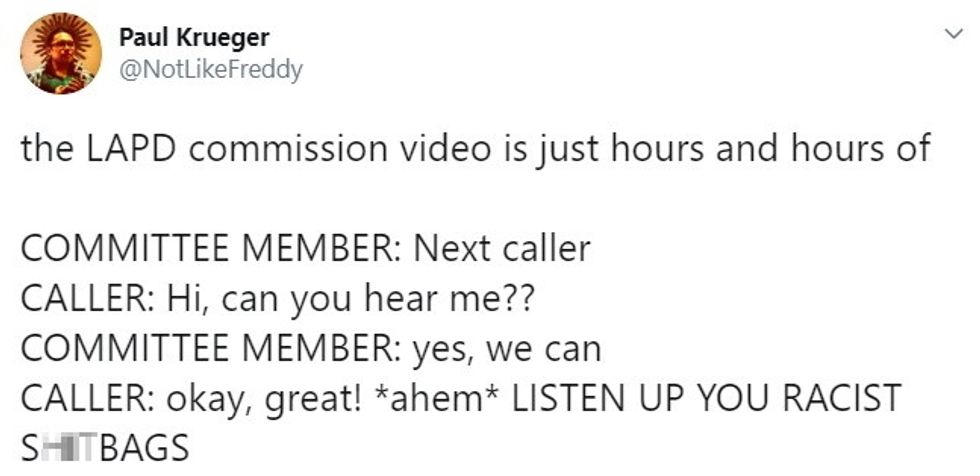 @NotLikeFreddy / Twitter
Chief Moore is receiving criticism for comments made earlier this week.
At a public safety update, he claimed the death of George Floyd was "on [the rioter's] hands, as much as it is those officers."

He quickly tried to apologize for the remarks saying:
"I misspoke when making a statement about those engaging in violent acts following the murder of George Floyd."
That didn't stop people calling for his resignation, including our very heated caller.
He can be heard on the call saying:
"I had two friends go to the protest in Beverly Hills a couple days ago and the protest was peaceful until the police showed up with their excessive, violent force, shooting rubber bullets and throwing tear gas. Is this what you think of protect and serving?"
"I refuse to call you an officer or a chief because you don't deserve those titles. You are a disgrace."
But who was this man?
The calls from the public may have played a part in the reforms passed on the LAPD, including cutting over $100 million from the proposed budget for the department.

It's said it will be reallocated to help people in Black communities, but what that might look like has not been revealed yet.
To some, this is performative and doesn't go far enough.

@AmendKevin / Twitter
To others, including Chief Michael Moore, this is too much.

He's quoted saying:
"The size of this budget reduction is significant, requiring a top-to-bottom assessment including how we go about our most basic operations."
The LAPD has never had the best reputation, especially with ongoing mistakes during these turbulent times. How the public will handle these reforms going forward remains to be seen.