The holidays are meant to be jolly and fun-filled times, but there always seem to be a few Grinches thrown into the mix. Worst of all, their hearts remain three sizes too small.
The Sheehan family of Wilbraham, Massachusetts, was one of the targets this year of the humbug cries of a neighbor who didn't support their political views or their LGBTQ+ Pride flags.
While out checking the mail on December 23rd, Melissa Sheehan discovered a Christmas card in the mailbox that was properly postmarked but which contained no return address or other identifying markers.
Sheehan didn't think much of it until the family read the letter, as depicted in the image below: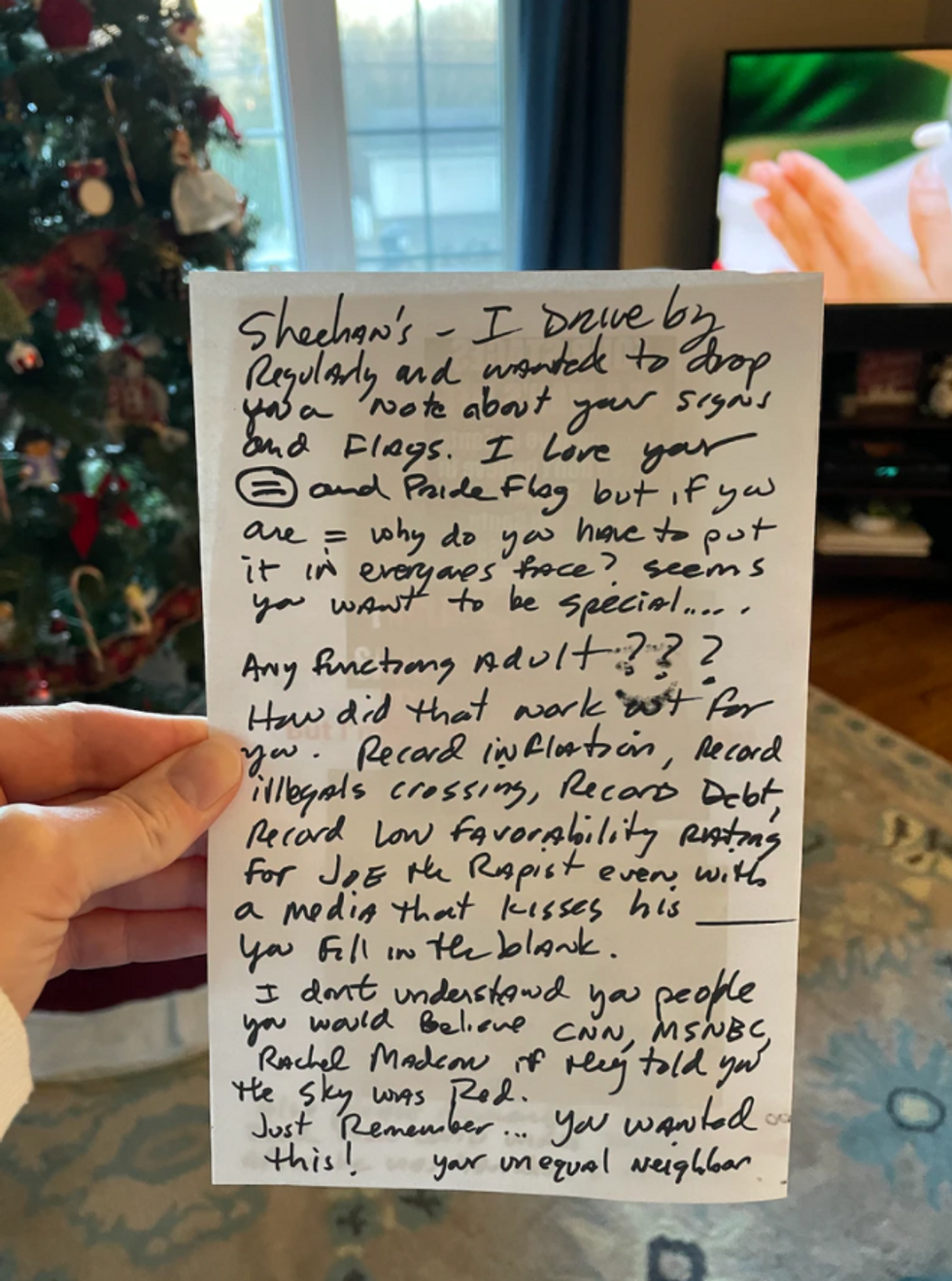 Kelly Gray-Sheehan/Facebook
With Santa Claus faceplanting in the snow on the front, the letter read:
"Sheehan's - I drive by regularly and wanted to drop you a note about your signs and flags."
"I love your [Equality] and Pride flag, but if you are [equal], why do you have to put it in everyone's face? Seems you want to be special..."
The anonymous neighbor went on to make a number of false claims from the MAGA minion rhetoric playbook.
They clearly harbored resentment for some time as the lawn sign they referenced next had been taken down after the 2020 election.
"'Any Functioning Adult'???"
"How did that work out for you? Record inflation, record illegal crossings, record debt, record low favorability rating for Joe the Rapist, even with a media that kisses his [blank line] you fill in the blank."
"I don't understand you people."
"You would believe CNN, MSNBC, and Rachel Maddow, if they told you the sky was red. Just remember... you wanted this!"
The letter was then signed:
"Your Unequal Neighbor"
Sheehan and her wife, Kelly Gray-Sheehan, have two children, ages 14 and 16.
Their son asked last year why they didn't have any Pride flags hung up outside, since they had only displayed an Equality sign up to that point, so Sheehan purchased and hung multiple additional flags: a trans Pride flag, a Black Lives Matter flag and an LGBTQ+ Pride flag.
Melissa Sheehan explained during the 2020 Biden-Trump presidential contest the family displayed a campaign sign in their front yard.
But instead of boasting one of the candidates' names, it simply read:
"Any Functioning Adult."
Sheehan said the neighborhood got quite the laugh out of the sign, which was much-needed that year.
"Just comedy, bringing comedy to the world right now. The sign was awesome."
"There are so many people stopping, taking pictures of it, so we left it up for quite a while."
Fortunately, the family took the incident lightly and didn't let it hinder their Christmas spirit.
Sheehan stated:
"As I'm reading the note, I really wasn't angered. It was more laughing just out of the closed-mindedness of individuals."
But Kelly Gray-Sheehan did decide to share the incident on two local neighborhood Facebook pages to casually spread awareness.
She included the above image and also wrote:
"I wanted to share the beautiful Xmas card we received from an anonymous person in town."
Along with a laughing emoji, she added:
"What I find crazy though, is this person didn't sign the card when so much love went into it. You would think they want to take credit."
Between the two Facebook groups, the image garnered more than 500 replies, the vast majority overwhelmingly positive in nature.
Gray-Sheehan also used the opportunity to raise money for the Trevor Project, which is the largest suicide prevention and crisis intervention organization for LGBTQ youth in the United States. She gave credit for the idea to her next-door neighbor and good friend, Renee Considine.
Melissa Sheehan reflected:
"If anything, we can turn some of the hate in this into some donations for the Trevor Project. It's kind of a win-win for everybody."
"It's pretty nice to have such a good friend and ally living right next door."
Much like the positive reaction in their local community, the extended community on Twitter showed support, as well.
Though there was someone out there who didn't enjoy seeing Pride or equality flags or the fact a functioning adult was back in the White House, it was heartening to see the overwhelming majority stayed positive and showed their support.