Hustler publisher Larry Flynt is taking trolling to a whole new level.
He will be holding a huge birthday celebration for Donald Trump Jr.'s 41st birthday featuring Aubrey O'Day, formerly of pop group Danity Kane, as the star guest.
---
O'Day is Trump Jr.'s ex-girlfriend.
"Larry cannot stand Donald. We literally booked Aubrey just to f **k with the president," Flynt spokesperson David Bryant told Page Six.
Trump Jr. is currently dating former Fox News personality Kimberly Guilfoyle and is still entrenched in divorce proceedings with his soon-to-be-ex-wife Vanessa, whom he cheated on with O'Day long before she filed divorce paperwork. O'Day and Trump Jr. reportedly met when she was a "Celebrity Apprentice" contestant in 2011.
A promotional poster for the birthday bash features O'Day rather prominently.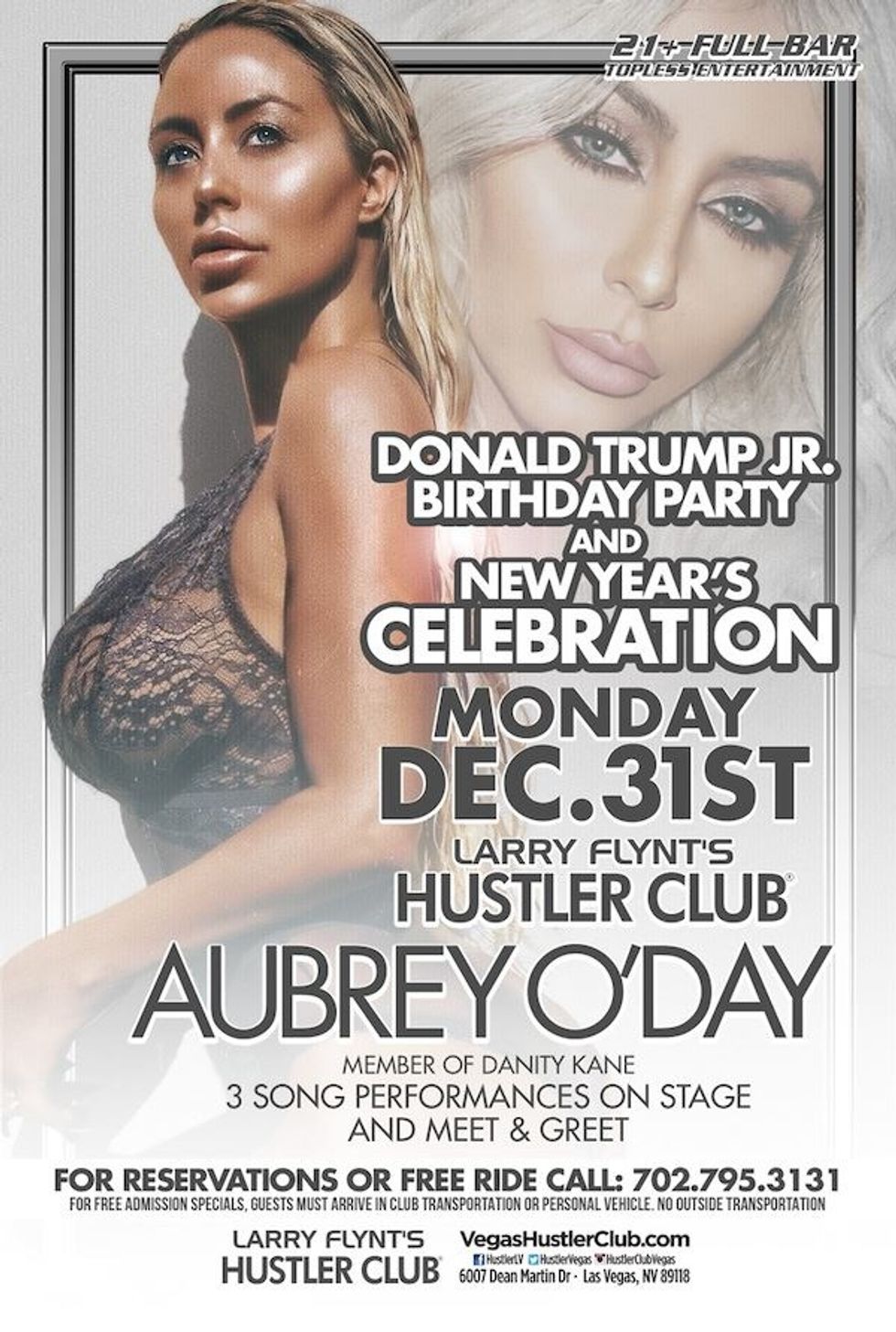 Page Six
Flynt even invited President Trump to the event.
"You and your family have done so much for this country that we at the Hustler Organization want to show our appreciation by throwing Donald Trump Jr. a birthday party he will never forget," he wrote in a letter to the president.
People are amused.
Flynt is no fan of President Trump.
Flynt once took out an ad in the Sunday edition of The Washington Post vowing to pay $10 million to anyone who could offer information leading to the president's impeachment.

The ad charged the president with "compromising domestic and foreign policy with his massive conflicts-of-interest global business empire" to "telling hundreds of bald-faced lies," among other things.

"Impeachment would be a messy, contentious affair, but the alternative—three more years of destabilizing dysfunction—is worse," Flynt wrote. " . . . I feel it is my patriotic duty, and the duty of all Americans, to dump Trump before it's too late."
Agreed Mr. Flynt. Agreed.