On Tuesday, the Academy of Motion Picture Arts and Sciences—a.k.a. the Oscars—announced their new diversity and inclusion initiative that would require films to meet new representation standards in order to qualify for the Best Picture category.
The inclusion initiative was years in the making in response to the Oscars facing scrutiny for struggling to nominate films that represented diversity among cast, directors and technical craftspeople.

But not everyone was on board with the Oscars' new move for "equitable representation on and off screen in order to better reflect the diversity of the movie-going audience."
Actress Kirstie Alley slammed the move and was consequently raked across the coals for her hostile remark.
In her now-deleted tweet, the Fat Actress star referenced Pablo Picasso and English novelist George Orwell—who wrote the dystopian novel 1984.
"This is a disgrace to artists everywhere...can you imagine telling Picasso what had to be in his f'king paintings."
"You people have lost your minds. Control artists, control individual thought...OSCAR ORWELL."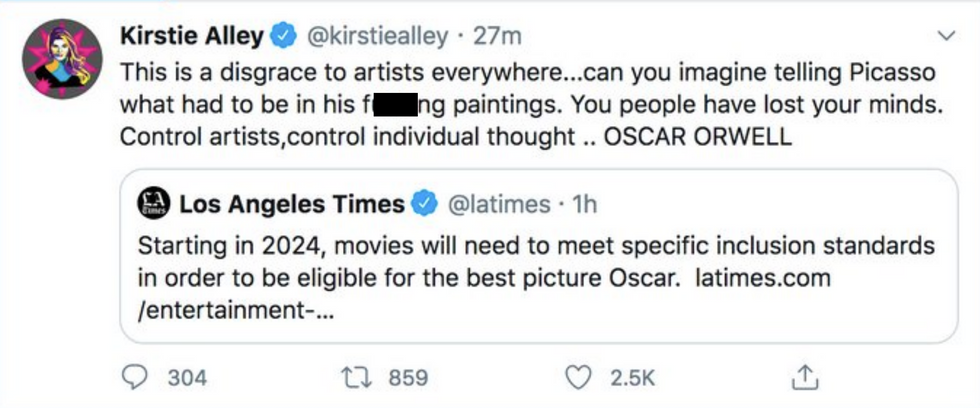 @MarlowNYC@Twitter
Alley continued with a followup tweet by calling the Oscars' expanded eligibility rules "dictatorial" and "anti-artist."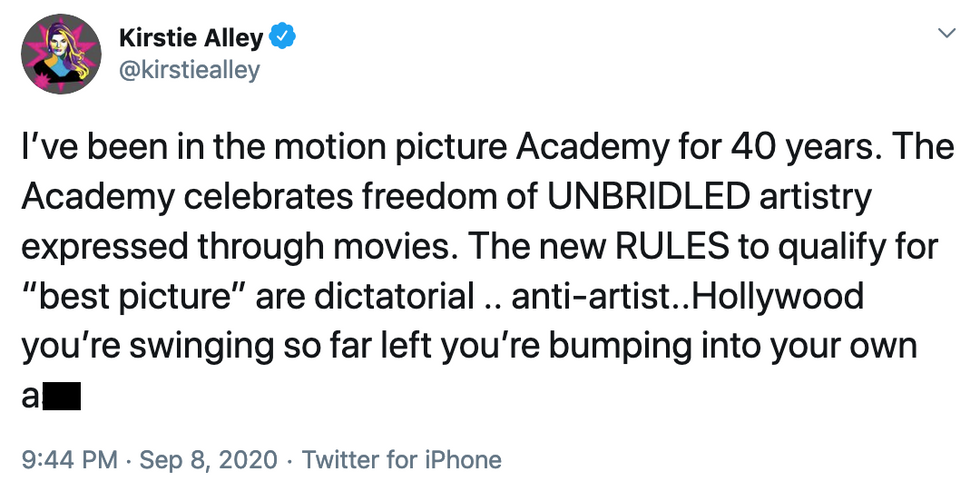 @kirstiealley/Twitter
The backlash on social media was swift.
Many mocked her for her recent dearth of appearances on the big screen.

People were also quick to remind her that she wouldn't be nominated for an Oscar anytime soon.

In response to the backlash, Alley changed her tune to one suddenly supporting diversity:
"Diversity and inclusion should be taught, taught so well and so naturally and genuinely that it becomes second nature to our children."
And on Wednesday, Alley explained that she deleted her "OSCAR ORWELL" tweet because she felt "it was a poor analogy & misrepresented" her viewpoint.
She also claimed in her non-apologetic tweet that she is "100% behind diversity inclusion & tolerance" but was "opposed to MANDATED ARBITRARY percentages relating to hiring human beings in any business. "

The Oscars' new representation and inclusion standards are a part of its Academy Aperture 2025 initiative.
Academy President David Rubin and Academy CEO Dawn Hudson explained in a statement:
"The aperture must widen to reflect our diverse global population in both the creation of motion pictures and in the audiences who connect with them. The Academy is committed to playing a vital role in helping make this a reality."
"We believe these inclusion standards will be a catalyst for long-lasting, essential change in our industry."
For the 94th and 95th Academy Awards, consideration for Best Picture will require submitting a confidential Academy Inclusion Standards form.
However, their website stated that "meeting inclusion thresholds will not be required for eligibility in the Best Picture category until the 96th Oscars (2024)."

For the 96th Oscars, best film contenders must meet two of the four new standards, which are:
"Standard A. – On-Screen Representation, Themes and Narratives."
"Standard B. – Creative Leadership and Project Team."
"Standard C. – Industry Access and Opportunities."
"Standard D. – Audience Development."
You can visit the Oscars website for more information on what qualifies for meeting each standard for Oscars eligibility.