Keke Palmer is a 1 of 1 original and she knows it - but more importantly she thinks it's time everyone else knows it, too.
After her starring role in 'Nope' (and bolstered by her success in 'Lightyear') fans of the film, long-time Palmer fans, and social media in general heaped praise on the actress. Her performance has been lauded across the board as incredible - but that started another conversation.
If every performance Palmer gives is flawless ... if she can sing, dance, act, interview, host, etc ... if she's been doing this for most of her life... why isn't she a household name like Zendaya?
People have been calling the entertainment industry out on its colorist by comparing Keke and Zendayas early careers, roles, net worth, etc.
Both performers have spoken up about colorism in the entertainment industry and within the Black community in the past.
Palmer found the whole debate ironic, though, because it - in and of itself - felt like an act of colorism to her.
She and Zendaya have very different careers, but Palmer not being a household name like Zendaya doesn't diminish her career or accomplishments.
Zendaya aimed for big projects and mainstream success while Palmer is considered a "performer's performer" - oh and she's also had incredible mainstream success and is a literal whole legend and history-maker.
The two powerhouse women aren't even in the same arena. They are, however, good friends who absolutely didn't ask for this compare and contrast exercise that pits them against one another.
The world could give Keke her flowers without comparing or involving Zendaya at all. There's no reason to.
Yet here everyone is holding up Zendaya as the thing to aspire to instead of letting Keke just be brilliantly Keke with Keke's career, performances, and impact.
Keke Palmer watching the world have a colorism debate about her by being colorist and reinforcing the idea that she should be aspiring to be like a lighter-skinned woman.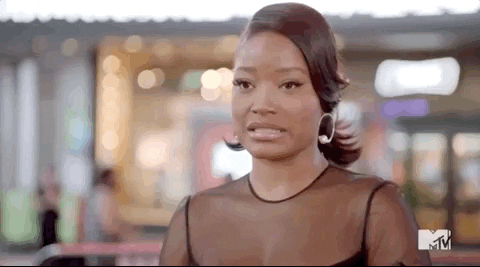 Keke Palmer Cringe GIF by 2020 MTV Video Music AwardsGiphy
So she decided to say something.
Of course, lots of people told her she shouldn't brag and needed to humble herself. Lots of people told her they had no idea who she was until they saw 'Nope.' Lots of people tried to come for her confidence.
Those people got bodied by her fans.
Keke's career has already made her a legend and given her a place in the history books. Watching the rest of the world catch up to the excellence that her fans and much of the industry was already well aware of has been interesting.
Is Palmer someone you knew before this "breakout" role in 'Nope' or are you just now discovering the living legend?