Former Grey's Anatomy star Katherine Heigl had a rather lighthearted photoshoot while visiting Forest Lawn Cemetery in Buffalo, New York, where her brother and grandparents are interred.
Fans were immediately upset over her inappropriate posts on Instagram and complained, prompting Heigl to rectify the situation.
The Suits actress removed the insensitive photos and uploaded an apology in their place.
---
"I noticed on my Instagram page that the post I posted earlier was getting a lot of reaction, and I realized you guys are right," said the actress. "It was not appropriate and it was disrespectful and I've taken it down."
The 39-year-old actress posted another video thanking fans for calling out her poor conduct.
She thanked her followers for accepting her apology. "Next time I'll be more thoughtful about other people's feelings and not just my own," she said.
The first photo at the cemetery appeared genuine: Heigl is seen posing next to the memorial of her brother, Jason, who died after sustaining injuries in a car accident in 1986. Jason Heigl was 16 at the time.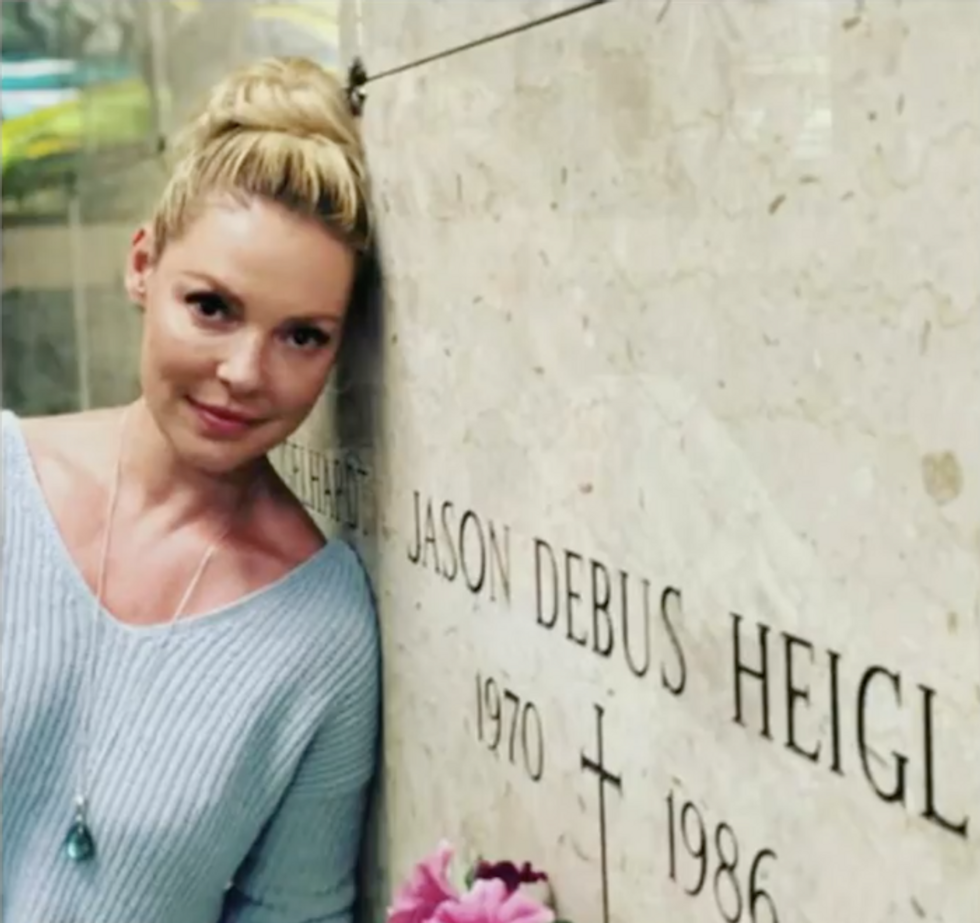 Posing next to her late brother's grave.(ET Canada/YouTube)
But Heigl's visit to the cemetery took a less somber turn when she began posing and taking lighthearted photos on other people's graves.
"I also managed to get in a little gossip with the girls," she wrote in the caption with the photo that has since been taken down.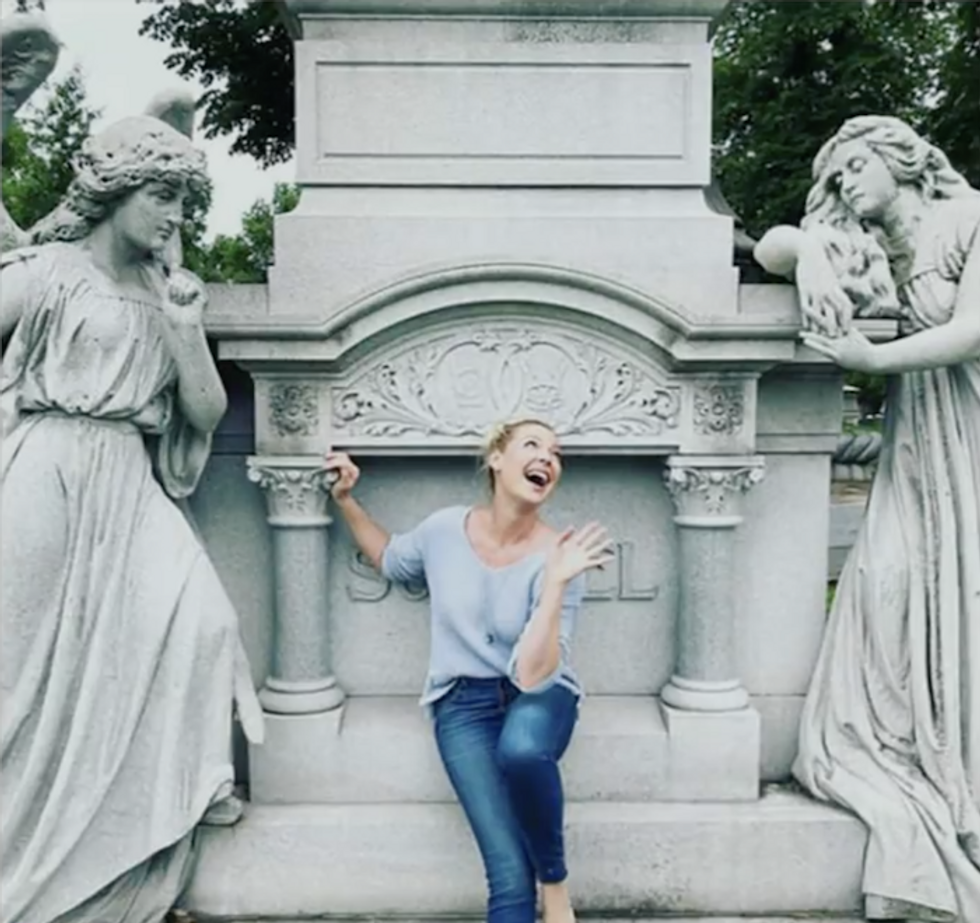 Heigl, "gossiping" with the angels.(ET Canada/YouTube)
#KatherineHeigl apologizes after facing serious backlash from sharing an "inappropriate" selfie in a cemetery.… https://t.co/jrEMh0hv2w

— Access (@Access) 1529949600.0
@HuffPost I always thought I hated her but now it's confirmed.

— Colleen Marie 🏳️‍🌈🌈 (@Colleen Marie 🏳️‍🌈🌈) 1529953579.0
Heigl said that she meant no harm by taking the photographs, only realizing later that she hadn't been thinking. She did agree with one critic's assessment that she was "trying to make a hard moment lighthearted":
It's kind of a heavy thing to go and visit my loved ones' graves, and I decided to find some moments of levity and humor and didn't realize how inappropriate I was being. I deeply apologize and I thank you guys for understanding that sometimes I don't think things through clearly enough and I am grateful for your input and for giving me a heads up when I'm maybe going too far. And thank you for forgiving me. Next time I will be more thoughtful about other people's feelings and not just my own.
Reactions were mixed on social media. Some users had no tolerance for Heigl's behavior, while others defended the actress, noting that people deal with grief in different ways. Others scoffed at the criticism, saying people are becoming too sensitive.
@HuffPost For some people dark humor is a great way for them to deal with grief. It's not everyone's way but no on… https://t.co/TikuYqlLhD

— JBthatsme (@JBthatsme) 1529947486.0
@HuffPost OMG the pics were nothing. Peoples sensitivities are more enormous than their inflated egos. Good grief.… https://t.co/V4Uju3NWxq

— DoJo (@DoJo) 1529947897.0
@HuffPost I guess I cant watch any movies filmed in grave yards. Don't wanna "disrespect" the dead folks.

— Julie (@Julie) 1529947349.0
@HuffPost Due to the fact it was her family I don't see a big deal about it.

— Tammy Gagnon (@Tammy Gagnon) 1529949056.0
@HuffPost Its no ones business. Its your family and your right to take any pictures you want. people are always loo… https://t.co/hBZkBfyNz9

— LillyKat (@LillyKat) 1529955583.0
@ETCanada Every person deals with stuff especially death differently. Leave her alone. They are not your loved ones… https://t.co/IxAE44Jdg8

— Courtney (@Courtney) 1529943557.0
@ETCanada If she wants to take pictures like that, she can. They are her loved ones. Everyone should stop making it… https://t.co/iUJy4FlxDP

— •jōåñńę• (@•jōåñńę•) 1529940816.0
@usweekly Lmao this world is crazy and ultra sensitive...its HER FAMILY'S GRAVE.. if your offended don't follow her.

— MARK EL CURRY (@MARK EL CURRY) 1529932371.0
"It took a controversy to be reminded that actress Katherine Heigl has some Buffalo roots," writes Buffalo News reporter Alan Pergament.
H/T - Meawww, Twitter, YouTube, HuffingtonPost