For the 9th year in a row, late night talk show host Jimmy Kimmel issued a video challenge for viewers at Halloween.
The Jimmy Kimmel Live! challenge asks parents to tell their children they've eaten all of their Halloween candy and film their reaction.
---
Each year's challenge brings more hilarious—and slightly guilt-inducing—reactions from kids who suddenly realize that they won't be getting to actually eat their Halloween take.
Some highlights from this year's responses include:
A very disappointed trio.
Jimmy Kimmel Live!/YouTube
Parent:
"We ate all of your Halloween candy...is it okay?"
Kid:
"No! Not at all!"
The Monsters Are Not Amused
Jimmy Kimmel Live!/YouTube
Mom:
"Mumma was just too hungry."
Kid dressed as Sulley:
*squeaky sobs*
Bad News At The Sink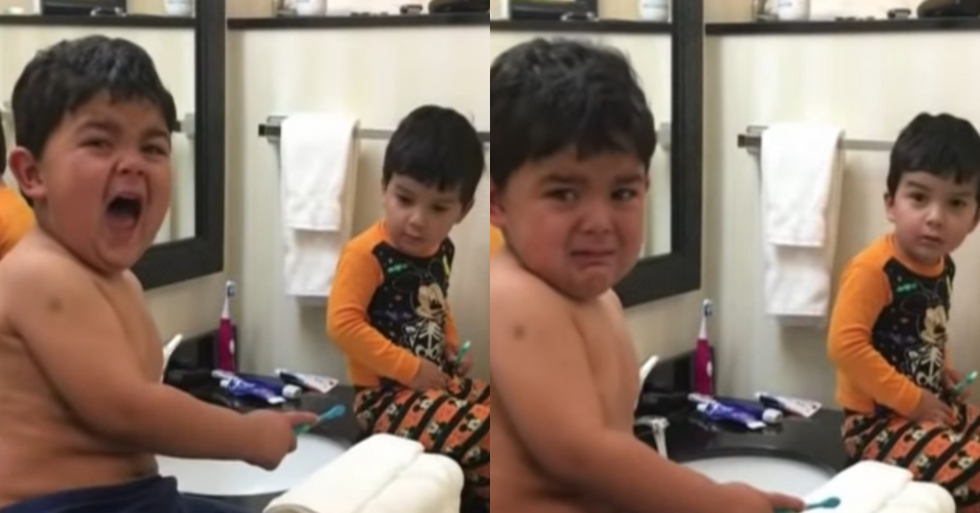 Jimmy Kimmel Live!/YouTube
Mom:
"Mommy and Daddy ate all of your Halloween candy... Is that okay?"
Poor kid who was just practicing good oral hygiene:
"Aaaaaaaaaaah!"
Not everybody was upset about losing their chance at the candy, though.
Looking Out For Mom
Jimmy Kimmel Live!/YouTube
Mom:
"I ate all of your Halloween candy. Will you forgive me?"
Kiddo:
"Yes, but don't do it again. It will make you very sick. You will have to poop all that out."
The Cutest Response
Jimmy Kimmel Live!/YouTube
Mom:
"You're happy that your candy is not gone?"
Sweet Kid:
"A little bit, but I love you more than candy."
Kimmel started off the segment showcasing the pranks with an explanation that he really does like kids and doesn't enjoy being mean to them. He has even written a children's book titled The Serious Goose.

According to Kimmel, all proceeds from the sale of The Serious Goose will be donated to "children's hospitals here in LA and around the world."
You can view the full segment from the show on YouTube below:
YouTube Challenge – I Told My Kids I Ate All Their Halloween Candy 2019youtu.be
And yes, Jimmy Kimmel will soon add children's author to his resumé. His children's book The Serious Goose is available for preorder here.
"Meet a very Serious Goose in late-night host Jimmy Kimmel's first fun and funny picture book! There is nothing silly about this goose. You CANNOT make her laugh, so DON'T EVEN TRY!"