An Athens, Georgia elementary school is once again in the news for its administration's homophobic behavior.
A viral video shared last week shows Oglethorpe Avenue Elementary principal, Dr. Bipul Singh, popping rainbow balloons sent in support of a student who created LGBTQ+ themed artwork in class.
The video was captured on January 28 by the school's security cameras.
It shows Singh popping a bouquet of rainbow-colored balloons which were dropped off at the school's front desk moments before. Upon discovering the balloons, Singh reads the attached card, takes out a pair of scissors, and pops a number of the balloons.
He leaves the frame but then returns to pop the remaining balloons and disposes of them into the garbage.
The balloons were apparently sent to Singh with the message "Gay is ok!" according to attorney Jeffrey Jackson. Jackson is representing a student and their family who were involved in an earlier and related incident at the school.
Earlier that month, the student created a piece of artwork with the same message, "Gay is ok!" The artwork was removed from a classroom display by administrators who allegedly compared it to "Nazi symbolism."
This initial incident garnered significant media attention and the balloons were sent as a gesture of support for the student.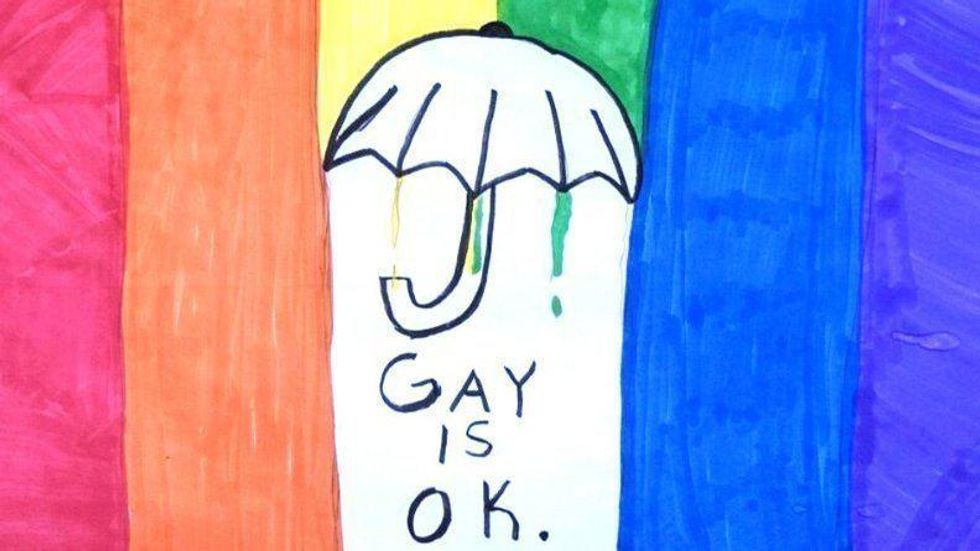 Sarah Kersting/change.org
According to Online Athens, school officials did confirm a comparison to Nazism was made in reference to the artwork, but they claim the piece was actually taken down to prevent the child from bullying.
The district superintendent released the following statement following the artwork incident saying:
"We wholeheartedly condemn this reference [to Nazi symbolism] and apologise for the harm these events have caused the student, the Oglethorpe Avenue Elementary community, CCSD, and the entire Athens community, specifically members and allies of our LGBTQIA+ community."
Regardless, parents in the district are outraged.
A petition has circulated to remove both Singh and Vice Principal Sandra Scott. Over 1500 people have signed since it was posted three weeks ago and the incident has sparked ongoing activism, advocacy, and negotiations with the school district.
Folks across the internet also had some words for the administrators at OAES.
Attorney Jackson claims these are not isolated events.
In an interview for Atlanta's CBS46 following the balloon incident, he said:
"There is a slew of other incidents that need to be addressed...the community is angry, the parents are angry that nothing is being done."
According to Jackson, the school has not yet met parents' demands for change.
However, many in Athens and across the country have shown incredible support for the students and the LGBTQ community at the school. An uptick in signatures to the petition followed the release of the balloon-popping video.
Athens Poet Laureate Jeff Fallis even penned a poem in support, pictured here in a comment to Athen's alt-weekly magazine, Flagpole.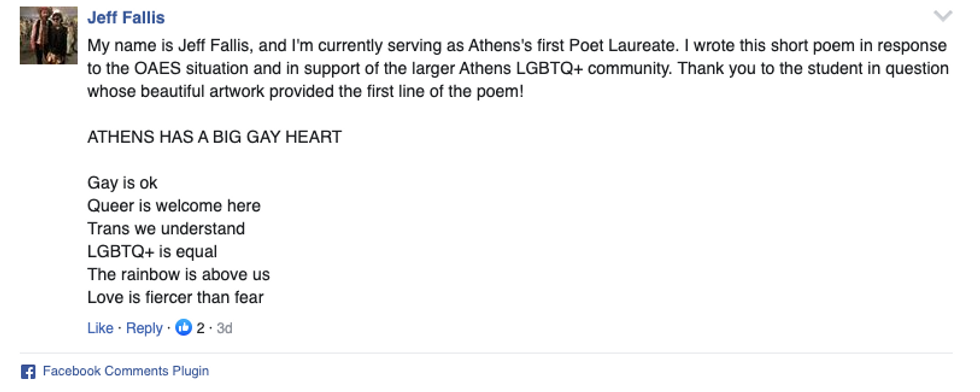 Jeff Fallis/Flagpole.com